About this Event
Being powerfully prophetic and knowing what will happen when the restrainer is removed.
Differentiating the Great Tribulation from the Wrath of God to understand the End Times timeline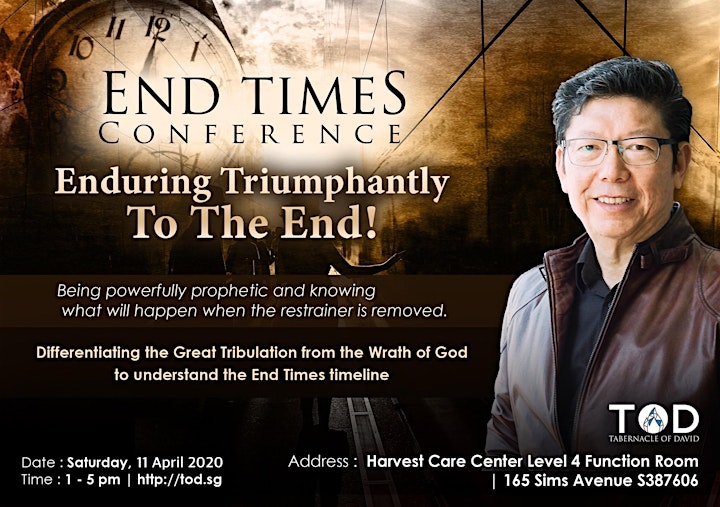 Steven Covey's axiom, "Begin with the End in Mind" is certainly super true where the End Times is concerned. If we do not understand God's timeline for the End Times, it is impossible for us to live prophetically and thus we would be overwhelmed by the deep darkness that will engulf the earth (Is 60:1).
Can we really know what is going to happen in the end times and when these things will happen? Amos 3:7-8 certainly gives us a deep assurance that God is more willing and ready to tell us than we are ready to listen. He wants all of us to be prepared for what is to come so that we will not be counted among those who are part of the great falling away (2 Thess 2:1-3).
This is exactly why we are having this End Times Conference – to destroy the deception of the enemy and to prevent apostasy and desolation. Without prophetic revelation, we will be subjected to fake news and be destroyed (Prov 29:18). Let us not be ignorant of the devices of the enemy and be destroyed because of a lack of knowledge (Hos 4:6).
This Conference will enlighten and empower you to be gloriously triumphant in the perilous end times coming quickly upon us.