End the Awkward: Focus on the Person, Not the Disability - Business Registration

Wednesday, July 15, 2015 from 9:00 AM to 10:00 PM (EDT)
Event Details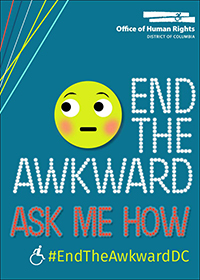 The "End the Awkward: Focus on the Person, Not the Disability" project is a one-day event on July 15 that empowers District of Columbia businesses and the public to share information about people with disabilities with the goal of increasing awareness and understanding. Employers are encouraged to ask employees with major customer contact to wear an "End the Awkward" pin (at right) and learn simple talking points about respectful ways to interact with people with disabilities, so employees can respond to customers who view the pin and ask how to "end the awkward."
Participating businesses are provided "End the Awkward" pins for employees, the talking points and accompanying materials at no cost, and will be listed as a participating business on the "End the Awkward" project website and media release. Please note business locations must be in the District of Columbia to recieve materials.
Businesses that register via this form by July 8, 2015 will be contacted by an "End the Awkward" team member to secure participation and ensure materials are sent to the correct business location(s). 
Our DC effort is inspired by Scope's "End the Awkward" campaign in the UK, which features great videos and other materials on how to "end the awkward," and has gained attention worldwide!
Please direct questions to Elliot Imse, Director of Policy & Communications for the District of Columbia Office of Human Rights, at elliot.imse@dc.gov or (202) 481.3773. 
The "End the Awkward: Focus on the Person, Not the Disability" project is a collaboration between District government, disability advocacy organizations, businesses and allies with the desire to share information about people with disabilities to increase awareness and understanding.
Participating District Agencies and Organizations
District of Columbia Office of Human Rights
Age-Friendly DC
American Association of People with Disabilities
DC Advocacy Partners
DC Center for Independent Living
DC Department of Small and Local Business Development
DC Developmental Disabilities Council 
DC Department on Disability Services
DC Office of Disability Rights
DC Office on Aging
Equal Rights Center
Institute for Educational Leadership
National Disability Rights Network
Quality Trust for Individuals with Disabilities
Restaurant Association of Metropolitan Washington
Steven Winter Associates, Inc.
United Cerebral Palsy
United Spinal Association
Organizer
The District of Columbia Office of Human Rights (OHR) was established to eradicate discrimination, increase equal opportunity and protect human rights for persons who live in or visit the District of Columbia. The agency enforces local and federal human rights laws, including the DC Human Rights Act, by providing a legal process to those who believe they have been discriminated against. OHR also proactively enforces human rights in the District through Director's Inquiries, which allow it to identify and investigate practices and policies that may be discriminatory.