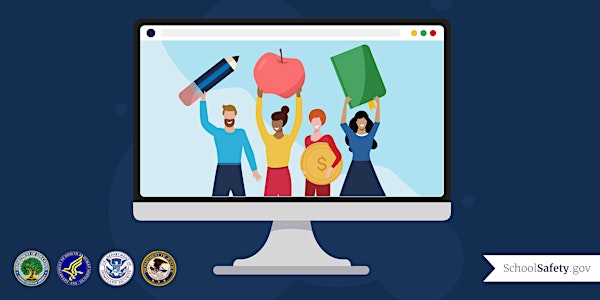 End-of-Year Recap: School Safety Resources and Tools for K-12 Schools
End-of-Year Recap: School Safety Resources and Tools for K-12 Schools
About this event
Please join the Federal School Safety Clearinghouse on June 23 at 3:00 PM EDT for an end-of-year school safety webinar on free information, best practices, and tools offered through SchoolSafety.gov for the kindergarten through grade 12 (K-12) community.
SchoolSafety.gov is a collaborative, interagency website created by the Federal government to provide schools and districts with actionable recommendations to create a safe and supportive learning environment where students can thrive and grow.
The webinar will provide an overview of features available on the site that school personnel can utilize to discover the right resources for their communities and create a comprehensive school safety program. Presenters will highlight tools schools and districts can use to find applicable school safety grants and funding opportunities; obtain a personalized school safety readiness assessment and action plan; and discover state-specific school safety programs and regional contacts.
The discussion will also feature available SchoolSafety.gov resources, guidance, and training on a variety of school safety topics and threats, as well as a moderated Q&A session.
• When: June 23, 2022, 3:00 PM to 4:00 PM EDT
• Where: Adobe Connect (access link to be provided one day in advance of the event)
• For: K-12 School Superintendents and Principals; School and District Administrators; Teachers and School Staff; School Resource Officers; Local Law Enforcement; Education and School Safety Organizations; Emergency Management Organizations; Parents and Students
If you have any questions, please contact the School Safety team at SchoolSafety@hq.dhs.gov.
This webinar is part of the 2022 School Safety Webinar Series, a program hosted by the Federal School Safety Clearinghouse to address emerging risks and threats facing the K-12 school community. Held on a monthly basis, the webinar series covers a range of school safety topics, and provides information on the resources, tools, and best practices available to equip school leaders with a set of strategies in creating safer and more resilient school systems.
The Federal School Safety Clearinghouse is a federal government interagency collaboration comprised of the Departments of Education, Health and Human Services, Homeland Security, and Justice to provide a comprehensive and centralized location for federal school safety resources. The Clearinghouse reviews, collects, and distributes guidance, tools, best practices, and actionable recommendations to improve safety and security within school communities. Learn more at SchoolSafety.gov or sign up for updates.