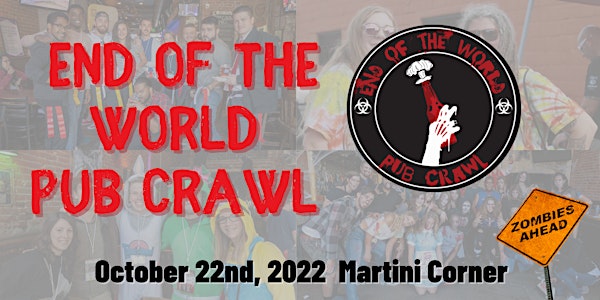 End of the World Pub Crawl - Kansas City 2022
THE ZOMBIES ARE BACK!! Join us on Saturday, October 22nd in Martini Corner!
When and where
Location
Martini Corner 400 E 31st St Kansas City, MO 64108
About this event
THE ZOMBIES ARE BACK!!!
The End of the World is upon us...AGAIN! Post-apocalyptic zombies have risen from the dead and taken over Kansas City! Gather members to join your zombie-killing team and take back the streets of Martini Corner.
The Pub Crawl to End All Pub Crawls will happen Saturday, October 22nd in Martini Corner!
Your task is to journey to all participating venues while avoiding the Zombies trying to take your life (flags). Make it through the gauntlet and you have a chance at winning some "killer" prizes.
Costumes are encouraged and a prize will be awarded to the person with the best costume!
All attendees receive an #EOTWPC Koozie, 2 sponsor beverages, flags/belt and the last time of your life!
💀 Route 1 - Tower Tavern
💀 Route 2 - Cliff's Taphouse
Enter the Dead Zone today and have the LAST time of your life.
☠ 12:00pm - Check in
☠ 01:00pm - Zombies Unleashed
☠ 04:00pm - Zombies wrangled and After Party Begins at Brick House
☠ 04:15pm - Survivors Awarded at Brick House
Volunteer:
Are you zombie material? Want to help? We need volunteers, sign-up as a volunteer and live your best past life!
Registration:
☠ $30 - September 9th-30th
☠ $35 - October 1st-22nd
☠ $40 at the door