End of Summer Book and Art Fair
Description
BOOK & ART FAIR AGENDA
12:00 PM – 4:00 PM
12 PM - 4 PM:
Used Books, New Books ~ Books for the Whole Family
Local Food & Street Fair Vendors
12 PM – 3:30 PM:
Face Painting
12:30 PM – 2:30 PM
Spin Art Frisbee
Courtesy of HCCC Office of Student Activities
12:30 PM - 3:30 PM:
DIY Pencil Case
Presented by Joys in Teaching
1:00 PM - 2:00 PM:
Reading: Annabelle & Aiden by J.R. Becker
Reading: Down the Swale by Valerie Munro
Reading: Freedom by Gregory Alexander
Reading: Cordelia by Michelle Nelson-Schmidt,
Presented by Usborne Books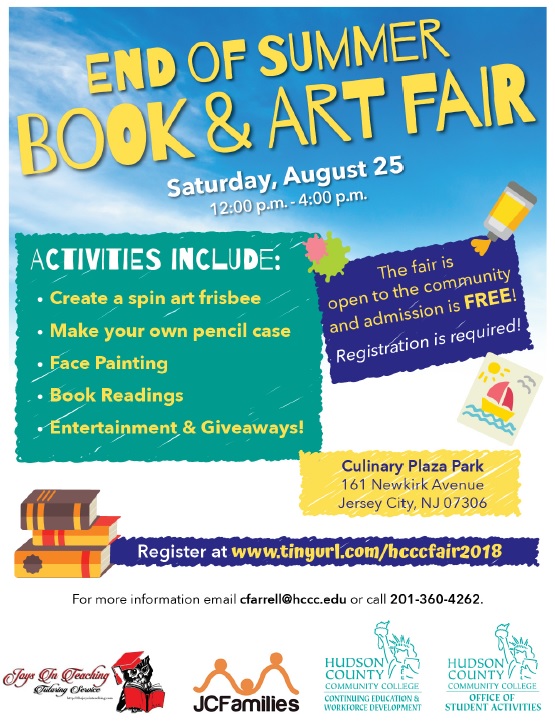 HCCC Invites Community to Book and Art Fair on August 25
Family-oriented event include fun arts-and-crafts, workshops, shopping, food, entertainment, and giveaways.
As summer winds down, fairs are an ideal way for families to enjoy free outdoor entertainment and activities, and to connect more with their community.
Hudson County Community College will hold an end-of-summer Book and Art Fair on Saturday, August 25, from 12 to 4 p.m. The event will be held in the College's Culinary Plaza Park, located across the street from the HCCC Culinary Conference Center at 161 Newkirk Street in Jersey City. (The HCCC Culinary Conference Center and Culinary Plaza Park are located just two blocks from the Journal Square PATH Transportation Center.)
The event is being hosted by the HCCC Division of Continuing Education in partnership with the College's Office of Student Activities, JCFamilies.com and Joys in Teaching. There is no charge for admission.
Attendees will be able to purchase new and used books, shop local vendors' wares, and participate in book readings. There will also be plenty of activities for children, including face painting, creating spin-art Frisbees, making their own pencil cases, carnival games, and more, and there will be free giveaways.
Vendors interested in participating may contact cfarrell@hccc.edu or 201-360-4262 for more information.
Check out the Jersey Journal's coverage of our Summer Book Fair last year!
https://www.nj.com/hudson/index.ssf/2017/07/hc_community_book_fair_a_fun_treat_for_mind_and_pa.html