Location
Martin Luther King Jr. Memorial Library
901 G Street Northwest
Washington, DC 20001
We are experiencing an epidemic of youth violence + gun violence in our city and need YOU to join us to help plan ways to spread PEACE!
About this event
Gun violence is a disease that every resident is exposed to in Washington, DC and surrounding areas.
Join The T.R.I.G.G.E.R. Project, Bold Yoga, LLC, Peace for DC, Sober Living Project and over 50 community-based organizations and stakeholders for a one of a kind End Gun Violence Citywide Conference on Wednesday, June 29, 2022 from 12pm-5pm at the Dr. Martin Luther King, Jr Memorial Library and streamed via Zoom!
We are collaboratively taking a public health approach and believe this approach is critical in finding true comprehensive strategies that prevent gun violence.
In this day of healing, growing and planning, we will take action and address gun violence in a thorough and holistic manner. We will hear from subject matter experts, survivors, women, and youth from the community and Academia.
Tentative Conference Schedule:
12PM - 1PM: Healing the Healers Hour featuring Bold Yoga, LLC
1PM: Opening Ceremony
1:30PM: Breakout I (Roundtable Discussions)
Prevention
Intervention
Treatment/Transformation
Economic Development
2:30PM: Voices of Gun Violence
3PM: Breakout Session II (Summer Planning Session based on City Quadrants)
4PM: Presentation of Plans + Reveal Comprehensive Plan
4:30PM: Closing Remarks
We are PREVENTION!!!!
***NOTE: This is a HYBRID (online and in-person) event.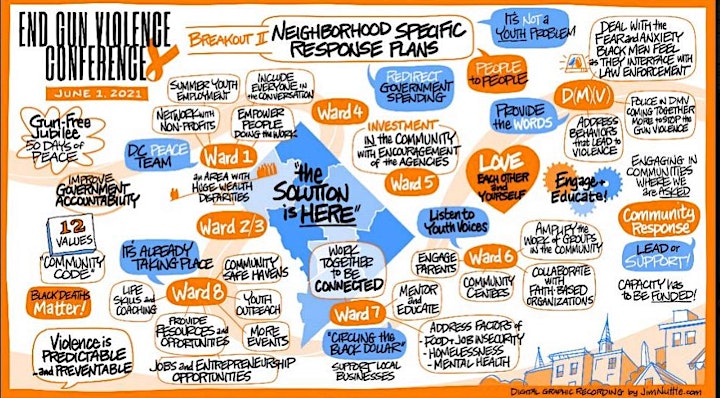 Sponsorship Levels:
Bronze ($50-499) Your logo on event-day zoom screen!
$50 = 250 water bottles
$150 = 250 custom orange wristbands
Silver ($500-999) Breakout session named after your organization!
$500 = Certificates and honorariums
$700 = 250 custom face masks
Gold ($1000-3499) Shoutout during the conference!
$1000 = Honorariums for survivor-speakers
$1,000 = 250 custom t-shirts
$1,000 = Marketing, e.g.: banner, posters, conference materials
$2,000 = Graphic designer to create visual plan
Platinum ($3500 and up) Conference remarks during conference plus Silver and Gold perks!
$5,000 =Location fee
$5,000 = Go-go concert/float
IMPORTANT LINKS:
This is a HYBRID (online and in-person) event. STREAM the conference in your community for youth and community members!
Featured Community-specific Watch Party Hosts include:
Stoddert Terrace Family Support Center
Peace for DC
Inquire about hosting in-person option or Watch Party via rachel@peacefordc.com by June 22, 2022 and submit interest form: https://docs.google.com/forms/d/e/1FAIpQLScUG8va9K89wIPnfnXuBF-sTqk2li1sbBjH3ABDyoq2xNvnPA/viewform.