Description
[FREE] END GAME ECONOMICS SEMINAR (Dec. 7th-9th). At 6105 N. Ware Rd. McAllen, TX 78504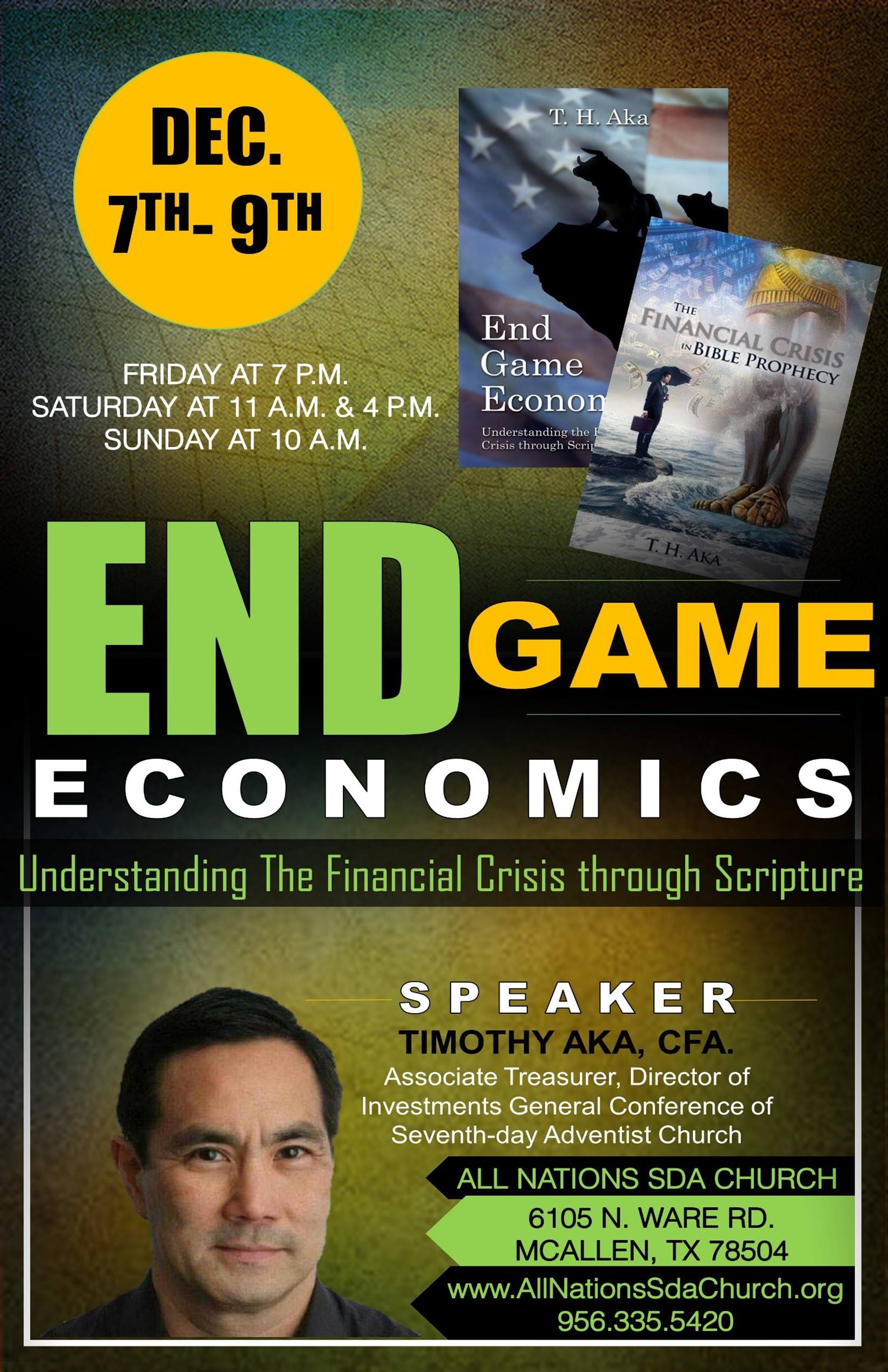 Join Chartered Financial Analyst and Author, Timothy Aka for a not-to-be-missed seminar series: "UNDERSTANDING THE FINANCIAL CRISIS THROUGH SCRIPTURE"
SPEAKER BIO:
Tim Aka (CFA) is an expert financial analyst and money manager at the General Conference of Seventh-day Adventist Church where he also works as an Associate Treasurer responsible for Investments, Pensions & Global Banking. His industry experience is extensive having previously worked for a range of banks, finance companies and advisers in North America, Including: Edward Jones, TD Waterhouse, and TD Canada Trust. He has an MBA (Marketing) from York University and a Bachelor of Science (Physics) from Andrews University. He's also the author of two books, The Financial Crisis in Bible Prophecy and End Game Economics.
In this power-packed weekend series of four presentations, Mr. Aka will share his extensive knowledge of the global economy and markets to Biblical teachings and prophetic end-times. Will you be prepared? Register now because:
"The next financial crisis, whether global or personal--- is not a question of if, but when.
Tim's financial and spiritual insights will help you be a better steward of all that God has been entrusted to you. It will prepare you to help others as a stewardship leader, influencer, and encouragement to others in wise and faithful living.
FRIDAY December 7th @ 7:00 PM
#1. End Game Economics
SATURDAY December 8th @ 11:00 AM
#2. I Blew It Away
(Healthy Lunch served after presentation)
SATURDAY December 8th @ 4:00 PM
#3. Laodi-conomics
* SUNDAY December 9th @ 10:00 AM *
#4. The Zarephath Put
EVENT LOCATION:

The host of this FREE Public Community Seminar is the McAllen All Nations Seventh-day Adventist Church. All are invited to attend and especially if you have an interest in Bible Prophecy, Biblical Stewardship, Economics, the Global Financial Crisis, Personal Finance, End-time Living, Preparing for the Future, or Financial Markets.
ALL NATIONS SDA CHURCH
6105 N. Ware Rd. McAllen, TX 78504
(956) 335-5420
BOOKS & RESOURCES:
Tim Aka is a published author and keynote speaker. His book, End Game Economics will be available for those who want a signed copy after his presentation on Saturday evening. Bring your Event Registration Proof for a chance to win a FREE signed copy of his book at the event. Other study materials will also be given to registered attendees so register now and we'll see you at the first session on Friday, December 7th at 7:00 PM.




Note

: This seminar series will

NOT

be livesteamed so you must register and attend to discover the life-changing information Mr. Aka will be sharing. Also, the provided resources are not intended to, nor should they be interpretted as providing specific financial advice whether of a general or personal nature. This seminar is informative in nature only and not advice. It is provided in the context of educational material and neither the Seventh-day Adventist Church, All Nations SDA Church, nor Tim Aka are registered financial advisors or agents in McAllen.