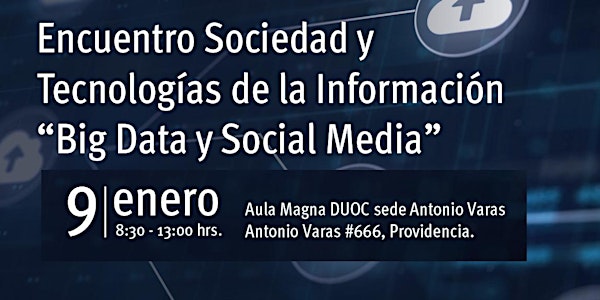 Encuentro Sociedad y Tecnologías de la Información "Big Data y Social Media"
When and where
Location
Aula Magna DUOC Antonio Varas Antonio Varas 666, Providencia, Región Metropolitana Santiago Chile
Description
Un conjunto de académicos y académicas liderados por Ricardo Baeza-Yates analizarán los datos y su representación en la sociedad digital en la que vivimos. Desde los algoritmos y la privacidad de los datos, el Encuentro Sociedad y Tecnologías de la Información tratará de dar una mirada científica al Big Data y el fenómeno de las redes sociales. El encuentro es organizado por El Periodista, el Instituto Milenio Fundamentos de los Datos con el patrocinio de DUOC UC Sede Antonio Varas.
EN ESTE LINK PUEDES REGISTRARTE PARA ASISTIR A LA ACTIVIDAD
Encuentro Sociedad y Tecnologías de la Información
"Big Data y Social Media"
8:30 – Inicio
9:00 – Bienvenida
9:20 – "La algoritmificación de nuestra convivencia":
Alejandro Barros, Académico Asociado – Centro de Sistemas Públicos, Universidad de Chile y Enzo Abbagliati, Director Ejecutivo de Factor Crítico y profesor del Magister en Comunicación UDP.
10:00 – "Generando valor desde las redes sociales en tiempos de desinformación y trolls":
Barbara Poblete, Profesora Asociada en el Departamento de Ciencia de la Computación de la Universidad de Chile, Doctora en Ciencia de la Computación de la Universidad Pompeu Fabra. Investigadora del Instituto Milenio Fundamento de los datos
10:40 Café
11:00 – "Sesgos y datos personales, la censura en redes sociales en contexto estallido y el informe "big data":
Jessica Matus,(@SrtaMatus) Fundadora y presidenta de la Fundación Datos Protegidos. (@datosprotegidos) Presidenta del capítulo chileno de Internet Society. Docente de Clínica de Interés Público y Acceso a la información pública en la UAH, y Patricia Peña (@patana) Directora de Datos Protegidos Periodista. Diplomada en Internet Governance – The Diplo Foundation. Académica y coordinadora del Diplomado en Comunicación Digital en el ICEI
11:40 – "¿Representan a Chile los Datos de Social Media?":
Ricardo Baeza-Yates, Investigador senior del Instituto Milenio de Fundamentos de Datos y Profesor Titular part-time de la Universidad de Chile. También es CTO de NTENT, una compañía de tecnología de búsqueda semántica basada en Carlsbad, California, desde junio de 2016, y Director de los programas de postgrado de ciencia de datos de Northeastern University, campus Silicon Valley, desde enero de 2018. Antes fue Vicepresidente de Investigación de Yahoo Labs, primero en Barcelona y luego en Sunnyvale, California, desde enero del 2006 hasta febrero del 2016. Hasta 2005 fue director del Centro de Investigación de la Web en el Departamento de Ciencias de la Computación de la Escuela de Ingeniería de la Universidad de Chile.
12:40 Mesa redonda con participantes.
Jueves 9 de enero
8:30 y 13:00 Hrs.
Aula Magna Duoc UC Sede Antonio Varas
Antonio Varas 666, Providencia, Región Metropolitana
Streaming a través del sitio del Periodista.cl