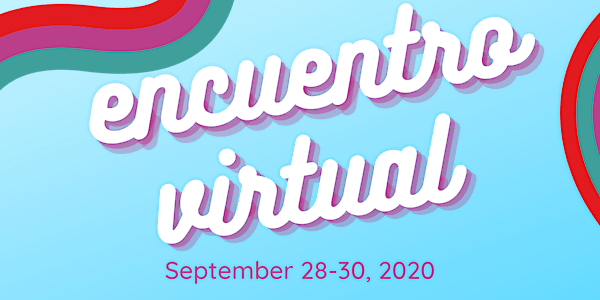 ENCUENTRO 2020
Southern gathering of multi-racial Latinx to end the HIV epidemic and build financial, sexual, and linguistic wellness.
About this event
Welcome to the Latino Commission on AIDS' ENCUENTRO 2020: Southern Wellness!
Español Al Final 
ENCUENTRO 2020 is a labor of love to improve the healthcare capacity of and build bridges between emerging multi-racial/multi-lingual Southern Latinx communities and their kindred. Building on the success of our first gathering in 2019, the first of its kind for the region, ENCUENTRO 2020 will be fully virtual, taking place during Hispanic Heritage Month, kicking off on September 28th. As our needs and strategies regarding physical distancing continue to evolve during the SARS-CoV2 pandemic, ENCUENTRO 2020 will spotlight work in AL, FL, GA, LA, MS, NC, SC, TN, and TX while centering wellness.
AGENDA
ENCUENTRO 2020 will begin on September 28th with three days of virtual content covering themes that apply to the whole region.
September 28: "Financial Health as Wellness"
September 29: "Sexual Pleasure as Wellness"
September 30: "Language Justice as Wellness."
Each day will include a keynote directly responding to the theme followed by three related panels or workshops. After these first three days, the Latino Commission on AIDS will develop the conversation even further by hosting day-long and state-specific virtual gatherings from October 1 to October 14 to apply the lessons from the regional conversations to our local contexts. Further details and registration for the state-specific days are available on the Latinos in the South website.
Since our gathering in 2019, our communities have faced impeachment debacles, painful debates over LGBTQ employee discrimination, and armed racism from law enforcement and beyond. Nevertheless, our Encuentro participants have prepared for and responded to these challenges by expanding shelters for QTBIPOC community members, educating their localities on the latest treatment and prevention tools, grant making and fundraising for those most in need, launching new and needed coalitions, and not least of all, finding healing and pleasure during a time where punishment and scarcity are the order of the day.
Any questions please contact José A. Romero at encuentro@latinoaids.org
___________________________
¡Bienvenido a ENCUENTRO 2020: Bienestar del Sur de la Comisión Latina Sobre el SIDA!
ENCUENTRO 2020 es una labor de amor para mejorar la capacidad de atención médica y construir puentes entre las comunidades latinx del sur multirraciales / multilingües emergentes y sus afines. Aprovechando el éxito de nuestra primera reunión en 2019, la primera de su tipo en la región, ENCUENTRO 2020 será completamente virtual y tendrá lugar durante el Mes de la Herencia Hispana, comenzando el 28 de septiembre. A medida que nuestras necesidades y estrategias con respecto al distanciamiento físico continúan evolucionando durante la pandemia de SARS-CoV2, ENCUENTRO 2020 destacará el trabajo en AL, FL, GA, LA, MS, NC, SC, TN y TX mientras centrando el bienestar.
AGENDA
ENCUENTRO 2020 comenzará el 28 de septiembre con tres días de contenido virtual cubriendo temas que se aplican a toda la región.
28 de septiembre: "Salud financiera como bienestar"
29 de septiembre: "El placer sexual como bienestar"
30 de septiembre: "La justicia del lenguaje como bienestar"
Cada día incluirá un discurso de apertura que responderá directamente al tema seguido de tres paneles o talleres relacionados. Después de estos primeros tres días, la Comisión Latina Sobre el SIDA desarrollará la conversación aún más al organizar reuniones virtuales de un día y específicas del estado del 1 al 14 de octubre para aplicar las lecciones de las conversaciones regionales a nuestros contextos locales. Más detalles e inscripciones para los días específicos del estado están disponibles en el sitio web Latinos in the South.
Desde nuestra reunión en 2019, nuestras comunidades han enfrentado debacles de juicio político, debates dolorosos sobre la discriminación de los empleados LGBTQ y el racismo armado por parte de las fuerzas del orden y más allá. No obstante, los participantes de nuestro Encuentro se han preparado y respondido a estos desafíos ampliando los refugios para los miembros de la comunidad QTBIPOC, educando a sus localidades sobre las últimas herramientas de tratamiento y prevención, concesión de subvenciones y recaudación de fondos para los más necesitados, lanzando coaliciones nuevas y necesarias, y sobre todo, encontrar la curación y el placer en una época en la que el castigo y la escasez están a la orden del día.
Cualquier pregunta por favor contacte a José A. Romero en encuentro@latinoaids.org
ACCESSIBILITY
Our ENCUENTRO 2020 team recognizes that the health of our communities depends on centering the most afflicted and affected among us and we are committed to doing what we can to ensure the most accessible experience for all. Please contact our Encuentro Director if you have comments or suggestions to enhance the accessibility of our programming.
Language Justice
This year, we will continue to ensure that all our sessions are available with English and Spanish interpretation and are excited to partner with tilde Language Justice Cooperative to do so. We look forward to building our capacity to offer language services in languages beyond English and Spanish such as ASL, Arabic, Portuguese, and others.
Technology and Wifi
As the virtual environment overcomes physical gatherings, we have not lost sight of deep disparities in access to the internet and technology, particularly in the South and in rural Southern area. We are excited to partner with Sam's Cellphone and Computer repair to provide a limited number of laptops to ensure registrations have the actual opportunity to participate. While we cannot offer laptops to every registrant, we hope this will become a model for other event organizers to collectively combat the broadband and technology gap haunting our communities. Please select your interest in receiving a laptop when choosing your tickets and more details about this program can be found here.
ACCESIBILIDAD
Nuestro equipo de ENCUENTRO 2020 reconoce que la salud de nuestras comunidades depende de centrar a las personas más afligidas y afectadas y estamos comprometides a hacer lo que podamos para asegurar la experiencia más accesible para todos. Comuníquese con nuestro Director de Encuentro si tiene comentarios o sugerencias para mejorar la accesibilidad de nuestra programación.
Justicia de Lenguaje
Este año, continuaremos asegurándonos de que todas nuestras sesiones estén disponibles con interpretación en inglés y español y estamos emocionados de asociarnos con tilde Language Justice Cooperative para hacerlo. Esperamos desarrollar nuestra capacidad para ofrecer servicios de idiomas en idiomas además del inglés y el español, como ASL, árabe, portugués y otros.
Technología
A medida que el entorno virtual supera las reuniones físicas, no hemos perdido de vista las profundas disparidades en el acceso a Internet y la tecnología, particularmente en el sur y en el área rural del sur. Estamos muy contentos de asociarnos con Sam's Cellphone and Computer Repair para proporcionar una cantidad limitada de computadoras portátiles para garantizar que participantes tengan la oportunidad real de participar. Si bien no podemos ofrecer computadoras portátiles a todes los inscrites, esperamos que esto se convierta en un modelo para que otros organizadores de eventos combatan colectivamente la brecha de banda ancha y tecnología que acecha a nuestras comunidades. Seleccione su interés en recibir una computadora portátil al elegir sus boletos y puede encontrar más detalles sobre este programa aquí.
Wellness Packages
As part of our Encuentro 2020, we will be mailing 150 free wellness packages to participants who register and request one before Sept. 21. We are giving priority to people who are or identify as LGBTQ Latinx and live in the US South: NC, SC, TN, LA, AL, GA, MS, TX, and FL.
YOU MUST INCLUDE YOUR COMPLETE MAILING ADDRESS IN ORDER TO RECEIVE A PACKAGE
Paquetes de Bienestar
Como parte de nuestro Encuentro 2020 estaremos enviando 150 paquetes de bienestar gratituamente a 150 participantes que se registren (y lo deseen) antes del 21 de Septiembre. Le daremos prioridad a personas que son/se identifiquen como LGBTQ Latinx y vivan en NC, SC, TN, LA, GA, AL, MS, TX, y FL.
NECESITA INCLUIR SU DIRECCION COMPLETA PARA RECIBIR UN PAQUETE