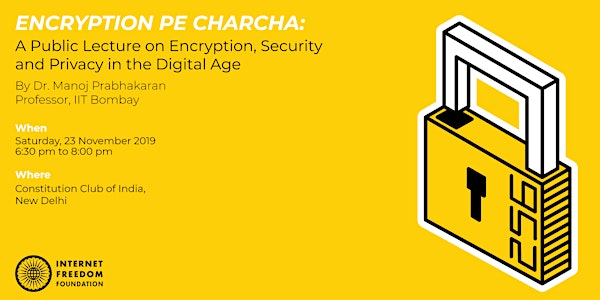 Encryption Pe Charcha: A Public Lecture by Dr. Manoj Prabhakaran
A public lecture on all things encryption, privacy and security in the Digital Age by Dr. Manoj Prabhakaran, Professor, IIT Bombay.
By Internet Freedom Foundation
Date and time
Saturday, November 23, 2019 · 6:30 - 8pm IST
Location
Constitution Club of India Sansad Marg New Delhi, DL 110001 India
About this event
Are you tired of simplistic lock and key analogies which pervade most legal and policy discourse surrounding encryption?
The last year has seen encryption technologies become a subject of intense discussion in courts and within the government. In India and several other countries, there are demands to weaken encryption through backdoors and key escrow systems to facilitate easier access to information for law enforcement agencies. At the same time, encryption is also one of the few tools available to individuals to protect themselves from surveillance by Big Brother and Big Tech.
To bring greater clarity and technical rigour to the public discourse surrounding encryption, Internet Freedom Foundation is hosting a lecture on 'Encryption, Security and Privacy in the Digital Age' by Dr. Manoj Prabhakaran on Saturday, 23 November 2019 from 6:30 PM to 8:00 PM at the Constitution Club, New Delhi.
Dr. Prabhakaran is a Chair Professor of Computer Science and Engineering at the Indian Institute of Technology, Bombay and he specializes in cryptography. Through this public lecture, Dr. Prabhakaran will explain the technical aspects of encryption in a comprehensible but nuanced manner and discuss the importance of cybersecurity and online privacy in light of contemporary developments.