Description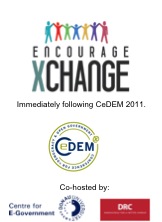 ENCOURAGE
XCHANGE
EUROPE 2011
JOIN US IN
Krems an der Donau, Austria
(a short distance from Vienna)
FOR THE WORKSHOP:
Securely ExchangingInformation
through Technology
May 7-8, 2011
Summary:
In an interactive format over two days, this workshop will provide an explanation of, and solutions for, threats that are most often faced when using information and communication technologies for advocacy work.
How much does it Cost?
Breakfast and Lunch will be provided by the organizers for the 2 days of the event. All travel, transportation, and accommodation expenses must be paid for by the participant.
Where is the Workshop taking place?
Krems, Austria. Exact details provided upon acceptance of participant application.
Language:
The workshop will be held in English, but simultaneous translation will be available for those who require it. Please register early so we can ensure that your language preference for the workshop is offered.
Training Background:
Advocates, Journalists, and NGO leadersare increasingly concerned about their digital security. While computers and the Internet can be extremely powerful tools for advocacy, they also present new risks. This training workshop aims to minimize these risks by enabling participants to improve aspects of operational security, including the ability to effectively secure and exchange content using enhanced communication methods, thereby minimizing interference from external threats.
What will I learn?
By the end of the training, attendees will:
1. Understand what security threats exist when using the Internet and mobile technologies
2. Be able to set-up a secure communications platform toensure data security and mitigate risks
3. Understand how to use off-the-shelf technologies to help mitigate threats
4. Know how to bypass security threats to ensure effectiveness of advocacy work
5. Know how to avoid the most typical security risks nonprofits face when managing their communications networks
6. Know where to turn for advice and assistance
Who should attend:
Advocacy groups who use mobile phones and social media
Independent journalists
◦
Conventional
◦ Alternative media journalists
◦ Bloggers
Human Rights groups
Non-profit managers of local organizations with approximately 0-20 employees
Members of non-technical advocacy groups
Application process:
For more information on CeDEM 2011 CLICK HERE