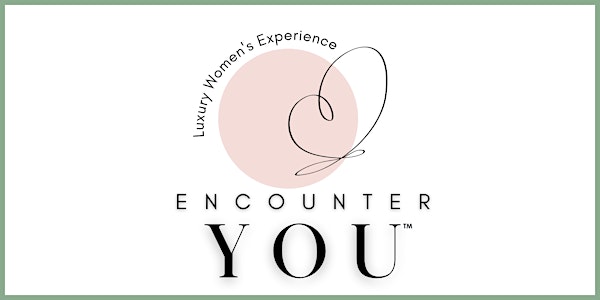 EncounterYou™ Luxury Women's Experience
EncounterYou™ is a luxurious weekend experience created for women, by women where you will leave empowered and inspired to live your truth.
Date and time
September 29 · 3pm - October 1 · 2pm CDT
Location
The Houstonian Hotel, Club & Spa 111 North Post Oak Lane Houston, TX 77024
About this event
1 day 23 hours

Mobile eTicket
EncounterYou™ Luxury Women's Experience
This luxury experience begins with a time of connection to both yourself and others. You will own who you are and all that you are, including the good parts, perceived flaws, and all. You will set your intention for the weekend, share what you discover, release that which no longer serves you, and renew the love that you have for yourself and others in your life. Grounded with gratitude you will leave with a commitment to break out fully by embracing yourself.
About EncounterYou™
EncounterYou™ is a transformative journey to success where women take a getaway from giving to others and daily life, and instead feed their own well-being by cultivating practices to encourage personal growth and self-discovery that in turn also promote professional growth.
This is an opportunity for you to take time to be poured into and to pour into yourself. We as women are known to do for others first and oftentimes we do so while pouring from an empty cup. EncounterYou™ is the perfect choice to learn sustainable techniques to ensure that your cup is full and running over. You will also secure the know-how to continually have the ability to replenish and fill your own cup.
EncounterYou™ is more than just a three-day getaway. It's an urban oasis where women disconnect in order to reconnect, detoxify to replenish, deep-dive, and develop tools through gratitude and meaningful moments to own unique expressions, set intentions, and give back to themselves with introspective discovery and healing.
Why EncounterYou™?
Seize the opportunity to show up for yourself, digest lessons, tend to wounds, and develop a toolkit so that YOU can release and have deep soul nourishment that is connected back to you, the well of the source.
Day 1: Boldy own who you are, bond with others through music and a purpose-driven card game, empower meaningful lifelong connections, and set your intention. Know that where your intention goes, energy flows.
Day 2: Share what you discover about yourself, benefit from a reflective response activity, anchor with gratitude, release that which no longer serves you, and reclaim yourself with a renewed sense of belonging.
Day 3: Embrace who and all that you are, deepen your life's desires, embody confidence, and emerge with practical tools for being fully committed to your vision.
Gain greater confidence, live more truth and harmony in your life, boldly own who you are, and show up as your most authentic, balanced, and validated self.
Who Is This Experience For?
This weekend is designed for YOU! Do you desire to believe in who you are, feel more fulfilled in your life and work, and excel in all that you do? This is an opportunity for you to take time to be poured into and to pour into yourself. Join us and relax into your truth to experience more joy, contentment, and worthiness in all aspects of your life.
The Details
When: Friday to Sunday, September 29 to October 1, 2023
Where: The Houstonian Hotel, Club & Spa, 111 N. Post Oak Ln, Houston, TX 77024
Times:
Friday, September 29, 2023 from 5:30 p.m. - 8:30 p.m. CST
Saturday,September 30, 2023 from 10:00 a.m. – 4:30 p.m. CST, Dinner from 7:00 p.m. - 9:00 p.m CST
Sunday, October 1, 2023 from 10:00 a.m. – 1:00 p.m. CST
Other Details:
The financial investment for EncounterYou™ includes the programming, all meals, snacks, refreshments, Wi-Fi, hotel accommodations, and access to the Houstonian Club – including full gym access, yoga, and various workout/cardio dance classes. In other words, once you arrive at the luxury weekend experience, everything is covered!
Friday, September 29: Please arrive at The Houstonian (30 minutes from either Houston Airport) and settle in before our 5:00 p.m. opening session. Check-in as early as 3:00 p.m. to enjoy the grounds, meet your Coordinator of Care, and the other luxury experience attendees in person. We will enjoy a casual evening of connection complete with appetizing hors d'oeuvres and beverages.
Saturday, September 30: Enjoy optional yoga and fitness activities along with a la carte breakfast vouchers followed by a full day of deep discussion, discovery, and insight. Expect a gourmet lunch and luxuriate with a formal celebration dinner that evening at 7:00 p.m.
Sunday, October 1: Enjoy optional yoga and fitness activities along with a la carte breakfast vouchers before you depart. Plan for an actioned packed half-day where you will leave connected, complete, embodying your true essence and feeling more fulfilled in your life and work. The experience will conclude promplty at 1:00 p.m., please schedule departures, accordingly.
You will also benefit from collaborating in your private, members only EncounterYou™ LinkedIn and Facebook groups. Experience two group connection calls via Zoom prior to the event.
This is an exclusive invitation for twelve lucky ladies. The weekend WILL sell out - register now while spots are still available!
Your Host and Facilitator:
Joni D. Goodman, CPTD is a Certified Dare to Lead™ Facilitator (CDTLF) who lives and breathes personal and professional development. An enneagram #7 with a background in biochemistry (say what?), you can usually find her explaining all the physiological reasons behind our imposter syndromes and how to let it go to live our best life. Joni is known for creating safe spaces where leaders can put down their armor and lean into growth. To know her is to love her dance breaks and epic playlists. A recovering anxiety-ridden teen from Indiana, Joni pulls from her personal experiences and those of others to help leaders, individuals, and teams to be self-aware so they may more effectively communicate. Grounded with gratitude, Joni guides and supports you to fully EmbraceYou™. Joni is a published author in: "The Book of Road Tested Training Activities", "Association for Talent Developments (ATD) Training Toolkit application", and "101 Ways to Make Training Active". She has been a featured speaker for the HR Houston Gulf Coast Symposium, Invesco and CenterPoint Energy Women in Leadership, Female Integrator Mastermind (FIM), Texas Executive Women, and W.I.S.E. (Women In Sport and Events) to name a few.
Are you in?
Jump in and join us for this exclusive, luxury experience. Before you take this next step, I trust you will commit to these three things:
This is not an event where you can float in and out. You are a co-creator of our community. Your presence is integral to the event. I know you will be fully present for the entire retreat, which means arrival by 3:00 p.m. on Friday, September 29 with departures no earlier than 3:00 p.m Sunday, October 1.
Although you will have plenty of personal time, I trust that you will prepare for this immersive experience by putting aside external business calls and personal distractions to the best of your ability.
We will create a safe container for the experience with positivity, professionalism, and encouragement. All are welcome with an open mind and an open heart.
This event will be highly experiential with zero power point presentations! All participants will have the ability to contribute their own expertise to meaningful discussions, led by our facilitator. This is a co-created assembly of women with diverse thoughts and experiences in pursuit of change for the good.
Refund Policy
We are unable to accommodate any refunds or cancellations.
Questions
If you have questions, you may reach out to us directly. Call, text, or email with any questions you have and we will get back to you. Include in your inquiry Re: EncounterYou™
june@jonidgoodman.com
832-305-6747