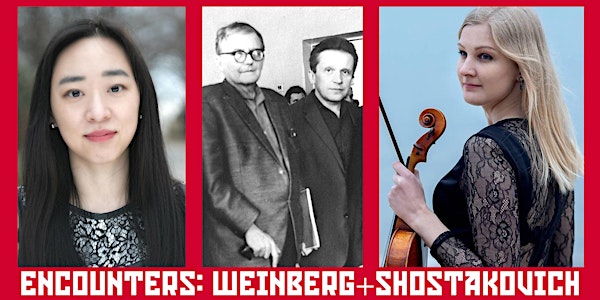 ENCOUNTERS: Weinberg + Shostakovich, friends in art and life
Taisiya Sokolova (Viola) and Jane Hua (Piano) perform music by SHOSTAKOVICH and WEINBERG plus BRUCH and PROKOFIEV.
When and where
Location
Congregation Kehillath Israel 384 Harvard Street Brookline, MA 02446
Refund Policy
Contact the organizer to request a refund.
Eventbrite's fee is nonrefundable.
About this event
Classical viola and piano duo concert featuring music by Soviet-Polish Jewish composer Moisey/Moishe/Mieczyslaw Weinberg and his great friend, Dimitri Shostakovich. The program also includes German Portestant composer Max Bruch's piece inspired by Jewish folk music, Kol Nidrei, and selections from Sergey Prokofiev's ballet Romeo and Juliet arranged (with Prokofiev's permission) for viola and piano by Vadim Borisovsky.
The performers are violist Taisiya Sokolova and pianist Jane Hua. Please find detailed bios below. Full Program:
Dmitri SHOSTAKOVICH (1906-75) Three Fantastic Dances, Op. 5 (1920-1922)
Moishe VAINBERG/ Mieczyslaw WEINBERG (1919-96) Solo Viola Sonata No. 1, Op. 107 (1971), selections
Dmitri SHOSTAKOVICH (1906-75) Allegretto from Sonata for Viola and Piano, Op. 147 (1975)
Max BRUCH (1838-1920) Kol Nidrei, op. 47 (1880)
Sergei PROKOFIEV (1891 - 1953) Romeo and Juliet, selections (arr. V. Borisovsky), op. 64 (1935-1936)
Moisey/Moishe/Mieczyslaw Weinberg was a Soviet Jewish composer born in Warsaw, Poland. After graduating from the Warsaw Conservatory in 1939, he fled to the Soviet Union to escape the Germans (his entire family perished in the Holocaust). Evacuated from Minsk to the Central Asian city of Tashkent in 1941, Weinberg met both his wife and his most important musical mentor, Dimitri Shostakovich, and moved to Moscow in 1943. He and Shostakovich would remain close friends and exchange ideas until the latter's death in 1975.
When Weinberg was arrested in 1953 Shostakovich took the risk of interceding on his behalf with the authorities, and even agreed to take care of his daughter if Weinberg's wife was arrested too. Released soon after Stalin's death, Weinberg continued to have problems finding work (as he had before arrest, due to his Jewish ethnicity), and survived by writing film scores. Rarely having his music performed in the Soviet era did not stop him from composing prolifically, including 22 symphonies, 17 string quartets and numerous other compositions, especially for string.
Composed towards the end of Shostakovich's life, Weinberg's first (of four!) solo Viola Sonata exhibits many of the typical characteristics of Weinberg, including a desire for harmony and neo-classical balance alongside a facing of darkness and suffering as a path towards resolution and peace. The two Shostakovich pieces encompass the entire arc of the composer's career, from the Three Fantastic Dances, composed in Civil War era Petrograd, to the last piece he completed, one month before his death in 1975--Sonata for Viola and Piano.
Prokofiev composed his ballet Romeo and Juliet during a period when he was shuttling between Europe, where he had lived in emigration since the Revolution, and the USSR, where he conclusively settled in 1936. Although intended for the Bolshoi, the ballet premiered in Brno Czechoslovakia in 1938 with the composer no longer allowed out of the USSR, and his music under threat along with that of Shostakovich and other modernists, after Stalin's public excoriation of 'formalism' in Pravda in 1936. It was eventually staged by the Kirov (now Mariinsky) in 1940 with many revisions to the score and plot imposed by Soviet authorities. In part to allow his music to be heard by audiences, Prokofiev allowed violist Vadim Borisovsky to make a transcription for viola and piano of two symphonic suites of his original ballet music, selections from which are included here.
This program is presented by Congregation Kehillath Israel with the participation of Ballets Russes Arts Initiative.
NOTA BENES:
Doors Open at 7:00. Concert begins at 7:30.
All seating except FRONT ROW is unassigned.
Tickets cannot be refunded but can be transferred to a different attendee.
We recommend buying tickets online whenever possible. Tickets will be available at the door with payment in cash or check only, for $35.
CONGREGATION KEHILLATH ISRAEL is a traditional inclusive synagogue that actively embraces individuals, its community, and the world. An innovative and prominent voice in North American Jewish life since 1917, it is one of Brookline's oldest synagogues.
BALLETS RUSSES ARTS INITIATIVE is a non-profit organization that fosters international creative exchange in the visual and performing arts and film, with a special focus on the post-Soviet States. BRAI carries out public programs throughout Massachusetts, the East Coast and internationally, and BR360 Member programs in the Boston area.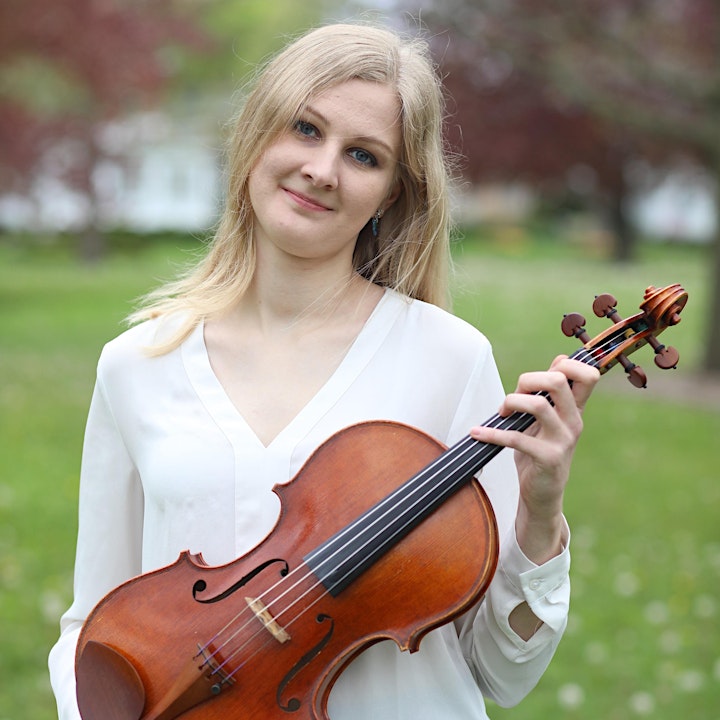 Violist Taisiya Sokolova began studying music at age 3 in Russia, where she later attended the Gnessin Special Music School for gifted children.  After graduation, she came to the US to attend the Colburn Academy for Young Artists and then earned undergraduate and Master's degres in Music at Indiana University. She is currently pursuing a Doctorate of Musical Arts at Boston University.
Taisiya is a prize winner of numerous competitions, including the MTNA State Competition in 2014 and 2015, Imperial Symphony Orchestra Young Artists competition in 2014, and the International Competition "21st Century Art" in Kiev, Ukraine, in 2009. Taisiya has appeared as a soloist in the US, Turkey, Israel, Italy, Germany, and Russia.  She made her debut as a soloist with the Imperial Symphony Orchestra in Lakeland, Florida, in March of 2014. In August of 2015, Taisiya appeared with the Philharmonic Orchestra of Alicante in Perugia, Italy. As an orchestral musician, Taisiya has performed with the Civid Orchestra of Chicago, Illinois Symphony Orchestra, Peoria Symphony Orchestra, and others. She is also an avid chamber musician, collaborating with numerous chamber music groups across theUS and appearing in festivals such as Heifetz, Red Rock Music Festival, and Music Fest Perugia. Additionally, Taisiya teaches music to children from different backgrounds through Boston's public and private schools.
HUA YE (JANE) is a pianist born and raised in Urumqi, China. After earning a bachelor's degree in journalism at Hong Kong Baptist University, she moved to the U. S. to pursue her dream of classical music. Studying on full scholarship, Jane earned two M.M. degrees in Piano Performance and Collaborative Piano at Kansas State University and the UMass Amherst, respectively. She now performs as a solo and chamber musician in the Boston area while teaching through her piano studio, A St Pianos. Recent appearances for Greater Boston audiences include the Boston Public Library, Faneuil Hall, Dana-Farber Cancer Institute, Longwood Cricket Club, 2Life Communities Brighton Campus, Belmont-Watertown United Methodist Church, Carriage House Violins Masterclass Series, and Groupmuse salons.