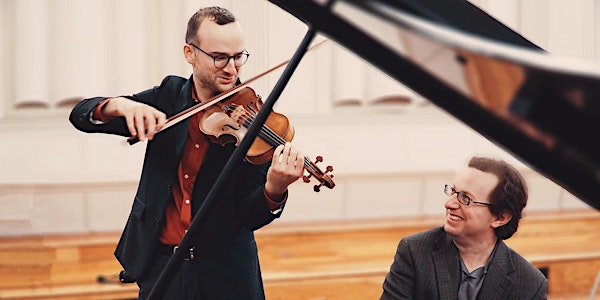 ENCOUNTERS: Korngold and Bloch meet Brahms and Rachmaninoff
Daniel Kurganov (violin) and Constantine Finehouse (piano) perform Jewish composers Erich Korngold & Ernest Bloch plus Brahms & Rachmaninof
When and where
Location
Congregation Kehillath Israel 384 Harvard Street Brookline, MA 02446
Refund Policy
Contact the organizer to request a refund.
Eventbrite's fee is nonrefundable.
About this event
Classical violin duo concert featuring German-speaking Jewish composers Erich Korngold and Ernest Bloch who emigrated to the US as well as Rachmaninoff and Brahms. The performers, violinist Daniel Kurganov and pianist Constantine Finehouse are both Jewish-Americans born in the former Soviet Union. Kurganov and Finehouse have made world-premiere recordings of the music of Lera Auerbach and Richard Beaudoin (Orchid Classics). In 2022, the duo will release a recording of the complete Brahms Violin Sonatas using historical instruments (full performer bios below).
Born in the Austro-Hungarian empire (in what is today Brzno, Czech Republic) in 1897 as the son of a Jewish musical critic, Erich Korngold was a musical prodigy. He was precocious not just as pianist but as composer, with pieces he composed in his early teens performed at the Viennese court and throughout Europe. He wrote numerous ballets, operas and incidental music to plays--such as the Much Ado about Nothing Suite--before moving to Hollywood in 1934, where his scores earned 2 Oscars and a place in history as one of the founders of film music and a huge influence on later film composers.
Ernest Bloch was born in Geneva in 1880 and trained as a violinist and composer in Brussels, Frankfurt and Paris before moving to the US in 1916, where he became a prominent professor and conservatory director (he taught at and/or led such now notable institutions the Mannes School of Music in New York, Cleveland Institute of Music, the San Francisco Conservatory and for his last 2 decades, Berkeley). A brief stint back in Switzerland concluded in 1939. His compositions often reflected his Jewish heritage and featured Hebrew titles. Bloch had received a strong religious upbringing from his father, who had at one point wanted to be a rabbi, and felt that expressing his Jewish identity in music was "the only way in which I can produce music of vitality and significance".
Erich KORNGOLD (1897-1957) Much Ado about Nothing Suite (1916)
Ernest BLOCH (1880-1959) Baal Shem / Three Pictures of Hasidic Life (1923)
Johannes BRAHMS (1833 - 1897) Violin Sonata No. 3 in D minor, Op. 108 (1887)
Sergei Rachmaninoff (1873-1943) Vocalise from 14 Romances, Op. 34 (1912)
Sergei Rachmaninoff needs little introduction, but it is important to note that he emigrated from Russia in 1917 in the immediate wake of the Bolshevik Revolution and settled in the US in 1918, eventually becoming a US citizen. He had already toured the US in 1909 and received numerous offers of prominent positions, but it was not until 1918 that he realized the opportunities the US offered him, as pianist, conductor and composer. He would go on to become a very prominent and influential figure in the Russian emigration both in the US and Europe and provided an important early investment to fellow emigre Igor Sikorsky when he was founding Sikorsky Aircraft Corp. Vocalise is beloved piece written originally for voice as part of a suite of Romances, just 5 years before the composer left Russia forever.
This program is presented by Congregation Kehillath Israel with the participation of Ballets Russes Arts Initiative.
NOTA BENES:
Doors Open at 7:00. Concert begins at 7:30.
All seating except FRONT ROW is unassigned.
Tickets cannot be refunded but can be transferred to a different attendee.
We recommend buying tickets online whenever possible. Tickets will be available at the door with payment in cash or check only, for $35.
CONGREGATION KEHILLATH ISRAEL is a traditional inclusive synagogue that actively embraces individuals, its community, and the world. An innovative and prominent voice in North American Jewish life since 1917, it is one of Brookline's oldest synagogues.
BALLETS RUSSES ARTS INITIATIVE is a non-profit organization that fosters international creative exchange in the visual and performing arts and film, with a special focus on the post-Soviet States. BRAI carries out public programs throughout Massachusetts, the East Coast and internationally, and BR360 Member programs in the Boston area.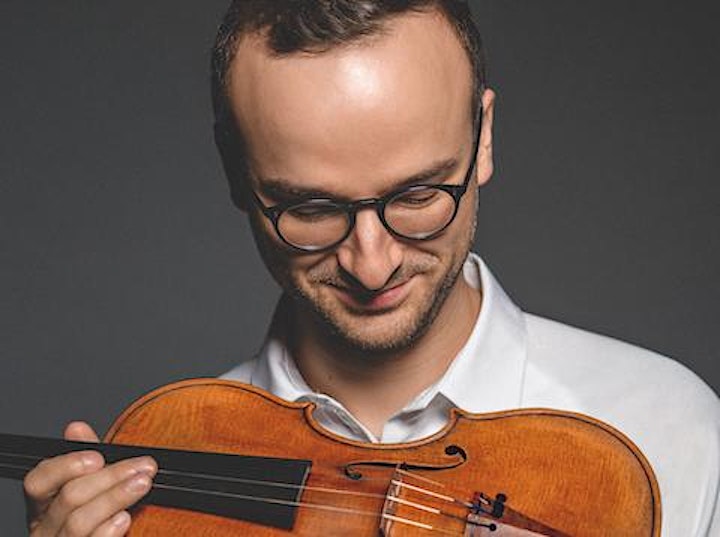 Violinist Daniel Kurganov has been described as a musician of "extraordinary fervor, commitment, and technical prowess" (Classics Today). Recent concert seasons have included performances at Merkin Hall (NYC) BargeMusic (NYC), The Roerich Museum (NYC), Museum of Fine Arts (Boston), and the Harvard Musical Association. Daniel was also invited to Sion, Switzerland for the Violins of Hope project and performed on an instrument rescued from the Auschwitz Concentration Camp. As a passionate teacher, he founded the Boston Violin Intensive, a 10-day intense training for violinists, and runs a popular YouTube channel, making in-depth violin masterclass videos. His music and writing are featured regularly in The Strad magazine, and he was voted "Best of The Strad 2021". Daniel was born in Minsk, Belarus, and grew up in Chicago. He began playing the violin at the age of 16 and completed his studies at the Zurich University of the Arts (ZHdK) under Rudolf Koelman, protégé of Jascha Heifetz.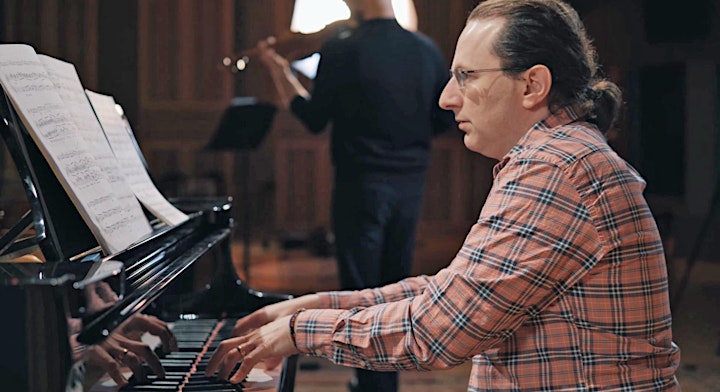 Pianist CONSTANTINE FINEHOUSE has performed extensively across North America and abroad, including in Salzburg, Trieste, London, Ghent, Odessa and St. Petersburg . His 2009 solo release, "Backwards Glance," interweaves works by Brahms and Richard Beaudoin. "The Bolcom Project", made in collaboration with his American Double partner, violinist Philip Ficsor, included an Albany Records two-CD album and a national tour. The American and European premieres of William Bolcom's Horn Trio, in collaboration with Ficsor and Steven Gross took place in the summer and fall of 2018. Recorded at the Martinu Hall in Prague, it was released on Naxos Records in December 2021, joining Finehouse's recording of Bolcom's piano solo works for Naxos. Finehouse's latest album with Sebastian Baverstam features sonatas by Brahms and Shostakovich. During recent concert seasons, Finehouse has performed at the Mozarteum (Salzburg), Miaskovsky Hall (Moscow Conservatory), Merkin Recital Hall, Weill Recital Hall (Carnegie Hall) and Jordan Hall (Boston), as well as at Harvard, Yale, and Emory universities, and St. Vincent's and Elmira colleges, among others. The pianist holds degrees from Juilliard and Yale and teaches at New England Conservatory, also serving as Visiting Artist/Faculty at Westmont College, CA.