ENCORE! - The Brownstoners of Bedford-Stuyvesant Virtual 42nd House Tour
Re-release of the Brownstoners of Bed-Stuy 42nd House Tour. Celebrate Black Homeownership and Black Excellence this Black History Month.
About this Event
Hello Family! The Brownstoners 42nd Annual House Tour is up and running - AGAIN! We had a very successful run of our home touring last year October, and received fantastic reviews. If you want to be a part of the hundreds of viewers who have already attended the tour, please see below for buying your tickets and receiving the video links.
See the short promotional video below for a sneak peak!
The Brownstoners Virtual 42nd House Tour will be available to all tickets holders for viewing at their leisure for a 14 - day period. The tour starts at 10 AM Sunday, February 14th, and will close Sunday, February 28th at 11:59 PM.
Ticket prices for the 42nd Annual House Tour of Bedford Stuyvesant are:
$15 (A $10 discount on the 2019 price! )
Please be aware that tickets are non-refundable. Thank you for your support.
As a portion of the House Tour proceeds is dedicated to the Brownstoners scholarship funds, if you would like to make a donation please click on the 'Access the Event' button to the upper right. You will be directed to a page where you will click on the Brownstoners of Bedford-Stuyvesant Scholarship Donations Link to register your gift through PayPal.
For more information on the Brownstoners and the House Tour please read below:
The Brownstoners of Bedford Stuyvesant, Inc., a 501c3 organization, will present its 42nd Annual House Tour and Scholarship Fundraiser on Saturday, October 17, 2020. This year's theme, Preserving Our Legacy Through Challenging Times, pays homage to a vision of revitalization initiated by a few neighbors who were concerned about their struggling community.
The idea for the House Tour was born out of the desire to introduce and reintroduce our beautiful community as a viable place to live, work, own a business and raise a family.
The 2020 House Tour was a virtual event due to the challenges of the Covid-19 pandemic. The House Tour is an important tradition for the Bed-Stuy community, and as part of the Brownstoners mission, will prevail with the intentions of running in-person this year while maintaining a virtual component as well.
SAVE THE DATE - This year's 43rd annual House Tour is OCTOBER 16, 2021.
LOOKING FOR SPONSORSHIPS
Consider becoming a sponsor of the 43rd Annual House Tour and the activities of the Brownstoners of Bedford-Stuyvesant. Email Brownstonersofbedstuy@gmail.com to request a sponsorship or an ads form.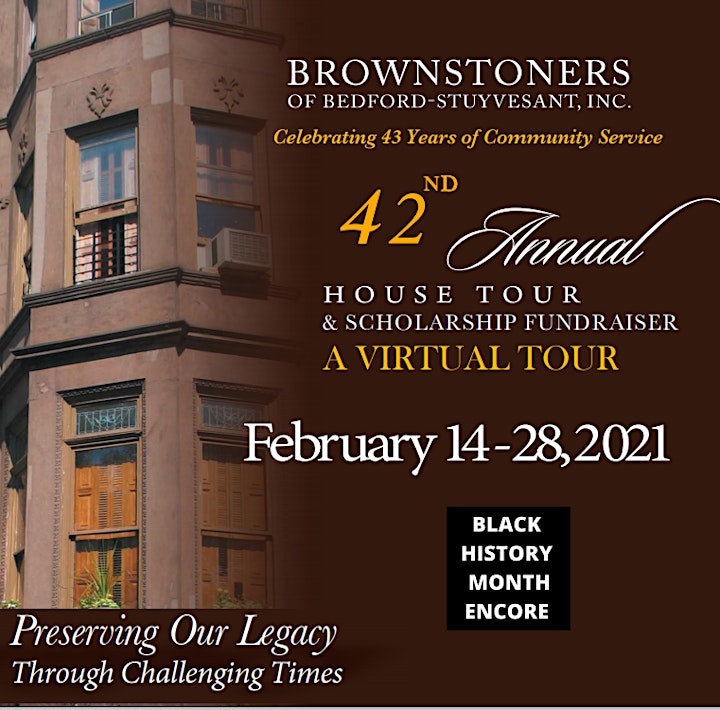 Date and Time
Location
Refund Policy