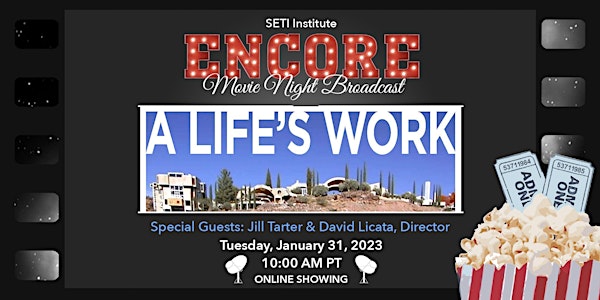 ENCORE: SETI Institute Movie Night - A Life's Work with Jill Tarter
A rebroadcast of a previous Movie Night featuring A Life's Work, Jill Tarter, and director David Licata.
Date and time
Tuesday, January 31 · 10 - 11:30am PST
About this event
Join your TeamSETI friends for an encore presentation of movie night featuring A Life's Work and Jill Tarter. The rebroadcast will take place on Tuesday, January 31, at 10 am PT.
Seth Shostak hosted with special guests Jill Tarter and David Licata, who directed the film. The original movie night took place in December 2022. Because this is a rebroadcast, you can listen to a recording of the Q&A that previously occurred but will not be able to participate.
Movie summary: What's it like to dedicate your life to work that won't be completed in your lifetime? Fifteen years ago, filmmaker David Licata focused on four projects and the people behind them in an effort to answer this universal question.
Movie Rating: Not rated
Jill Tarter is a founder of the SETI Institute and an icon in the search for life beyond Earth. She served as Project Scientist for NASA's SETI program, the High Resolution Microwave Survey, and has conducted numerous observational programs at radio observatories worldwide. Since the termination of funding for NASA's SETI program in 1993, she has served in a leadership role to secure private funding to continue the exploratory science. Many people are familiar with her work as portrayed by Jodie Foster in the movie Contact.
David Licata is a filmmaker and writer. His films have screened at festivals internationally, including the Tribeca Film Festival. His writing has appeared in The Literary Review, Pilgrimage, R.KV.R.Y. Quarterly Literary Journal, Word Riot, Sole Literary Journal, Hitotoki, Boston Literary Magazine, and others.
Seth Shostak is a senior Astronomer and SETI Institute Fellow. For much of his career, Seth conducted radio astronomy research on galaxies. He is also the host of the SETI Institute's radio program and podcast, Big Picture Science.
About the organizer
Our mission is to explore, understand, and explain the origin and nature of life in the universe -- and to share it with the world.