Description
*Back by popular demand*
From bachelorette to in love: 3 myths to reject and then attract love
Did you know that your belief in myths about love directly impact where you are in your love life right now?

Isn't this the perfect time for your mindset to shift so you can attract the love you want while you're cooped up?

What if you could learn the love myths that are preventing you from having your best romantic relationship yet?
Imagine if in just half an hour, you could discover the myths that are holding you back from the love you want.
You don't have to imagine it. Just come along and do it with me.
Join me on Thursday May 14 for my free webinar, From bachelorette to in love: 3 myths to reject and then attract love!
---
What people are saying about From bachelorette to in love: 3 myths to reject and then attract love

"LOVED your energy and what you had to say about love and connections. Thank you for being a vessel to pour out to people." ~ Renee
"As I travel this journey of self-love while maneuvering through this season of uncertainty, I realize we all reach this point of realization. The realization that we are enough, which comes through the way we see our selves and our ability to accept that we are beautiful as we are. I truly appreciate [learning] the understanding that doubt and negativity has manifested because we built walls to protect ourselves from feeling pain again." ~ Rachel
"I love your kind spirit in this webinar and your honest feedback! I would say it is remembering that our words create our reality. What we say defines what we receive. It was a great mini talk!" ~ Sabriya
"I plan to be more mindful of the way I think about myself in relation to being single. I also plan to take some time to write down what I want in a mate. Thank you for sharing your story. I really think that it opened my eyes and reminded me that planting seeds of positive can bloom better harmony within myself." ~ Theresa
"I will be more cognizant of my behaviors in dating. I honestly have unpacked alot of the things that you've talked about but I realize that I am a work in progress. Sometime the negative thoughts/ behavior creep back into my life. It's good to know that I'm not the only one that has felt these things. Thank you for being willing to share your experiences to help us heal and prepare for love." ~ Chadra
---
Who am I and why should you listen to me?
I'm Esha Herbert-Davis and this photo is me with my hubby Tarik on our wedding day in 2010.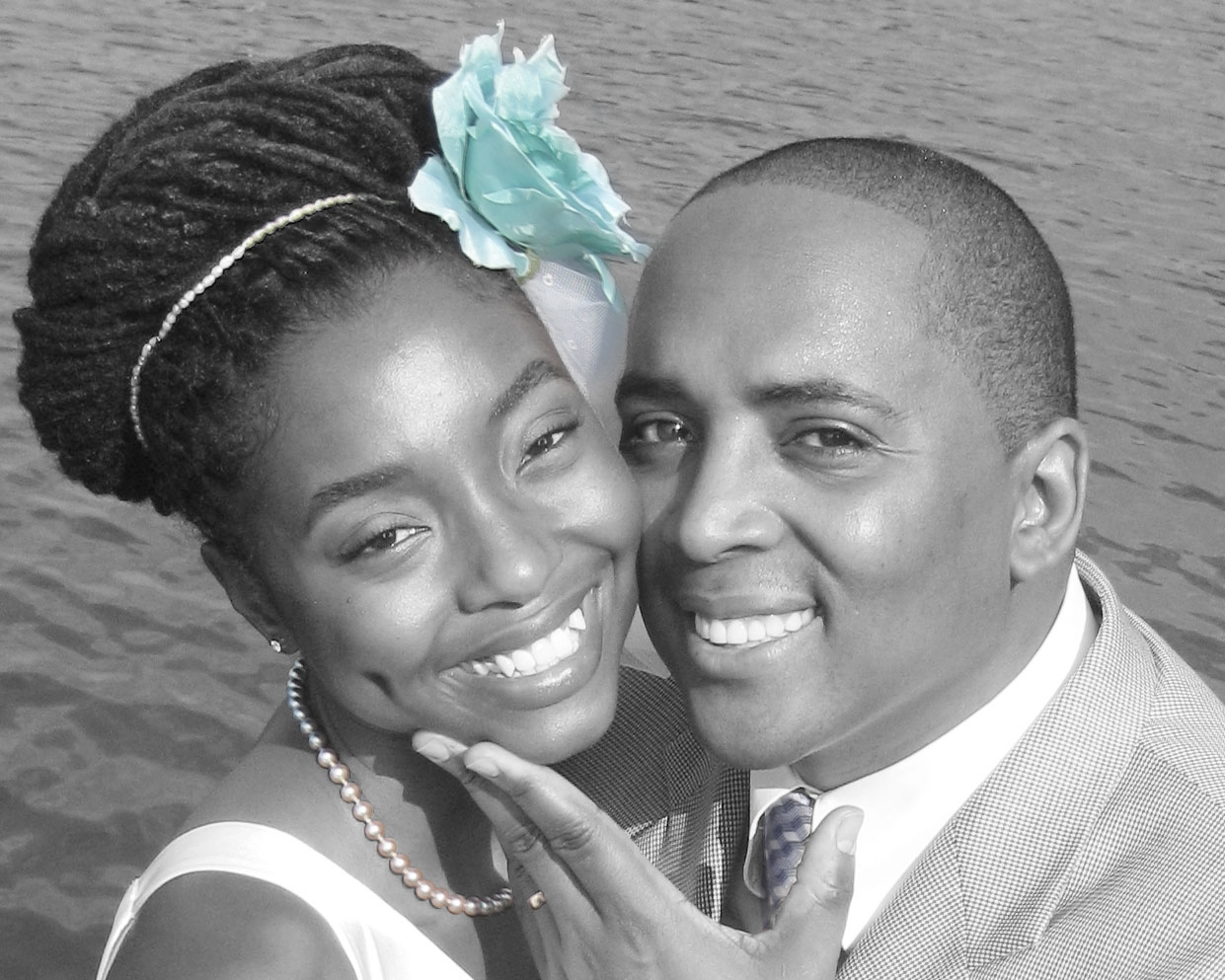 Over the 9 years of planning unique and life-changing Caribbean experiences for my clients, do you know what questions I've been asked the most?
You met your husband during Trinidad Carnival? How did that happen?
Yes, at the Trinidad Carnival Parade that's all about partying and dancing with as many people as possible, I met the love of my life!
Our story has fascinated people so much that we've been featured in the media (by Travel Noire) and I've even written about our relationship in my book Carnivalista Lifestyle.
And now I'm sharing with you the starting point to attracting the love you want into your life. Believe me, that starting point IS shifting your mindset by debunking the myths that are holding you back!
Join me on Thursday May 14 for my webinar, From bachelorette to in love: 3 myths to reject and then attract love!