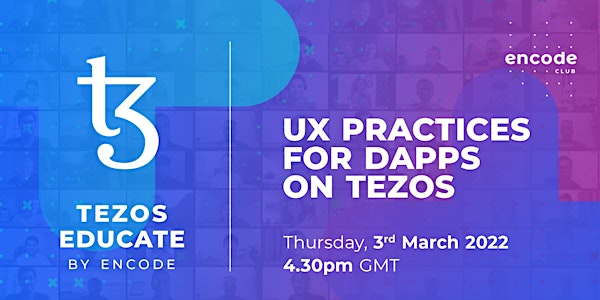 Encode x Tezos: UX Practises for Dapps on Tezos
The sixth event in the Encode x Tezos series.
About this event
The sixth event in the Encode x Tezos series will talk about UX practices for decentralized apps!
The Encode x Tezos programming will consist of an educational series, a hackathon, and an accelerator - all dedicated to learning and building on Tezos!
Find out more and register to receive updates about Encode x Tezos:
https://www.encode.club/tezos#form
About Encode
Encode is a leading web3 education community. Our mission is to help ambitious, talented people achieve their personal and professional goals together in web3. We do this through organising high quality programmes including hackathons, coding bootcamps, educational workshops and accelerators in partnership with the leading blockchain protocols. Once participating in our programming, we help people get hired through our dedicated recruitment arm or receive investment through our investment fund. Find out more.
About Tezos
Tezos is an open-source platform that addresses key barriers facing blockchain adoption for assets and applications backed by a global community of validators, researchers, and builders. By design, Tezos embraces long-term upgradability, open participation, collaboration, and smart contract safety. Read more about Tezos.