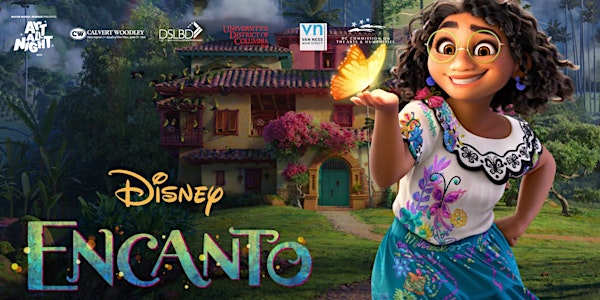 ENCANTO - Art All Night's Movie in the Park at the UDC Amphitheater
Don't miss Art All Night's evening in the park at the UDC Amphitheater with Encanto!
When and where
Location
UDC Amphitheater in the Woods Off of Yuma Street Behind the UDC Tennis Courts Washington, DC 20008
About this event
RSVP today for Art All Night's Movie Night in the Park at the UDC Amphitheater with Encanto on Friday, September 23rd from 8-10 pm!
Details:
The park will be open one hour before showtime to select your seats and enjoy food and drinks before (or during!) the show. Seating is limited and will be based on capacity limits provided by UDC. When you RSVP to the event, you will receive a reminder 2 days prior to the event and you'll receive notification if the event is postponed due to weather.
Outside food and drink, including alcoholic beverages, are permitted. You're welcome to bring a seat cushion or picnic blanket. Closed captioning/subtitles are shown on all films.
ABOUT THE VENUE: Nestled in a hillside, the UDC Amphitheater is located in the woods off Yuma Street behind the UDC tennis courts. It is accessible via walking paths from either Yuma Street or Windom Place. We'll have signage placed along the way as well as volunteers directing movie-goers. The venue contains rows of wooden seating with some areas of grass. Portions of the front row/area will be reserved on a first-come, first-served basis for those using a wheelchair and for those physically unable to access the upper rows.
WEATHER POLICY. In case of inclement weather, the film will be canceled. We will do our best to notify attendees by email in case of cancellation (those who sign up via Eventbrite). Check our Facebook page and Twitter for updates: @VanNessMainSt
SPONSORSHIP. We'll be running a sponsor reel before the movie and we'd love to help promote your local business! Sponsors will also be mentioned in our newsletter and in social media ads promoting the films. Email VNMS Executive Director, Gloria Garcia, to get started (gloria@vannessmainstreet.org).
Thank you to our Art All Night sponsors: Mayor Muriel Bowser, The DC Commission on the Arts and Humanities, the DC Department of Small and Local Business Development, the University of the District of Columbia, Calvert Woodley Fine Wines & Spirits, Comet Ping Pong, Buck's Fishing & Camping, Muchas Gracias, Argus Events, Superlative Events and Bread Furst. Special thanks to I'm Eddie Cano and Italian Bar for sponsoring our AAN Social Media contest!