About this Event
On the weekend commencing Saturday, February 23rd & 24th, Enagic's distributors will be bringing you their first Australian Event, UNIFY 2019 to the Star Casino, Gold Coast.
This jam packed two day event is all about bringing together the best leaders in the company to contribute and collaborate. Unifying teams around the globe to connect and align with the same vision for true physical, financial and mental/metaphysical health!
Unify will provide it's attendees with practical and actionable skills, education and inspiration. Whether you are looking for a new side hustle, are an experienced entrepreneur or simply looking to get around some inspired people - this event is for you!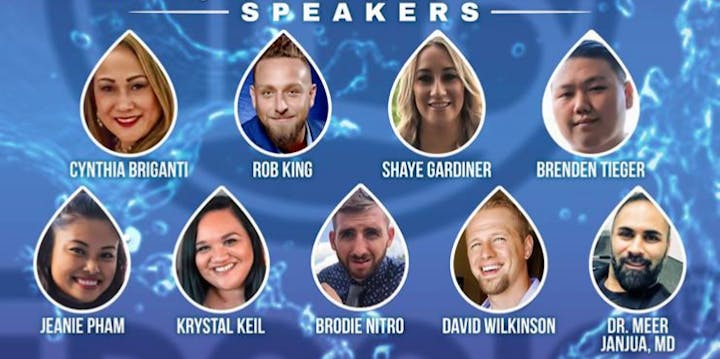 Join 8-Figure Global Enagic Leader Cynthia Fernandez Cabungcal Briganti (USA) along with local and international leaders. Some who have never shared their stories on stage before - so prepare to be motivated, educated, challenged and moved in new ways.
You'll leave Unify 2019, fuelled with confidence and feel empowered to steer your business to success!

WHAT'S INCLUDED//
2 jam-packed days of keynote presentations from Enagic legends. Sharing their experiences - talking leadership, strategies, struggles and solutions. Find out what is working for their growing teams in building a thriving business with Enagic.
6A Leaders Panel - What does it take to become a 6A in Enagic? Learn from this powerful panel of leaders as they dig deep into building a 6 figure business, some with zero prior experience.
Rising Stars Panel - These legends are in the trenches, working from the front line. Up and coming top leaders within Enagic share whats hot in business right now.
Empowered Womens Panel - Female entrepreneurship is on the rise. Learn how these Kangen Queens lead inspired teams while managing homes, relationships and children all while staying fierce!
Social Media Presentations - How you can build your business both organically and through paid advertising! Learn how top leaders have converted Multiple 7 figures in sales through these current strategies.
Product presentation with Enagic top leader Shaan Parvaga (USA) - Showcasing our ionisers and educating you on our product that has 40 year credibility and is quickly becoming the next mega trend!
Grab your note pads and pens! Get ready for this Keynote presentation from Dr Meer Janjua, MD who specialises in Quantum and Regenerative Medicine!

Full buffet lunch provided both days, no expense has been spared.

Business opportunity explained by Enagic top leader David Wilkinson

Meet and connect with like-minded entrepreneurs, leaders and change makers who are doing what they love every single day!
DAY 1 ONLY UNIFY TICKETS //

Day 1 is all about introducing you to our products, business and team culture. A little pique behind the curtain to what makes Enagic a credible choice for building true physical, financial and metaphysical health!
Whether you are an existing distributor or just want to come and experience Enagic, this event is for you!
VIP TICKETS //
On top of the General Admission, you will be granted the best seating at the front and personal mentorship/dinner on Saturday with Cynthia Briganti (8 figure earner). With over a decade with the company, she will be disclosing top leaders strategies on how to build your legacy business in Enagic for generations to come!