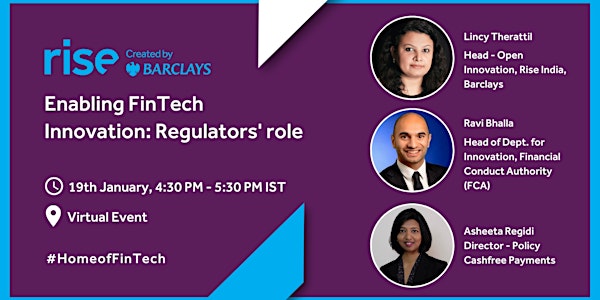 Enabling FinTech Innovation: Regulators' role
Join us and learn how the Regulators are playing a key role in enabling innovation for FinTechs.
About this event
About the event:
The session will provide insights to the audience on the steps taken by regulators to enable FinTech Innovation including a deep-dive on some of the innovative regulatory initiatives that have accelerated the innovation of FinTech startups.
Moderator:
Lincy Therattil, Head - Open Innovation & FinTech Platform, Rise India, Barclays
Panelists:
Ravi Bhalla, Head of Department for Innovation, FCA (Financial Conduct Authority)
Ravi Bhalla is Head of Department for Innovation within the FCA. He provides leadership across seven key functions across his department. This includes the FCA's Innovation Hub which houses a number of market innovation services including Innovation Pathways, Regulatory Sandbox and the Digital Sandbox. Secondly, a digital and data services function which aims to leverage a digital test environment for internal and external use cases. Thirdly, a regulator engagement function with domestic and international regulators through bilateral and multilateral agreements. This includes chairing the Global Financial Innovation Network (GFIN) and championing the Global Sandbox. Fourth, the RegTech and SupTech function which encourages the development of new technologies to solve regulatory challenges for firms and supervisory organisations. Fifth, an emerging technology function which researches emerging trends which influence the intersection of data, technology and financial services. Sixth, an Artificial Intelligence team which works with domestic regulators and think tanks to further the discussion in this area. And finally, a change and development function which aims to drive our internal and external change agenda including branding, marketing and communications.
Asheeta Regidi, Director - Policy, Cashfree Payments
More speakers TBA shortly.