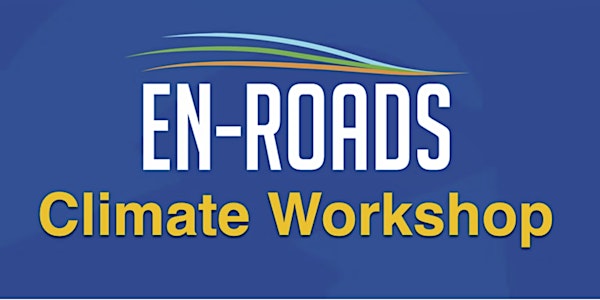 En-ROADS for Climate Change: what can be done in Alabama?
Citizens' Climate Lobby Alabama, with Energy Alabama and the Alabama Rivers Alliance, presents the En-ROADS interactive climate simulator.
About this event
You're worried about climate change. What actions can we take that can make Earth cool again? What policies have the greatest effects? En-ROADS will show you how our actions change our planet's temperature.
En-ROADS is a transparent, freely-available policy simulation model that gives everyone the chance to design their own scenarios to limit future global warming. You can try your own experiments and assumptions, and get immediate feedback on the likely impacts.
The simulation, developed by Climate Interactive, Ventana Systems, and MIT Sloan, runs on an ordinary laptop in a fraction of a second, is available online, offers an intuitive interface, has been carefully grounded in the best available science, and has been calibrated against a wide range of existing integrated assessment, climate and energy models.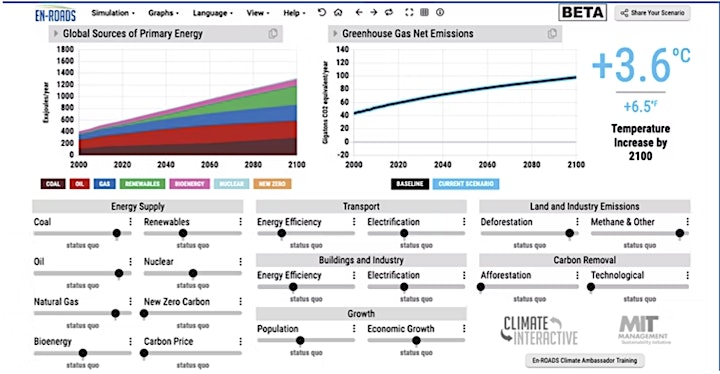 Join us at this FREE one-hour workshop to test your favorite ideas against the climate model! For more information on En-ROADS, go to https://www.climateinteractive.org/tools/en-roads/. Our presenter will be Terry Welsher, Ph.D., En-ROADS Ambassador and Georgia CCL leader.
Citizens' Climate Lobby (cclusa.org) is a non-profit organization working through hundreds of Chapters to get Congress to act on climate change. Energy Alabama (alsce.org) is a nonprofit bringing sustainable energy to Alabama through advocacy and education. The Alabama Rivers Alliance (alabamarivers.org) is a statewide network of groups working to protect and restore all of Alabama's water resources.