Empty Mansions: An Evening with the Author

Tuesday, October 27, 2015 from 5:30 PM to 7:30 PM (PDT)
Event Details
Pulitzer Prize winning journalist Bill Dedman will discuss heiress Huguette Clark, the issues surrounding her life story, her exquisite Santa Barbara estate Bellosguardo, and controversial estate settlement that continues to unfold.  His No. 1 New York Time best- selling biography Empty Mansions: The Mysterious Life of Huguette Clark and the Spending of a Great American Fortune is now in its 13th printing.

Guests will enjoy a lively discussion and a rare chance to view one of Huguette Clark's own paintings.  Guests will begin with a reception followed by the talk.  Special thank you to Bill Dedman and Hotel Santa Barbara.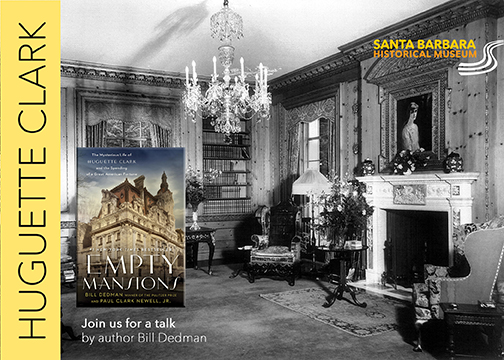 Empty Mansions is a nonfiction history/biography of a remarkable American family, from the father W.A. Clark, who discovered incredible riches in copper during the Civil War and founded Las Vegas, to his last surviving daughter, Huguette, who held a ticket on the Titanic and was still alive in New York City on 9/11. Investigative reporter Bill Dedman stumbled onto the story, discovering that Huguette's fantastic estates were unoccupied while she lived out her last twenty years in a simple hospital room. Dedman has co-written the book with Huguette Clark's cousin, Paul Clark Newell, Jr., one of the few relatives to have conversations with her.


Empty Mansions was published in September 2013 by Ballantine Books (Random House), and reached No. 1 on the New York Times Bestseller List. It was named on best-of-the-year lists from Goodreads, Barnes & Noble, and Amazon.com, and on the year-end favorites list from New York Times book critic Janet Maslin. It has stayed on the bestseller lists from The New York Times for thirteen weeks, and The Los Angeles Times list for thirty-six.


Empty Mansions is a mystery of wealth and loss — and a secretive heiress. In a story that spans nearly all of American history in three generations, Dedman and Newell tell a fairy tale in reverse: the talented daughter, born into a family of fortune and privilege, who hides herself from the outside world. The authors reveal a complex portrait of the enigmatic Huguette and her intimate circle — including her extravagant father, her publicity-shy mother, her star-crossed sister, her French boyfriend, her nurse who received more than $30 million in gifts, and the relatives fighting to inherit Huguette's copper fortune.  Carefully drawn from interviews with Huguette, her personal papers, and testimony of her inner circle, Empty Mansions has been updated with the outcome of the court battle for her estate. Richly illustrated with more than seventy photographs, Empty Mansions is the story of an eccentric of the highest order, a last jewel of the Gilded Age who lived life on her own terms.
About Bill Dedman
Bill Dedman is a Pulitzer Prize-winning investigative reporter and co-author of the No. 1 New York Times bestselling biography Empty Mansions: The Mysterious Life of Huguette Clark and the Spending of a Great American Fortune.  Bill stumbled upon the mystery of the reclusive heiress Huguette Clark, who was featured in a series of reports on NBCNews.com and the Today show. The Clark series was the most popular story ever on NBCNews.com, with more than 110 million page views. He co-wrote Empty Mansions with Paul Clark Newell, Jr., a cousin of Huguette Clark. 
Bill got his start in journalism at 16 as a copy boy at The Chattanooga Times. He has written for The Washington Post, The New York Times, and The Boston Globe, and was the first director of computer-assisted reporting for The Associated Press. He taught advanced reporting part time at the University of Maryland, Northwestern University, and Boston University, and served for six years on the board of directors of Investigative Reporters and Editors.


Bill received the 1989 Pulitzer Prize in investigative reporting for "The Color of Money," a series of articles in The Atlanta Journal-Constitution on racial discrimination by mortgage lenders in middle-income neighborhoods. He has received other national journalism awards over the past thirty years for investigative reporting, feature writing, and creative use of online media.
In eight years with NBC News, reporting online for NBCNews.com, Bill uncovered stories on the Pentagon's failed efforts to identify servicemen and women lost in past wars, fatal problems with firefighter safety equipment, the Obama administration's hidden visitor logs, and coercive interrogations of detainees at Guantanamo.

In 2014 he joined Newsday, the newspaper on Long Island, New York, as a senior writer, reporting investigative stories for Newsday and its sister cable television channel, News 12 Long Island.
When & Where

Santa Barbara Historical Museum
136 East De La Guerra Street
Santa Barbara, CA 93101


Tuesday, October 27, 2015 from 5:30 PM to 7:30 PM (PDT)
Add to my calendar
Organizer
Building a future worth remembering

One of the cultural gems of our city, the Museum holds in the public trust a collection of more than 80,000 irreplaceable objects and artifacts of significance relating to Santa Barbara's extraordinary past. There is no better resource for discovery of local history than this beautiful museum. 

Constructed in 1965, the Museum is the primary repository of Santa Barbara's collective cultural heritage and ethnic diversity. A tour of the Museum enables visitors to see a wide array of unique paintings, objects, photographs, furnishings and textiles dating from the 15th century. Santa Barbara's rich past is represented with artifacts from Chumash, Spanish, Mexican, "Yankee" and Chinese cultures. 

Our visitors love the special seasonal exhibitions in the rotating Sala gallery.  
Visit
Santa Barbara Historical Museum is headquartered in a 25,000 square-foot adobe building in the historic district of downtown Santa Barbara. 
136 East De la Guerra
Santa Barbara, California
(805) 966-1601

Open Tuesday through Saturday 10:00 a.m. – 5:00 p.m., Sunday 12-5:00 p.m., closed Mondays.


The Gledhill Library contains rare literary and visual documents, including 80,000 historic photographs. 
Open Tuesday through Friday, 10:00 a.m. - 4:00pm and the first Saturday of each month, 10:00 a.m.- 1:00 p.m.
Also preserved by Santa Barbara Historical Museum:
Covarrubias Adobe (1817): One of the oldest buildings in Santa Barbara the adobe, which serves as the Museum's education center, is adjacent to the downtown museum. National Registry of Historic Places and Santa Barbara Landmark 
Historic Adobe (1836): Adobe adjacent to the downtown museum. Santa Barbara Landmark

Trussell-Winchester Adobe (1854): National Registry of Historic Places and Santa Barbara Landmark

Hon. Charles Fernald Mansion (1865): A fourteen- room Queen Anne Victorian-style home of one of the city's most prominent historical figures. Santa Barbara Landmark
Our Mission

To foster a deeper understanding of and appreciation for the history of the city and county of Santa Barbara.

We are dedicated to collecting, preserving, interpreting, and exhibiting the material culture of the Santa Barbara region in all its diversity; to educating through lectures, tours, and in the classroom; and to encouraging research, scholarship, and publication of the history of the Santa Barbara community.