Empty Bowls Detroit Eastern Market Bowl Painting Workshop x Allee Willis Tribute Party
About this event
Great news!! Apropos and Empty Bowls Detroit are joining forces to honor Allee Willis.
The Allee Willis Tribute Party will be hosted by Apropos, who developed a bond with Willis in 2019. Sharing a love and passion for music that spanned generations, the pair were collaborating together on a pair of songs at her 'Willis Wonderland' studio in California.
On Christmas Eve of this year, the music world was rocked by the loss of Detroit's Allee Willis. An entertainment icon, Willis was a Grammy winner & member of the Songwriters Hall of Fame who penned immortal songs including Earth, Wind & Fire's 'September' and "I'll Be There For You (Friend's Theme)" among countless others.
Admission is a $20 donation. This includes bowl painting, a simple meal of soup and live entertainment by Apropos who launch his solo career with a fundraiser for Empty Bowls Detroit. Apropos will join us again this year at the March 6th event . 100% of proceeds raised by Empty Bowls Detroit benefit the food program at Cass Community Social Services. Proceeds from the party will be dedicated In Memory of Allee Willis.
Local artists are encouraged to attend and participate in our Allee Willis 'themed' bowl painting contest. Participants will hand-paint ceramic bowls and the winners will be auctioned online at a later date to raise additional funds for Empty Bowls Detroit in memory of Allee Willis.
"…if I could take Otis Redding and blend him with Marvin Gaye, throw in a whole lot of contemporary R&B, Hip Hop, and Funk that would be Apropos." - Allee Willis
"You can't be an artist from Detroit and not give back," said Detroit singer-songwriter Apropos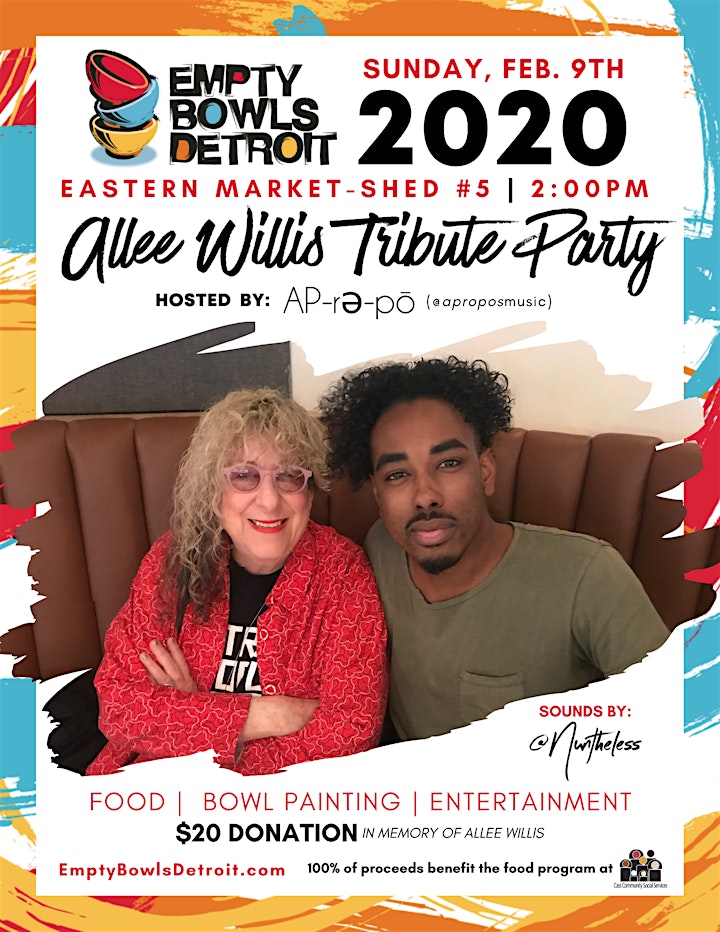 Organizer of Empty Bowls Detroit x Eastern Market Bowl Painting Workshop
Empty Bowls Detroit is a local organization fighting to end hunger in Detroit, Michigan through events, art and local partnership. In support of Cass Community Social Services (CCSS), a Detroit-area agency focused on alleviating poverty, Empty Bowls Detroit creatively raises funds and awareness for hunger.
Empty Bowls Detroit is on a mission to end hunger one bowl at a time.
Throughout the year, thousands of ceramic bowls are uniquely decorated by members of the community including youth, church and corporate groups who join in fellowship while painting bowls.
The bowls decorated at workshops are not for keeping, rather to be given to ticket-purchasers at our yearly event. Our main event is in March 6th at Detroit's Historic Eastern Market for adults 21 and over.
This elegant night out includes live entertainment, soups, breads, cheeses and desserts
donated by local partners, as well as the opportunity to take home a one-of-a-kind bowl from over the thousand that will be displayed. The bowl is a reminder someone's bowl is always empty.