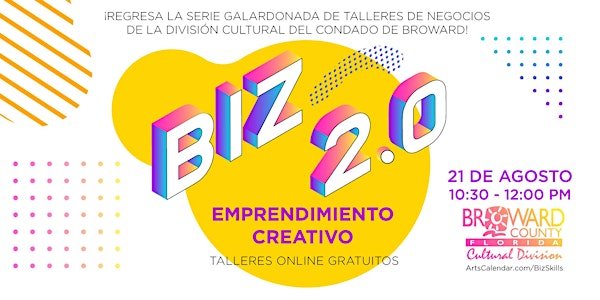 Emprendimiento Creativo
La División Cultural del Condado de Broward presenta la sesión final del taller "Habilidades de Negocios para Creativos".
About this event
El Dr. Javier J. Hernández Acosta, autor del libro "Emprendimiento Creativo" , compartirá sus conocimientos con artistas de todas las disciplinas, ahondando en temas como la economía creativa y los medios para el desarrollo económico y social.
Los empresarios creativos son agentes de cambio que combinan recursos y generan dinámicas de impacto cultural y económico. ¿Cómo podemos promocionar el emprendimiento creativo en nuestros países?
Durante esta sesión, los artistas aprenderán cómo promocionar su emprendimiento creativo y herramientas para crear un negocio creativo exitoso incluidos el mercadeo, finanzas, manejo de producto y más, mientras crean un impacto positivo en sus comunidades locales.
El taller se impartirá por completo en español y se difundirá en vivo a través de la página de Facebook @BrowardArts y en nuestro canal de YouTube. Se requiere la inscripción por adelantado ya que el material didáctico para el curso se entregará antes del inicio de la sesión.
Sobre el conferencista:
El Dr. Javier J. Hernández-Acosta obtuvo un doctorado en desarrollo de negocios y administración de empresas con foco en comercio internacional del Campus Metro de la Universidad Interamericana de Puerto Rico. Es el fundador de Cultural Investment ("Inversión Cultural"), una organización sin fines de lucro cuyo propósito es desarrollar empresas creativas y culturales en Puerto Rico. También es autor del libro "Creative Entrepreneurship" ("Emprendimiento Creativo"). Su experiencia incluye desarrollar negocios locales y proveer servicios profesionales a empresas y agencias gubernamentales puertorriqueñas. En la actualidad, funge como director del departamento de Administración de Empresas de la Universidad del Sagrado Corazón.
English:
Broward Cultural Division presents the final Business Skills for Creatives session, a free virtual workshop presented in Spanish.
Dr. Javier J. Hernández Acosta, author of "Emprendimiento Creativo", will teach artists of all disciplines about the creative economy, and methods for economic and social development.
Creative entrepreneurs are agents of change who combine resources and generate dynamics of cultural and economic value. How can we promote creative entrepreneurship in our countries?
Artists in this session will learn how to promote creative entrepreneurship and learn tools for a successful creative business including branding, marketing, finance, product management and more, while also creating a positive impact on their local environment.
This lesson will be delivered exclusively in Spanish and streamed live on the @BrowardArts Facebook page and YouTube channel. Advance registration is requested as course materials may be provided prior to the session.
About the speaker:
Javier Hernández has a PhD in Business and Management Development with a concentration in International Business from the Interamerican University, Metro Campus. He is the founder of Cultural Investment, a non-profit organization whose purpose is to develop cultural and creative companies in Puerto Rico, and the author of Creative Entrepreneurship. His experience includes developing local businesses and providing professional services to Puerto Rican companies and government offices. He is currently the director of the Department of Business Administration at the University of the Sacred Heart.
Business Skills for Creatives 2.0 is the follow-up to Broward Cultural Division's Business Skills for the Modern Creator, developed in the summer of 2020 in response to the COVID-19 pandemic. Learn more about Business Skills for Creatives, including previous recordings and opportunities to join other creative entrepreneurs and more, here: ArtsCalendar.com/BizSkills