Description
Women's Business Enterprise Council Pacific is excited to announce that our Northern California Economic Development Summit, Empow[her]: 20/20 "Bring your Brand into Focus" will be held at the Federal Reserve Bank of San Francisco on July 12, 2019.

Exceptional branding, marketing, and image are critical for business owners who want to remain competitive in their industry. Who you are and how you are viewed can sometimes outweigh what you do. Regardless of the industry you are in, it is all about honing your brand to evoke the right image and stay true to your vision.
Empow[her]: 20/20 will help you take a fresh look at your brand, give you tools to assess your marketing, and provide you with ways to utilize public relations so that it has a positive impact on your business. Plus, we will engage corporate and agency specialists who will share their perspectives on how your brand impacts their decision to move you forward in the procurement process.
Then, at the end of the day you'll be able to put what you learned to the ultimate test. Join us for not only a matchmaking session with corporate members and procurement professionals, but also our inaugural pitch competition; one of three competitions in WBEC Pacific's Pitch Pacific 2019. For your story to make the cut in either of these opportunities, your vision, your image, and your brand will need to be at 20/20.
WBEs in the WBEC Pacific regions interested in participating in the matchmaking opportunity can submit their interests while checking out.
And if you are WBE in the WBEC Pacific region interested in entering the pitch competition to compete for the grand prize and a chance to move on to the finals, please click the link below. The deadline to participate at the pitch competition at this event is June 24th.
https://forms.gle/arMSKa6p99pow1T6A
Attending



Agenda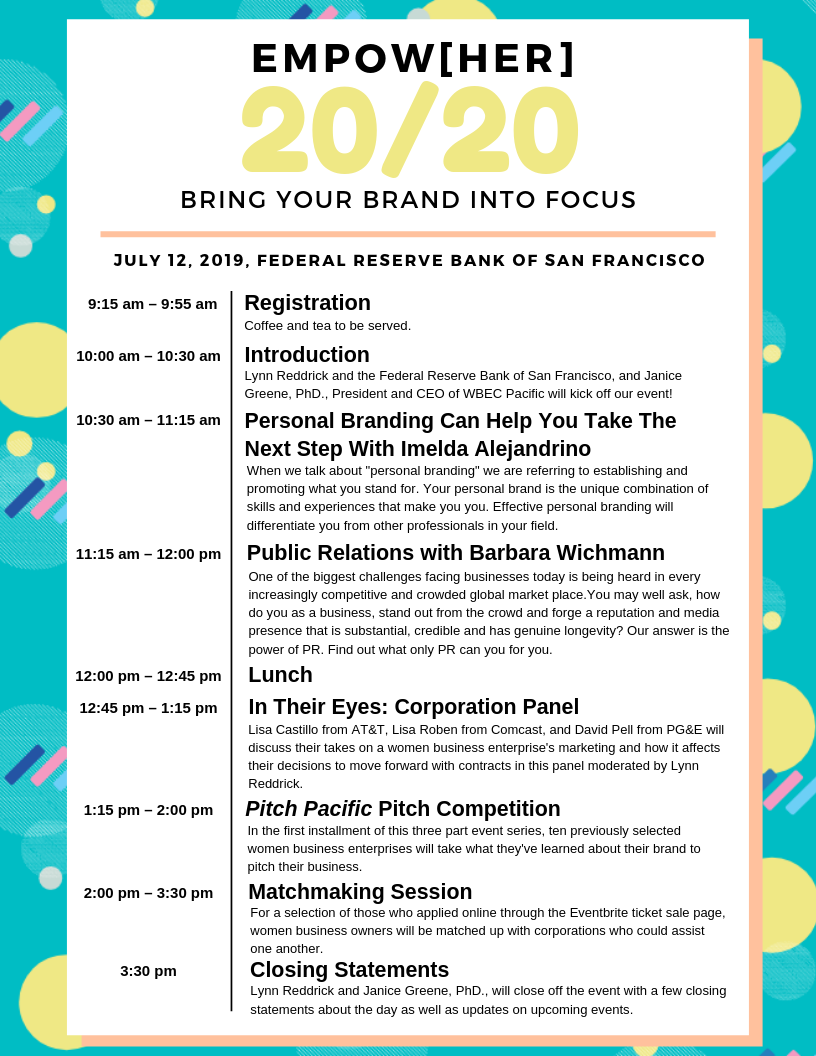 The Federal Reserve Bank of San Francisco is a secure building so attendees need to arrive in the front lobby of the building to receive a name tag (Bank provided), show a photo ID, and be escorted to the meeting room. Attendees are encouraged to use public transportation (The Embarcadero Bart Station east exit is right in front of the Bank building).
Seating is limited and reserved on a first come, first served basis.
---
More Information to come. We look forward to seeing you in July. Until then, stay focused.


For more information, or any questions about this event or any other WBEC Pacific event, please contact emily@wbec-pacific.org