EMPOWERU! 6 week course with Ms. Vihil H. Vigil
About this Event
New Perspectives
Working with someone who has experience in problem solving, working through pain points, strategizing for success and preparing for your plan's implementation to achieve success provides you with someone to keep you accountable while teaching you how to achieve your goals.
Forever Tools
Throughout your Empowerment Coaching Program we are setting the framework for how you will accomplish your goals with modules to get you through the work, with each completed document it is catalogued and packaged so that you will forever have the tools you are being taught at your fingertips in a beautifully designed & printed book, "Your Journey to Empowerment!"
Outcomes & Successes
You have tried to improve on your own so now work with someone who can produce real outcomes and successes with you!
Who would benefit?
Women who are READY FOR CHANGE! Women who are new graduates, mid-career professionals, business executives and women veterans with a desire to improve their lives. Women who may have experienced trauma in life. Women who KNOW they are destined for so much more!
Women willing to put themselves first! Women willing to step into her power and work through past disappointments, traumas, setbacks and be done with always putting themselves last.
What can we work through?
Feelings of inadequacies, small habit changes leading to big outcomes, experiences of trauma, sexual assault, addiction, anxiety, depression and post traumatic stress disorder. Getting over being so unorganized you never get anything done! Preparing you for that career you have always wanted! Getting you healthier; mentally & physically!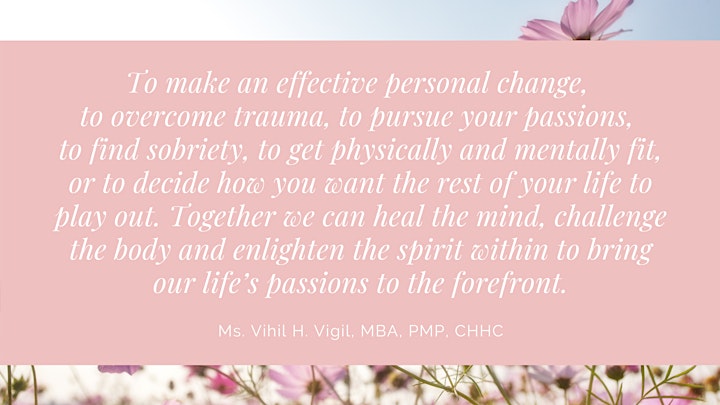 Your Coach:
Ms. Vihil H. Vigil, MBA, PMP, CHHC
United States Navy Veteran
Experienced & Certified Professional Program Manager
Veteran of Corporate & Non-Profit Business Management
Sexual Assault & Domestic Violence Survivor
Personal Addiction Specialist
A Dedicated & Passionated Person, Mother, Woman
Ms. Vihil H. Vigil brings her plethora of experience to coach and uplift her clients through educational workshops, online and live break through group sessions, one-to-one coaching programs and more by way of Therapeutic Empowerment, a coaching based therapeutic practice focused on working with women to unleash their true potential by recognizing the past, managing today and action planning for the future!
A native of the Sacramento Valley Ms. Vihil is a United States Navy Veteran, a former non-profit program director, senior business analyst and project management professional for several campuses of the University of California. Ms. Vihil received a BA in Art History from Humboldt State University in Northern California, an MBA from Ashford University, gained holistic health coach training from the Health Coach Institute and continues to advance her knowledge and credentials by attending such courses as Certified Cognitive Behavioral Therapist credential from The Academy of Modern Applied Psychology while she works towards her Doctorate in Clinical Psychology.
Vihil loves bringing together like-minded women who are willing to work on themselves and on their businesses through her signature "Collective Collaboration".
One of her many strengths is to help others develop skills and confidence to truly shine in their light!
CEO, Writer and Editor in Chief for Magistra Magazine where focus resonates to Empower Women by Encouraging Expression. Through highlighting successful women in business and women entrepreneurs, telling their stories of success, and documenting their encouragement to others Vihil continues her work of women's empowerment.
www.WomensEmpowermentCoach.us