Empowerment Through Collaboration: How to Create Transformation Community With Starhawk - Free Into Webinar
Refund Policy
Contact the organizer to request a refund.
Description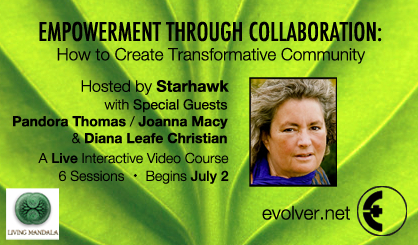 Webinar Description
Learn how to make your participation in groups, in all of its aspects, an expression of your highest ideals.
When we seek to transform ourselves and our world, the groups we form and the communities they generate can be places of deep support, nurturing and empowerment. And they can also founder on the rocks of conflict and poor communication.
Groups of equals are inherently different in their dynamics than hierarchies with top-down structures of control. To function effectively, to negotiate power-struggles and disagreements, non-hierarchical groups need a deeper understanding of power, structure, and communication.
What are the best techniques for bringing out the best in everyone who participates in a collaborative group?

How can you identify challenging group dynamics before they become an obstacle to achieving the group's mission?

How can we make our groups into model communities of change that are examples for the rest of society?
Few activists have devoted as much intelligence and attention to the issues raised by community dynamics as Starhawk – or have arrived at such insightful results. Through her many years of involvement in grassroots organizations, beginning with the rise of the Pagan community in the 70s, through Occupy and beyond, Starhawk has dedicated herself to community building through activist collaboration. She captures her sometimes hard-won lessons in her latest book, The Empowerment Manual: A Guide for Collaborative Groups.
The webinar will conclude with taking some time to address questions from participants.
* Register above and you will be emailed a link to watch and participate in the free webinar.
Empowerment Through Collaboration:
How to Create Transformation Community

6 Part On-line Course Hosted by Starhawk
Special Guests Include: Joanna Macy, Pandora Thomas, and Diana Leafe Christian
6 Sessions, Tuesdays, July 2 - Aug 6, 2013
5:00 p.m. San Francisco • 8:00 p.m. New York
For More Information on the On-Line Course Click Here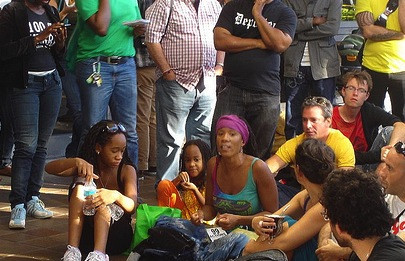 On-Line Course Description
In this live, interactive video course, Starhawk will share tools for clear communication, conflict transformation, constructive critique, and facilitating group decision-making. You will examine how a group's vision and stru
cture can support healthful functioning. The Empowerment Manual will be the course's foundation. Insights from both permaculture and earth-based spirituality will help us learn to be more effective and joyful as we work together to regenerate ourselves and our world.
Starhawk has invited 3 experts with deep experience in community building to take part in the conversation: Joanna Macy, Pandora Thomas, and Diana Leafe Christian.
This 6-session course takes place on consecutive Tuesdays starting July 2. You will be part of the discussion, able to ask your questions on camera, just like a Skype call. If you can watch a YouTube video, you can take part in this course.
Who This Course Is For
Leaders and participants in any activist group, including Evolver Spores, permaculture groups, spiritual circles, Occupy groups, Transitions Towns, and intentional communities

Anyone who wants to improve their communication and relationship skills

Meeting planners and facilitators

Anyone working in non-profits or social change organizations

Managers of alternative and green businesses

Anyone who works with others in community. Creating healthy community is essential for any visionary enterprise.
This is a rare opportunity for you to take part in an in-depth training that goes to the heart of visionary community making with some of the leading experts in the field.
For More Information on the On-Line Course Click Here
Starhawk's Bio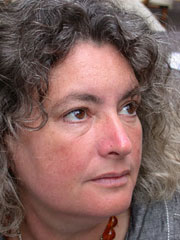 Starhawk is a committed global justice activist, organizer, speaker, teacher, and the author or coauthor of ten books. Starhawk is founder of Earth Activist Training, and travels internationally teaching magic, the tools of ritual, and the skills of activism for diverse groups, communities and audiences. Starhawk is perhaps best known as an articulate voice in the revival of earth-based spirituality and Goddess religion. Besides her inspiring, much-read books, she is a cofounder of Reclaiming, an activist branch of modern Pagan religion, and continues to work closely with the Reclaiming community. Her works include The Spiral Dance, long considered the essential text for the Neo-Pagan movement, and the now-classic ecotopian novel, The Fifth Sacred Thing . A personal favorite is award-winning Webs of Power: Notes from the Global Uprising. Starhawk's latest book is The Earth Path: Grounding Your Spirit in the Rhythms of Nature. Starhawk's books have been translated into many languages, while her essays are reprinted across the world, and have been included in numerous anthologies. Her writing is influential and has been quoted by many hundreds of other authors, from magazines to trade and academic press. Her books are often used in college curriculums.
Starhawk is a veteran of progressive movements, from anti-war to anti-nukes, and is deeply committed to bringing the techniques and creative power of spirituality to political activism. Her work in progressive movements spans over 30 years. She has organized, trained protesters, and been on the front lines of antinuclear actions at Diablo Canyon, Livermore Weapons Lab, Vandenberg Air Force Base, and the Nevada Test Site, among others. She traveled to Nicaragua with Witness for Peace in 1984 and made two trips to El Salvador to give ongoing support for sustainability programs. She continues to be a witness for peace on the front lines of the Palestine/Israel war, working with Palestinian and Israeli peace activists. A main focus for the last several years has been the global justice movement; Starhawk has taken part in many of the major actions, including those in Seattle, Washington DC, Quebec City, Genoa, New York City, Cancun, Mexico, and Miami. She co-founded RANT: Root Activists' Network of Trainers, and teaches non-violent direct action trainings for groups throughout the US, Canada, Mexico, Europe, Palestine, and South America. She is active in the revived American peace movement, and works with Code Pink. Starhawk also works on countless environmental and land use issues, and is a founder and active member of the Cazadero Hills Land Use Council in western Sonoma County.
Starhawk consulted on and contributed to a trio of popular films, the Women's Spirituality series (directed by Donna Read). Starhawk and Donna Read formed their own film company, Belili Productions. Their first release is "Signs Out of Time" (2004), a documentary on the life of archaeologist Marija Gimbutas, the scholar whose discoveries sparked the Goddess movement. Watch Starhawk's short videos on Permaculture - Tabor Tilth: Permaculture in the City, and Permaculture Principles at Work. Starhawk and Donna are at work on her next film, an Introduction to Permaculture. Starhak is currently working on a screen play and film for the film for her visionary best selling book - The Fifth Sacred Thing. http://fifthsacredthing.com/
Starhawk lives part-time San Francisco, in a collective house with her partner and friends, and part-time in a little hut in the woods in Cazadero, California, where she practices permaculture in her extensive gardens, and writes.
* Register above and you will be emailed a link to watch and participate in the free webinar.
For questions and more information
email: aeducation@livingmandala.com
website: www.livingmandala.com