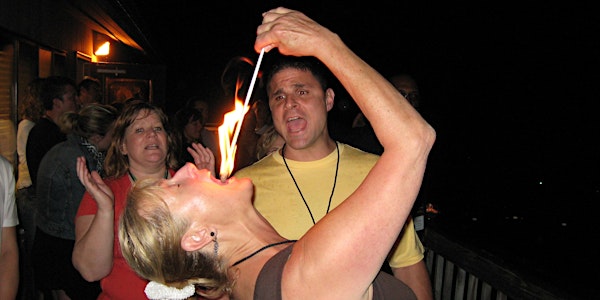 Empowerment Retreat for Creating Positive Change & Real Results!
When and where
Location
Gideon Putnam Resort Hotel Gideon Putnam Road 24 Gideon Putnam Road Saratoga Springs, NY 12866
Refund Policy
Contact the organizer to request a refund.
Description
Powermastery Empowerment Retreat is where you learn about your hidden potential and empower your life with real-time hands-on techniques and strategies you'll pick-up from world record holders, television celebrities and admired leaders who have accomplished goals what others believe possible for themselves. These leaders in the field of success, wellness, and higher conscious living - guide, inspire and motivate you to excel beyond what you believe possible.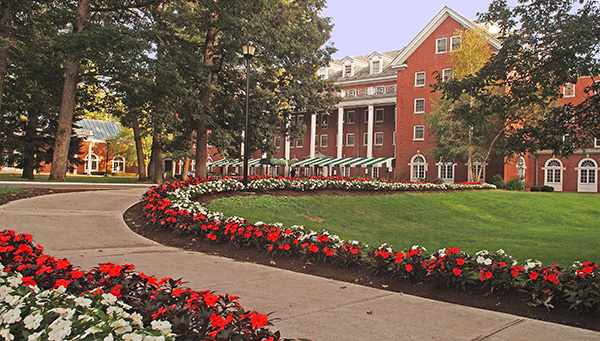 Sick and tired regarding the lack of options you have regarding your outcomes, health, wellness, and where you are in your personal and business life?
Discover tangible, healthier and eye-opening options to enjoying life from the inside out; holistically and organically whether it doing more, enjoying more, getting more from life, your career, or relationships.



THIS IS NOT EXHIBITOR REGISTRATION FOR THE FESTIVAL!
This for Retreat Guests only. Contact us if you'd like to be an exhibitor.
The Empowerment Retreat takes place inside the legendary and luxurious Gideon Putnam Resort!
We have assembled a faculty who have been there and done that, those who have dedicated their lives to the pursuit of truth and transparency in health and wellness, those who find mindfulness and exude peace and harmony even in the toughest of times. This Retreat faculty help create the awareness, process, structure and formula needed for you to empower your life, achieve amazing results, and create a space for health, wellness and healing from the inside out whether you're seeking clarity and answers to personal life, business, career or relationships.
Over 80% of the workshop programming and activities are hands-on experiential including empowerment state change, energy movement, group interactions, awareness building, eastern and complementary medicine pathways, the metaphysical, diet and food reveals, yoga, meditation, and sound.
Take in a new pathway to mindfulness while succeeding

Shedding stress and anxiety while making resolute decisions

Being able to say "no" without guilt

Sticking to a diet and fitness based lifestyle, etc.
You apply techniques and strategies you learn from master faculty, test and try them while at the Retreat, including receive feedback on observations on your progress, and then take these powerful lessons and practical approaches home with you to apply to and use for the rest of your life.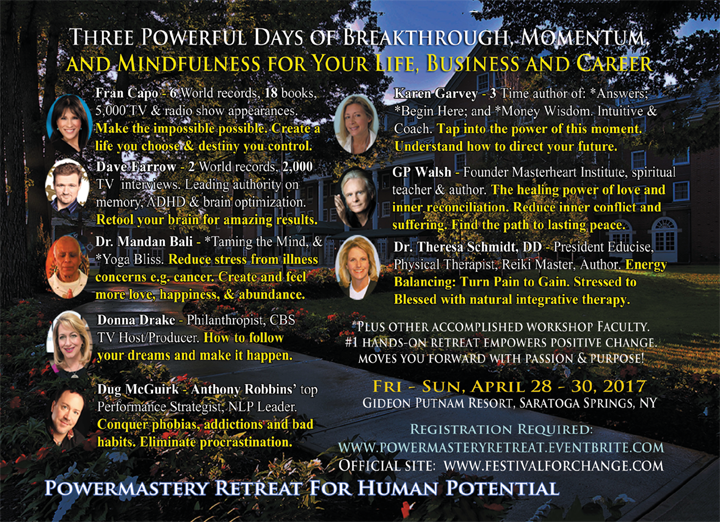 If you ever experienced:
Procrastination

Chronic pain and suffering

Loss of purpose

Loss of love or connection

Negative or destructive addictions or habits

Challenging health issues

A sense of helplessness or low self-esteem

Depression

Anxiety
If you desire to:
Find a sense of purpose

Discover new, effective, and non-intrusive solutions to regaining health and wellness

Unlock an undaunted courage and build confidence

Find peace and happiness without strings

Feel a sense of accomplishment

Take control of your life

Find closure on issues and challenges that have been haunting you for years

Look at challenges as positive opportunities while celebrating your wins

Help others by becoming a healer, practitioner, guide or healthcare giver

Learn about and have a bat utility belt filled with insights of different modalities to health and wellness
This is a hands-on experiential weekend dedicated to improving your life, your capacity to help and support others and become conscious of the choices available to you in integrative, holistic, allied and metaphysical health, wellness, medicine, diet, fitness, and spirit.
A world class collective of faculty members from change leaders, world record holders, healers, light guides, healthcare providers, and those who taken life to the next level are part of a collective spirit and design working to improve and skyrocket your life when you arrive at Powermastery's Empowerment Retreat April 28 - 30, 2017.

It is a springboard to improve and enhance your life through experiential education, insights and inspiration from world record holders, healers, thought leaders, health and wellness professionals, and a community of like-minded souls sharing in hopes and dreams that there is always a better way while bringing up your energy levels through sound and movement.
The Retreat is ideal for you:
If you want a workshop that has you learning, growing and doing it, instead of just listening

If you're seeking solutions, insights, mentoring and a powerful support network of peers and products that support your success, health, wellness and spirit

Are at a point in your life where you need to learn and do something about it because what you're currently doing or where you're headed is not working or serving your best interest

Need to bring your world into a sense of sanity and back into control

Interested dynamic ways to increasing physical wellness, emotional health, alignment and potential
100% Refund Guarantee!
For a limited time only, receive an Early Bird rate for taking action - now.
REGISTER FOR RETREAT: https://powermasteryretreat.eventbrite.com

Festival for Change for details about Festival and Retreat.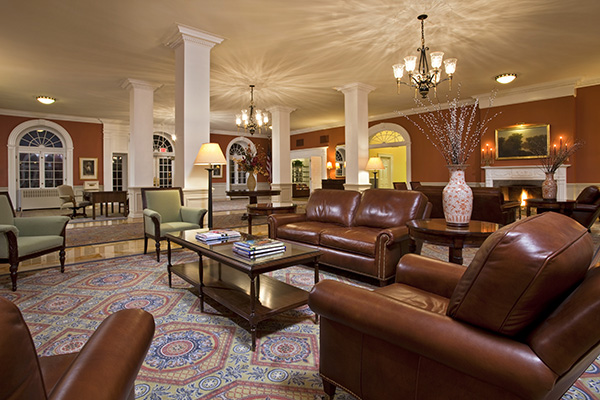 The Powermastery Empowerment Retreat (the "Retreat"), is an indoor/outdoor experiential multi-workshop leader based weekend long (Friday – Sunday, April 28 – 30, 2017) to elevate your mastery of life, relationships, health and the pursuit of wellness through various modalities including peak performance, human potential, nutrition, weight loss, diet, mental well-being, love, dealing with addictive habits and behaviors, spiritual alignment, awareness,action-based learning, and fitness. It takes place within the historic Gideon Putnam and throughout Saratoga Springs Spa State Park.

THREE DAY Indoor Retreat: Fri - Sun (April 28-30, 2017)
Festival For Change (the "Festival"), is a FREE large scale public outdoor festival taking place outside the Gideon Putnam and runs concurrently with the Retreat, but from Saturday to Sunday, April 29 – 30, 2017.

Register now get a fresh start on how to create a platform for results you want to show up in your life.
This multi workshop three day Retreat with over 16 seasoned faculty with proven track records of success, world records, and loyal followers.
Because of the Retreat room capacity, registration is handled on a first come first served basis.
100% Refund Guarantee is valid up until March 25, 2017 (minus $20 for fees). Refund is limited to the tuition you paid for on Eventbrite. It does not cover any other expenses you incur separately e.g. lodging and transportation. Click here for: Powermastery Empowerment Retreat Registration

The historic Gideon Putnam Resort has offered a special guest rate for the weekend; however, because the hotel is expected to be sold out there is a limited number of rooms available at the discounted rate. It is part of the Delaware North group which also manages properties such as Grand Canyon National Park, Park Gate Lodges at Yellowstone, Kings Canyon Resort, Niagara Falls State Park, Sequoia and Kings Canyon National Parks, Shenadoah National Park, Tennaya Lodge at Yosemite, Best Western Rocky Mountain Lodge, Kennedy Space Center Visitor Center, Heron Island Resort (Australia), etc.

Details about Festival and Retreat are at: www.festivalforchange.com

*Registration for the Powermastery Empowerment Retreat includes your tuition and workshop material for three days from Friday - Sunday, April 28 - 30, 2017. You are responsible for your own lodging, travel or food and beverage which are at your own cost if needed.