Event Information
Location
The Wellness Spot
3397 Main Street
College Park, GA 30337
Have you ever felt judged by others or even yourself because of your physical appearance? You're not alone. In fact, you are in good compa
About this event
Have you ever felt judged by others or even yourself because of your physical appearance?
You're not alone. In fact, you are in good company...lot's of it.  Come get inspired and empowered.
It's more than just arts and crafts!
 Please join us at our Annual Permission to FLY, Vision Board and Empowerment Brunch This will be an inspirational afternoon filled with positive energy and a deeper understanding of what it means to F.L.Y.
You will be wined and dined with a great catered brunch,   we will have a special performance,
Oh and did we say unlimited Mimosas? 
We will  honor the anniversary of our co-founder, Ashley Rose, receiving her angel wings, by presenting someone with the Ashley Rose Scholarship. 
We will also  honor a woman  that has persevered and been resilient and done it all with dignity a grace. This honoree will receive the "Persevillient" award  
Our  quest speakers will coach you through the everyday obstacles that arise when aspiring toward success, followed by a short Q&A session.  Hosted by La'Tasha Givens of 11 Alive News. The wealth of knowledge will be unlimited.
Next you will get the chance to channel that motivation into your personal vision board.
We are adding a NEW TWIST to our vision board called WEAR YOUR VISION.  bring your t-shirt or purchase one of ours and put your vision on your shirt 
 All materials  are included with your ticket purchase (t-shirt not included) Feel free to bring any extra magazines, books, or visuals that will help enhance the vision for your board, including a picture of yourself!  
                                 Moms, please be encourged to bring your daughters.
Parking - Parking on Main Street is very limited, you can park on side streets, and in the Lawyers parking lot.It is a very busy street.
Doors open at 2:45
Can't Make it? Donations are always welcomed.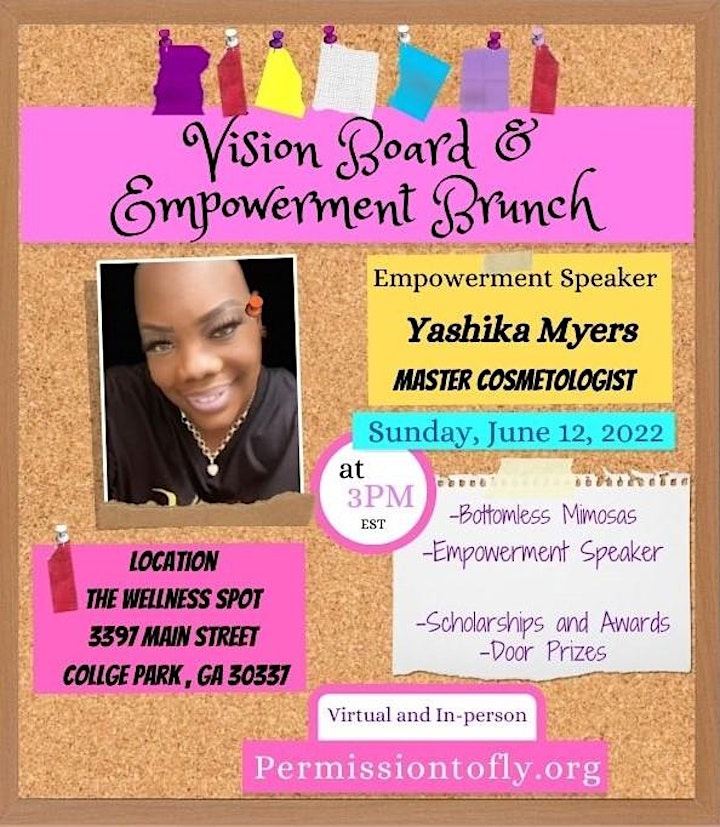 Date and time
Location
The Wellness Spot
3397 Main Street
College Park, GA 30337
Refund policy