Empowering Youth for Health Careers

Saturday, October 14, 2017 from 9:00 AM to 3:00 PM (PDT)
Event Details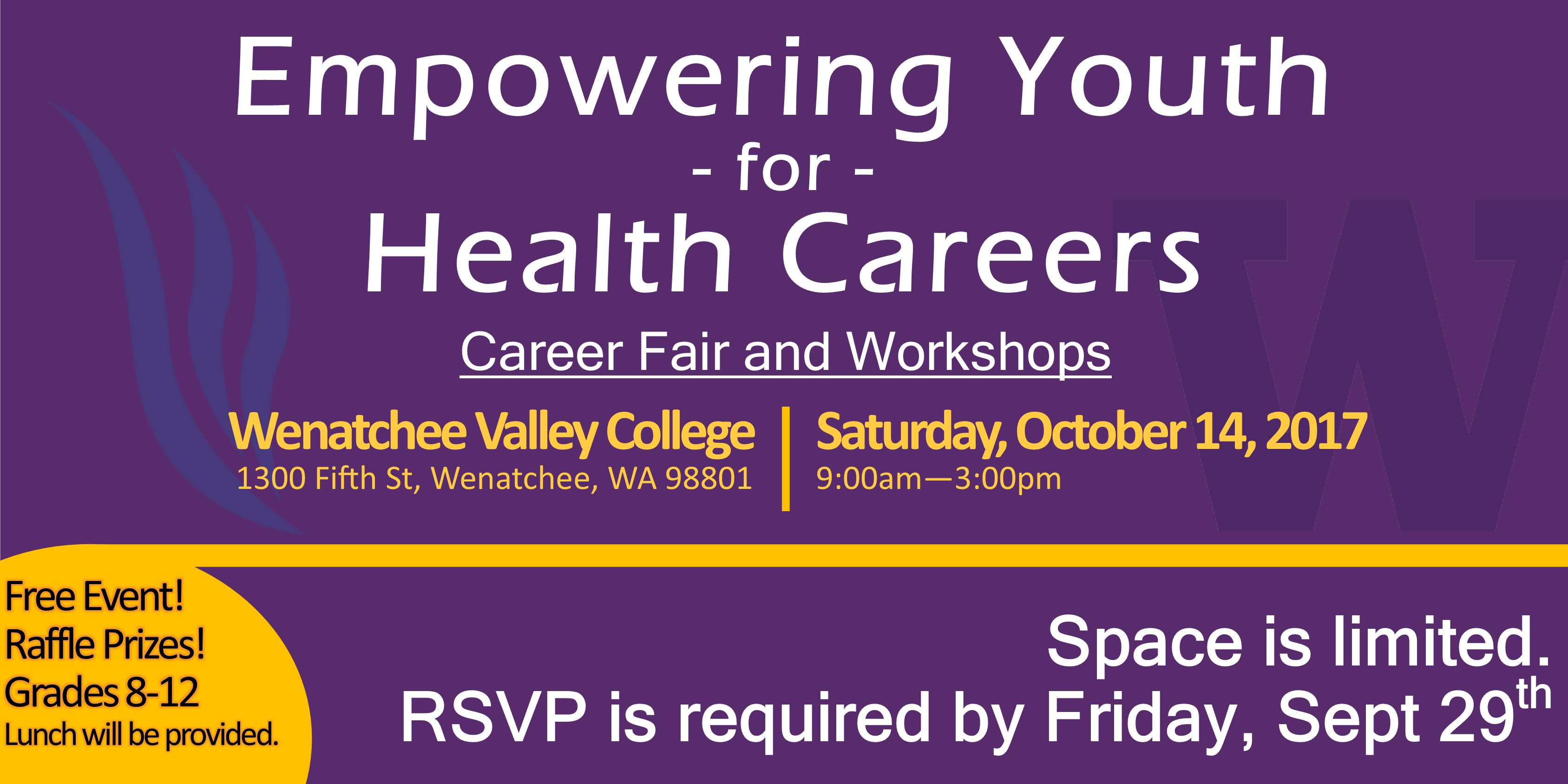 For information about this event, please contact Jennifer Capelo at jcapelo@wvc.edu or call (509)682-6662
Empowering YOUth for Health Careers
Our Mission
The mission of the conference is to educate and inform middle and high school students from eastern Washington about various career options in the healthcare field, and to inspire students to think and dream big. We want to empower you to believe that success through education is possible, and to believe it is well within your reach.
What is your dream?
To be a physician? A dentist? The scientist that discovers the cure for AIDS? Your dreams are where your path begins. A panel of successful local health professionals will be sharing stories on how they achieved their dreams and what they have done to get where they are today. If you can dream it, you can achieve it!
Come spend a few hours
Empowering Youth for Health Careers is geared towards middle and high school students in the eastern Washington area. This conference provides students with various hands-on workshops that give you a glimpse into the health professional field. The various workshops are also a comfortable forum to meet and ask questions of the many professionals and current health professional students in the field that will be attending. Hear from those who have gone before you; who have faced a similar journey, and who may help address your concerns. They can be your most valuable teachers.
If you live in eastern Washington, this conference is for you
This conference offers you the opportunity to interact closely with highly knowledgeable and respected healthcare leaders, participate in hands-on activities to learn health professional skills, and receive guidance towards your field of study in an informal surrounding. Make valuable contacts for those important future opportunities and decisions lying beyond your high school years. This is an event you would not want to miss! 
---
Workshops @ Empowering Youth for Health Careers
    

Recreating teeth in wax

:

 Ever wondered how dentists fix teeth that get damaged in sports accidents? Dentists learn how to replace missing or damaged tooth structure by building teeth up in wax.  They use imitationteeth made out of a special plastic called Ivorine. Parts of missing teeth are rebuilt to make a complete tooth.  Today, you will use wax to rebuild part of a front tooth to match the other half. You can take your tooth home with you!

 
 

 

 

Impressions:

 If you have had braces or a retainer, you may remember having an impression (or mold) of your teeth taken. At this station you will mix alginate material and take an impression of model teeth.  Then a dental student will help you pour dental plaster into your impression mold so that you can take a plaster model of the teeth home with you.

 
 

 

 

Suturing: 

When someone gets a bad cut or has a surgery, medical doctors may use sutures (also called stitches) to hold the skin together while it heals. Dentists and physicians use sutures to hold gum or  skin tissue together while it heals, such as when a wisdom tooth is extracted or when deep wounds need repair after injury. At this station, a dental or medical  student will teach you how to place sutures. Be careful not to poke yourself!

 
 
 
 
 

Nursing Simulation: 

Simulation of the healthcare environment is important in translating practice into real world scenarios for future healthcare providers. A realistic simulation lab allows students to go from the learning lab to the hospital setting with a minimized learning curve. In this workshop, students will be able to experience what it is like working in the simulation lab that resembles a room for patient care purposes. 

 
 
 
 
 

Vital Signs: 

In clinic, vital signs are usually measured to obtain a quick evaluation of a person's general physical condition. In this workshop, you will learn how clinicians obtain the patients' four main vital signs: body temperature, blood pressure, pulse (heart rate), and breathing rate.

 
 
 
 
 

Health Panel: 

Speakers from a variety of health professions will be at this workshop to answer any of your questions while providing valuable resources and advice. Hear from pre-professional students about their academic and personal journey into their career paths. This is your chance to conversate in an informal way with pre-professional students and professionals in the field. You do not want to miss out on this unique opportunity!

 
 
 
 
  

Medical Lab Technology: 

Have you ever wondered what happens to your blood when you go to the doctor or hospital? In this workshop, we will look at different jobs that medical laboratorians do every day from drawing blood, to running tests, and onto looking at blood cells and microorganisms on a microscope. Anyone with a strong interest in biology and working in a lab setting should attend.

 
 
 
 
    

Tooth Composites:

 

Have you ever had a filling done that was tooth-colored or silver-colored? The tooth-colored material is a special plastic called composite.  Today, you will learn how to fill a tooth preparation! First you will place the soft composite material and shape it, then you will use a blue light curing device to harden the composite and finish the filling.

 Do not look at the blue curing light!
When & Where

Wenatchee Valley College
1300 Fifth St
Wenatchee, WA 98801


Saturday, October 14, 2017 from 9:00 AM to 3:00 PM (PDT)
Add to my calendar