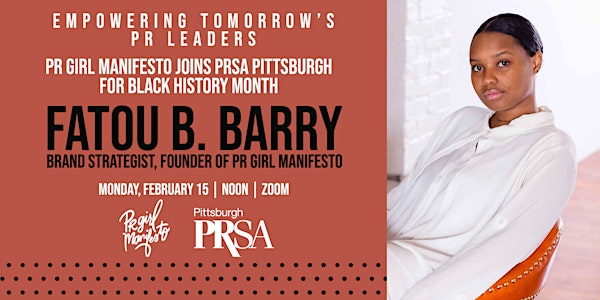 Empowering Tomorrow's PR Leaders
PR Girl Manifesto Joins PRSA Pittsburgh for Black History Month
About this event
In honor of Black History Month, PRSA Pittsburgh invites you to a virtual discussion with Fatou Barry, brand strategist and founder of the inclusive community of over 40,000 PR professionals, PR Girl Manifesto.
Attendees will learn how to commit to D&I long-term, how a career in PR can be a vehicle for advocacy and tips to help women excel in the industry and generate opportunities in the workplace.
The Bureau of Labor Statistics reports women hold over 72.8% of PR management jobs, but only 10.7% of those roles are held by Black women and 3.1% of those roles are held by both Asian and Hispanic/Latino women.
Community resources like PR Girl Manifesto empower emerging and current PR pros to use their abilities to transform the industry, change the narrative and create a future of equitable and inclusive opportunities for all women.
This is a free virtual event.