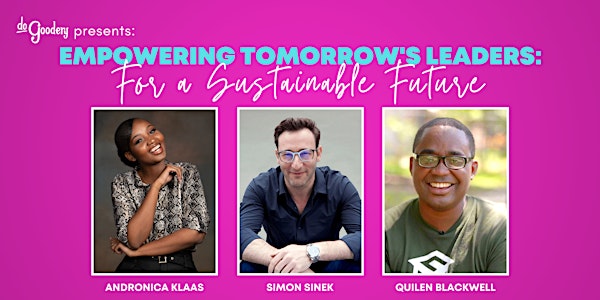 Empowering Tomorrow's Leaders
Empowering Tomorrow's Leaders: For a Sustainable Future
About this event
Join our keynote speakers Simon Sinek, Andronica Klaas, and Quilen Blackwell for a conversation on Empowering Tomorrow's Leaders: For a Sustainable Future, followed by a Q+A session!
About Optimist and Bestselling Author, Simon Sinek:
Simon is an unshakable optimist. He believes in a bright future and our ability to build it together.
Described as "a visionary thinker with a rare intellect," Simon has devoted his professional life to help advance a vision of the world that does not yet exist; a world in which the vast majority of people wake up every single morning inspired, feel safe wherever they are and end the day fulfilled by the work that they do.
Simon is the author of multiple bestselling books including Start With Why, Leaders Eat Last, Together is Better, and The Infinite Game.
About Lead Quality Assurance Engineer at Facebook, Andronica Klaas:
Andronica Klaas, a graduate of the Oprah Winfrey Leadership Academy for Girls, is a Quality Assurance Engineering Lead at Facebook. Klaas is a speaker who shares her story to echo the importance of early exposure of STEM to children from underrepresented communities.
Andronica commits herself to engaging with work that is aimed at empowering women, first generation students and minority students in STEM, mainly Tech.
This commitment has been brought to life through her volunteering of her time towards diversity initiatives including but not limited to; the Girls Who Code initiative in partnership with Bank of America, being a JCSU BofA Alumni Campus Recruitment Committee member, a member of the Technology Analyst Program Mentorship Committee, serving as a speaker at several Ignite with Tech events - an initiative that is established as an early talent recruitment pipeline for various diverse groups at Bank of America, and by building a coding summer camp for students from Title I schools with her peers during her senior year in 2017 - a camp sponsored by the Google IgniteCS Initiative.
Andronica dreams of using STEM to improve the lives of children and students from underrepresented communities.
About President and Founder of Chicago Eco House and Southside Blooms, Quilen Blackwell:
Quilen Blackwell is the president and founder of the Chicago Eco House, whose mission is to train inner-city youth in sustainable social enterprises to alleviate poverty. The Eco House has won several awards for its work including the UL Innovation Education Award, Delta Institute BOOST Award, Chicago Community Trust's African American Legacy Award, and the Keep Chicago Beautiful Community Vision Award. Quilen also was selected as a recipient of the 2020 FBI Director Community Leadership Award.
Southside Blooms is a project of Chicago Eco House, a 501c3 nonprofit with a mission of using sustainability to alleviate poverty. One hundred percent of the funds go directly towards fulfilling this mission. That means every flower purchased from Southside Blooms creates jobs for at-risk youth, converts vacant lots into safe and productive community assets, and actively contributes to the health and resilience of the environment through regenerative farming practices.
Event Platform Details:
This event will be hosted on Zoom (please make sure the Zoom application is installed on your device).
The Zoom link will be made available to participants through Eventbrite's Online Event Page. Participants will receive this link via their provided email as soon as they register.
Online registration is mandatory.
Please forward this event page to anyone you think would like to participate!
Please contact Evelyn at evelyn@dothegoodery.com if you have any questions.
About DoGoodery:
DoGoodery is a certified women owned social impact agency with a mission to make the world a tangibly better place for all. From working with nonprofits, foundations, and purpose-driven companies, our full suite of social impact services include strategic consulting, program management, creative storytelling, and Justice, Diversity, Equity and Inclusion (JEDI) consulting. Learn more at dothegoodery.com.