Full-day fundraising conference hosted by AFP Texas Plains Chapter.
About this event
In the spirit of collaboration, the Association of Fundraising Professionals Texas Plains Chapter will feature #ThePanhandleGives 2021 Campaign Training during the first AFP educational conference, Empowering Through Education. Elevating philanthropy throughout the Texas Panhandle is our common ground, and we are excited for you to benefit from this partnership.
8:00- 9:00 The Panhandle Gives Training for first-time participants
9:00- Breakfast and The 2021 Panhandle Gives Campaign Training
*Not required to be a participating organization to attend TPG training sessions.
*Ticket required for lunch, afternoon sessions and happy hour.
Noon - Lunch and The State of Fundraising presented by Clay Stribling, President and CEO, Amarillo Area Foundation
Afternoon Session #1: Funders Forum with local grant funders moderated by Katharyn Wiegand, President and CEO, Mary E. Bivins Foundation
Afternoon Session #2: Grant Writing Best Practices with Jessica Tudyk, Programs Officer (and grant writing extraordinaire), Mary E. Bivins Foundation
Afternoon Session #3: Major Gift Fundraising with Lesly Bosch Annen, CAP©, CFRE, Assistant Vice President for Leadership Gifts and Development, West Texas A&M University
4:00- Networking and Resource Happy Hour at The Shell (Canyon Square)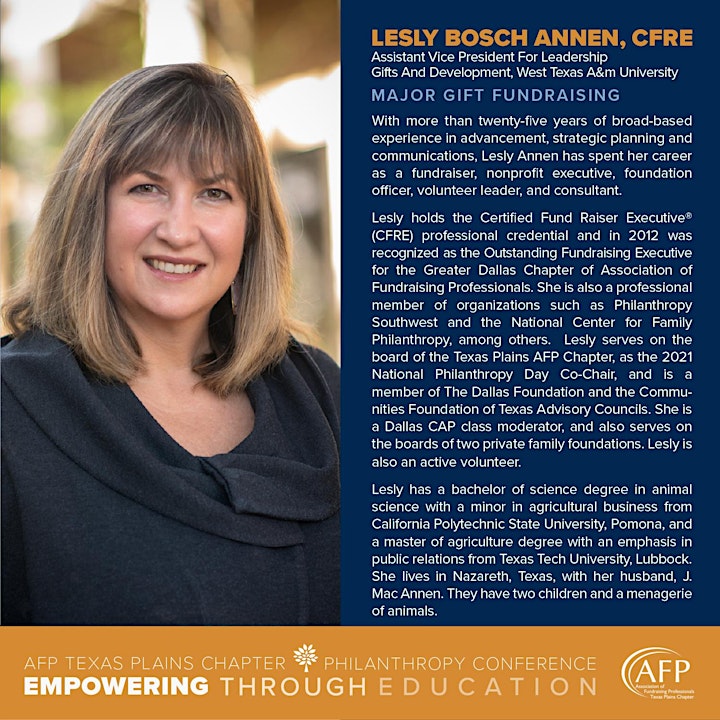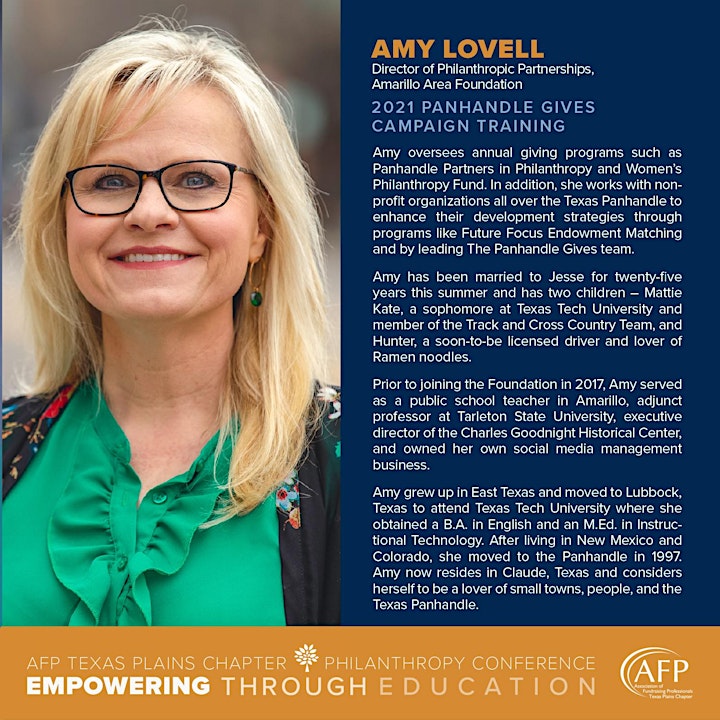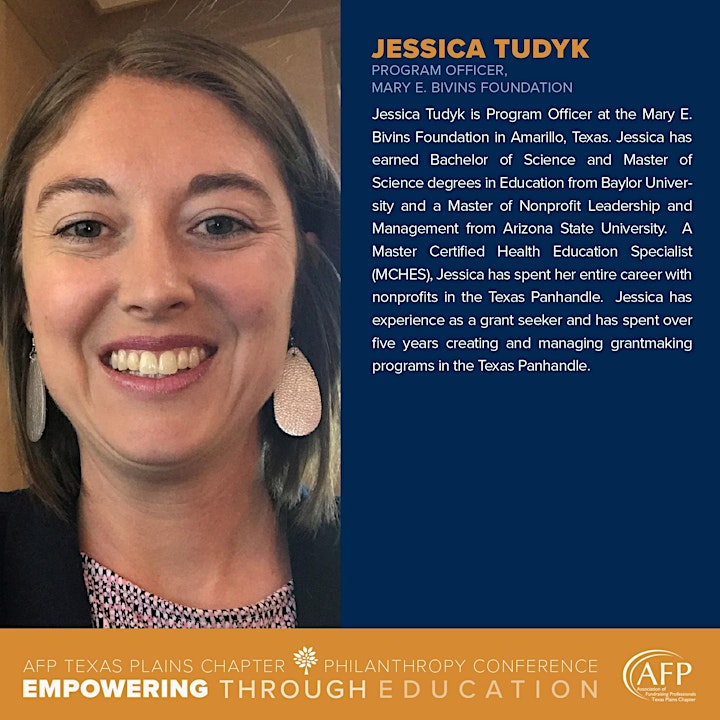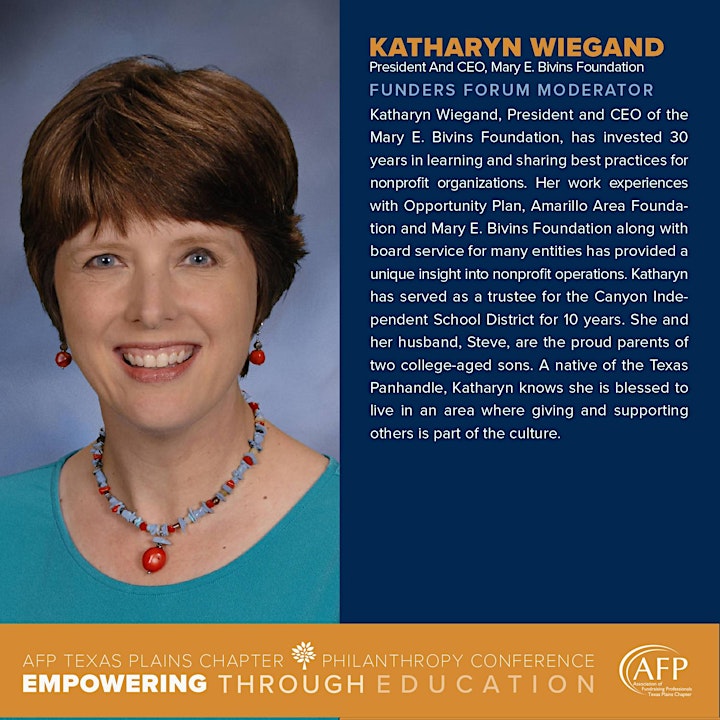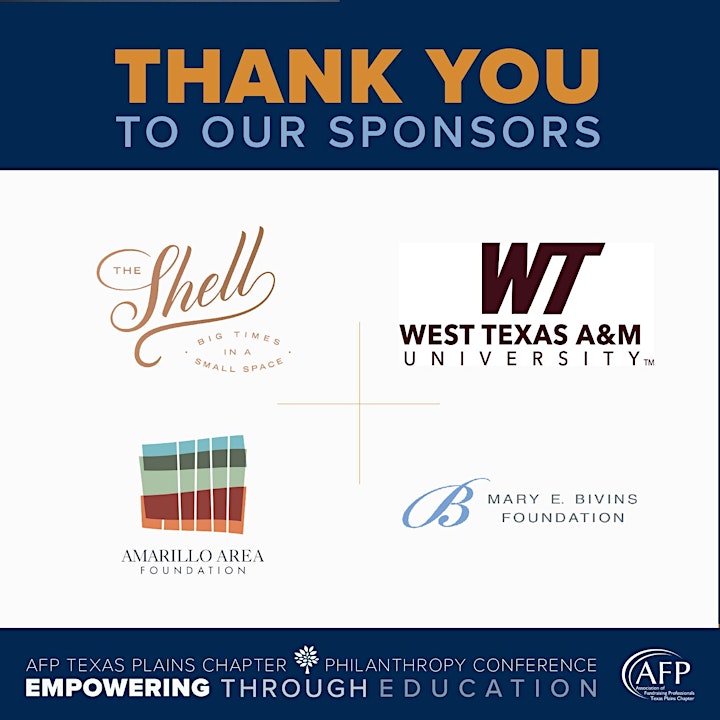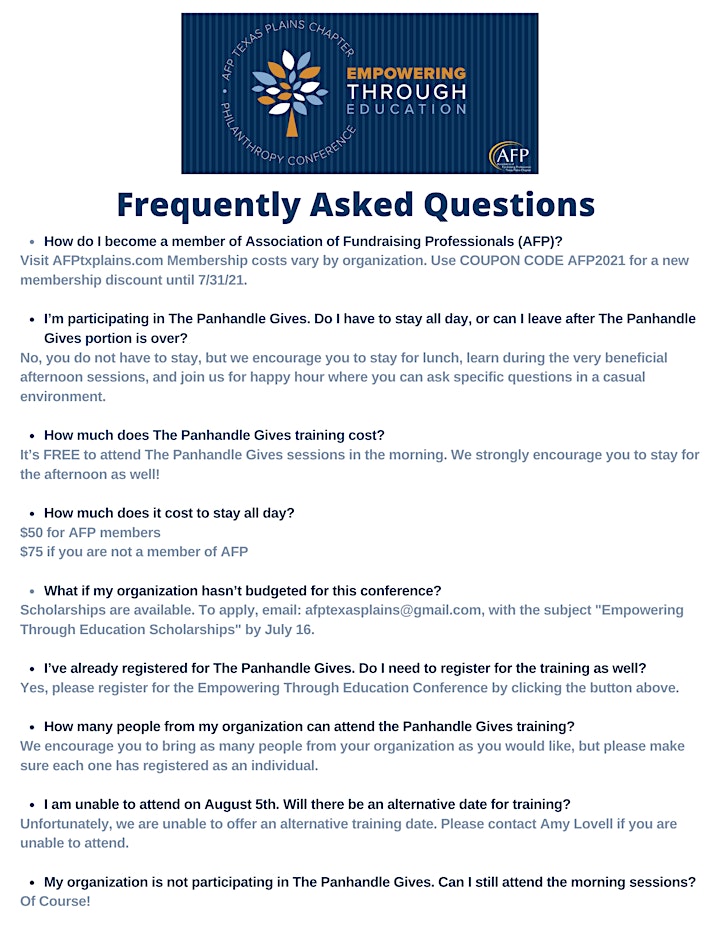 SCHOLARSHIP APPLICATION PERIOD NOW CLOSED
Scholarships are available thanks to the generous support of the Mary E. Bivins Foundation.
To apply, send an email to afptexasplains@gmail.com with:
your name
the organization you represent
how the full day conference would benefit your oganization