Event Information
Location
Betahaus
Carrer de Vilafranca, 7
08024 Barcelona
Spain
Description
Schibsted Tech Talk: Empowering the next generation of engineers
The future is in need of smart engineers who will design and build devices, robots and software that will improve our lives. Computational thinking, which includes problem decomposition, data representation, abstraction and algorithmic skills,will be a fundamental skill set that these engineers will have, and, in fact, not only them but any person whose job involves problems solving.
Despite the importance of computational thinking, this skill set is still not widespread in the education of the children and youth of today. In this session different speakers will talk to us about how they are empowering the kids of today to become the engineers of the future.
We are very happy to announce that Linda Liukas from HelloRuby will be the keynote speaker of this exciting Schibsted evening. Linda is a Finnish developer and educator who has co-founded Rails Girls and who has written Hello Ruby: Adventures in Coding, a book to teach kids how to program in a fun way.
Accompanying Linda we will also have two educational organisations, CodeLearn and Girls in Lab, who will talk about how to bring computer programming and technology to kids.
19:30h Keynote
The Principles of Play
If code is the colouring pens and lego blocks of our times - the tools of creation - how do we teach the curiosity, joy and wonder to our kids? I spent last year looking at programming and play: how to create experiences that go deeper than just learning logic.
So, just like Alice, I swallowed the blue pill and fell down inside the machine.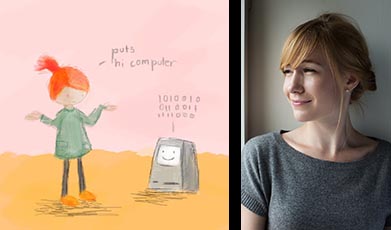 20:15h Lighting talks
Code learn (@code_learn) was created 3 years ago with the mission to spread computational thinking among kids and teens. Today they have 9 schools in Catalonia teaching kids how to program using an educational game approach.
Girls in Lab (@girlsinlab) was born to inspire, educate and engage girls in technology and computer science by organising hackathons and camps throughout the year. Their motto is "imagine, create and have fun".
20:45h Networking & Beers
If you are passionate about tech and education, join us in this fun and interesting evening!
Date and time
Location
Betahaus
Carrer de Vilafranca, 7
08024 Barcelona
Spain