Description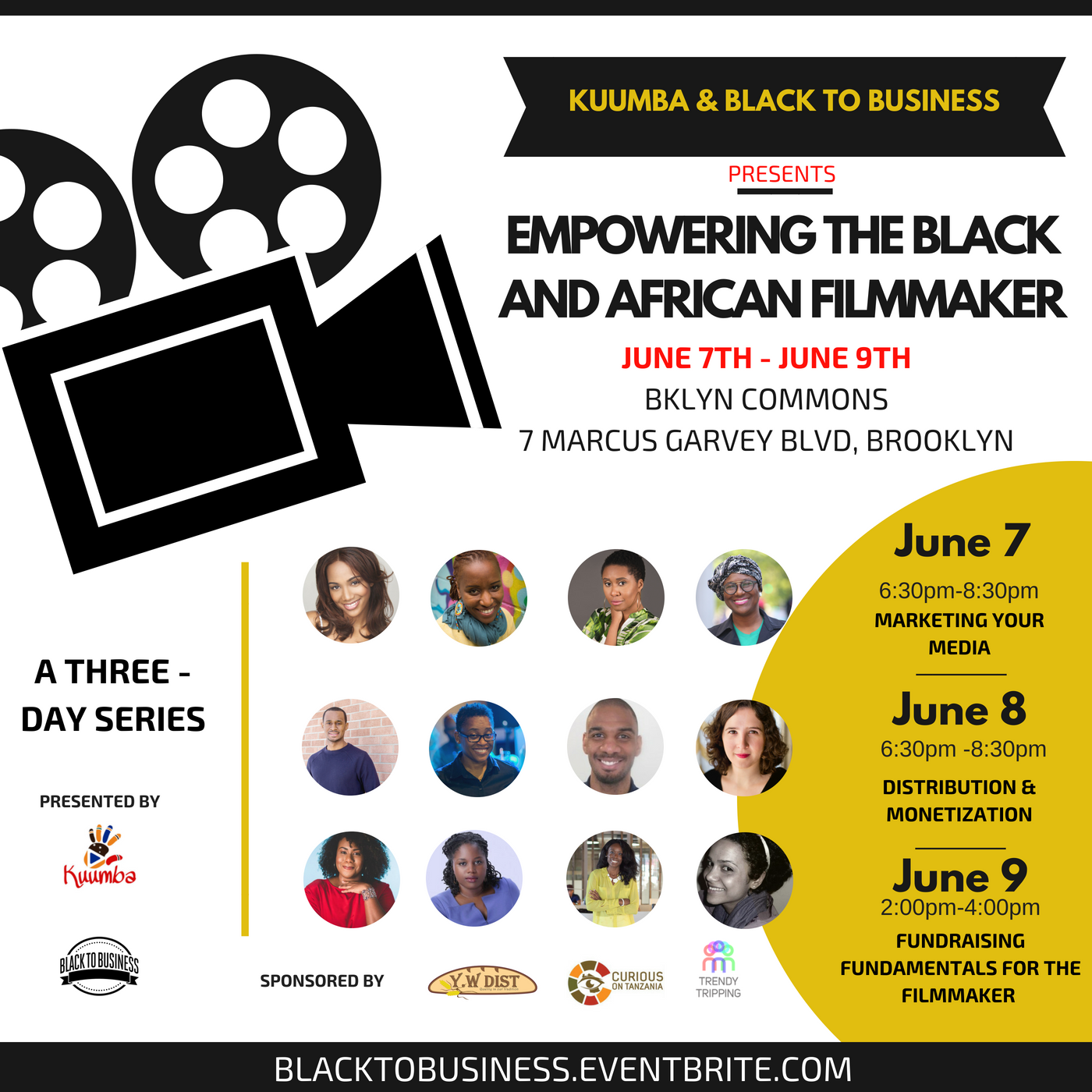 BLACK TO BUSINESS AND KUUMBA MEDIA INVITES YOU TO BE A GUEST FOR OUR THREE-PART PANEL EVENT EMPOWERING THE BLACK AND AFRICAN FILMMAKER!


KUUMBA and Black to Business strongly believe in helping our community to create opportunities within itself. This empowerment series will be focused on educating artists, producers, and creators on business principles, as it relates to the media industry.
The goal of this panel series is to guide emerging media creators with actionable steps to reach a new level of success. Our event will be led by a panel of experts in the business/media field. The core topics being discussed are:
Marketing Your Media - June 7th, 6:30 pm - 8:30 pm

Distribution & Monetization - June 8th, 6:30 pm - 8:30 pm

Fundraising Fundamentals for the Filmmaker - June 9th, 2 pm - 4 pm


COME Join Us at Bklyn Commons Bushwick, - 7 Marcus Garvey Blvd, Brooklyn, NY. This event is not to be missed. We have will have AWESOME VENDORS, AMAZING PANEL DISCUSSIONS, REFRESHMENTS, AND NETWORKING!!!


Read on for: MEET THE PANELIST + THINGS YOU SHOULD KNOW


MEET THE PANELIST


THURSDAY, JUNE 7TH
Tiffany Withers:
This Harlem native, has been gracing our television screens and magazine pages for the last twenty plus years starting with her feature in Ebony magazine.
At the age of nineteen, Tiffany was offered a role in the film "The Streets is Watching" by Damon Dash, and was also casted as a lead in Damon's next project, "Paper Soldiers."
As an On-Air Personality at BET, Tiffany has hosted many of the hottest shows on the channel, 106 & Park, BET Style, BET.com Countdown, The Center and Certified.
In 2017, Tiffany decided to push herself even further by forming her own production company, TKW Entertainment, Inc. stepping behind the camera to direct, produce and write original content for her clients and her audience.


Alease Annan:
Marketing professional, media educator, writer, and television producer of over five years, and A lifelong resident of Brooklyn, Alease began her tenure as marketing associate with BRIC in 2013. Since then, she has worked tirelessly to develop a strong marketing blueprint that ensures the elevation and recognition of the BRIC brand across two initiatives: BRIC Media Education, which offers free and low-cost courses— reaching 6,000+ New Yorkers each year and Brooklyn Free Speech, a public access TV and podcast network which helps to turn media dreamers into media makers by providing them with free access to an $8 million broadcast facility.
Recognizing that there was a large percentage of seniors who struggled with computer and social media literacy, Alease spearheaded and taught Tech Basics, a series of classes at BRIC designed to help increase computer literacy for seniors throughout Brooklyn.


Francesca Andre:
Filmmaker, photographer and producer with a masters in film and television from Sacred Heart University. She is the co-founder, creative director and producer at Optik 21, a photo and video company. Her photography work has circulated in publications such as the New York Post, New York Daily News, News Day, Connecticut Post, Daily Mail, Ellements Magazine, Fairfield Living Magazine, Westport Magazine, Sheen Magazine, Afropunk, Global Voices, Heed magazine and Stamford Advocate to name a few.
Her award winning short film, Charcoal has been screened at several US and International film festivals and reviewed by The New York Daily News, Essence Magazine,Think Progress, Shadow and ACT, the Daily Voice, Ebony Magazine and Connecticut Post to name a few. The film captures the stories of two black women, as they embark on a lifelong journey to overcome internalized colorism, find self-acceptance, and ultimately redemption.


Ekwa Msangi :
Ekwa has written and directed several shorts, most recently award-winning comedy Soko Sonko (The Market King), recipient of the Ousmane Sembene Short Film Development award, which produced her newly released film Farewell Meu Amor starring Tony Award nominee Sahr Ngauja, and actress Nana Mensah of the famed series An African City. She is currently in development on the feature-length sequel Farewell Amor and received the 2018 Jerome Foundation Grant and Tribeca All Access Fellowship to that end.
Ekwa has also written & directed several drama series for mainstream broadcasters in Kenya and MNET South Africa, including The Agency, MNET's first ever original hour-long Kenyan drama series. Ekwa was selected for the 2012 Focus Features' Africa First Program and the 2016 Berlin Talent Campus.
Ekwa's first web series All My Friends Are Married launched to rave reviews, and she is in development on her first feature documentary about Tanzania's first president, Mwalimu Julius Nyerere, and her award-winning podcast entitled African Cinema NOW!




FRIDAY, JUNE 8TH
Darren Harris:
A serial entrepreneur, Darren Harris is the founder and CEO of PANN, an emerging digital video network made for sharing news for and about the Black diaspora. Prior to his entrepreneurial ventures, Darren graduated from Howard University, then joined Goldman Sachs in the Investment Banking and Securities Division for 12+ successful years. Darren is passionate about fostering diversity in corporate America. His entrepreneurial pursuits includes a premiere event planning company, Black Ivy League, LLC and the Global Video Gaming Association, a competitive video game league,Darren is also an active fundraiser for All-Star Code, an organization that empowers young men with the skills, networks, and mindsets they need to create new futures through technology.Darren enjoys playing and listening to jazz trumpet and studying martial arts.


Devin Dixon:
Devin Dixon is a serial entrepreneur that many sectors including networking, crms to publishers. Today he is the CEO of BingeWave, a start-up that is disrupting movie theaters like Airbnb has done to hotels. Only 2% of movies are able to have theatrical releases, this means there is a plethora of diverse films ranging from black and latino to anime fans that never make it. Devin's theater system allows filmmakers to target diverse audiences and earn ticket sale revenue.
Blaine Mercier-McGovern:
Blandine Mercier-McGovern is a passionate, innovative content acquisition and distribution executive with a record of tracking, negotiating, releasing, and optimizing the monetization of high-performing content from top tier content partners. Blandine is the former Head of Licensing & Content Strategy at Kanopy, the leading OTT platform in the academic and public library markets. Prior to joining Kanopy, Blandine led Cinema Guild as Head of Distribution, where she discovered, acquired, and oversaw the release of notable critically-acclaimed and award-winning films from some of the best filmmakers around the globe. Blandine holds a Masters in Film Studies from Sorbonne Nouvelle and currently lives in Brooklyn.


Romola Lucas:
An attorney and avid Caribbean/indie film enthusiast. She is CaFA's executive director, and manages the organization's programming - promotion, screening, production, and distribution of Caribbean films.




SATURDAY, JUNE 9TH
Danielle Earle:
Danielle Earle has been working in the film industry for over 8 years, and is a proud member of the Writer's Guild of America East. She has been recognized in the media for the critically acclaimed series "Brooklyn Is In Love," and the LGBT feature film "Lover's Game,"starring Crawford M. Collins, Miranda McCauley, and Blaine Pennington.
Last year, Danielle directed, "In the Attic," a play written by Award Winning Playwright, Liz Amadio of "The Voire Dire Project," and owner of Cosmic Orchid Project that was a part of the Dream Up Festival at Theater for The New City. She is the Executive Producer of the short film "Lea," by Award Winning writer and director Jay Palmieri.
She recently completed filming her feature length film, film noir thriller set in 1957 called, "The Haunted Mind Of An Insomniac," starring Ebeneezer Nii Sowah, Leigh Poulos, and Irma Cadiz, which will be out next year. Danielle is also the Executive Producer for three upcoming projects, "PLAY," written and directed by Jay Palmieri, SAG feature film, "Serial Killer in Harlem," written and directed by WGAW Guild Member Wesley Mills, and the LGBT Web Series, "Jaded - The New York Effect."


Melissa Adeyemo:
With over ten years of experience in the media and entertainment space,Melissa currently serves as the Director of Operations at National Black Theatre, while producing independently in New York. She has produced the short film Open Wounds, an Official Entry to the 2015 Dubai International Film Festival and Still Water Runs Deep, an Official Entry to the 2017 Toronto International Film Festival. She also produces commercials and branded content, including the short film for fashion line, A Peace Treaty, now distributed on Vogue.com. She has worked as the Unit Production Manager on the web series Unicornland.


She most recently worked for the Technology, Media and Telecommunications group within the strategy consulting arm of PwC, Strategy&. Prior to business school, she helped build out ROK Studios for iROKOtv, a Lagos based media and technology start-up.
Melissa started her career as a production assistant on Spike Lee's, Inside Man and Steven Spielberg's, Munich.


Kweighbaye Kotee:
Founder of the Bushwick Film Festival (BFF). She hailed as one of Brooklyn's most celebrated events, BFF is recognized for its contribution to the borough's artistic and economic growth. Dedicated to her community and the arts, Kotee serves on The Bushwick Community Board and is co-chair of its Arts & Culture committee. In addition, in 2016 she founded MCCG, an M/WBE community affairs company that helps developers positively engage with communities to create empowering opportunities for local residents and organizations. To date, her company has helped facilitate the distribution of over $400,000 in grants to local organizations and artists.
Born in Liberia, she and her family immigrated to the U.S. at the brink of the Liberian Civil war.
She has been featured on NBC, Fox News, Huffington Post, POPSUGAR, Delta Air Lines, Brooklyn Magazine, Indiewire, Tribeca Film and lives in Brooklyn.
Anna Marano:
Anna Marano is IncuBeta Films' Development Executive. She brings extensive experience in international media and finance, as the founder and manager of Dada Productions, which produced three films targeted to the African market during her tenure. Marano is also a former personal assistant to the acclaimed director Phillip Noyce (for the production of Working Title's Catch a Fire), experienced research analyst for the renowned hedge fund, Paulson Europe LLP and freelance producer / journalist for Reuters-TV.

A graduate of the Bocconi University in Milan where she double-majored in Econometrics and Journalism, Marano began her career as a documentary filmmaker. Her coverage of Africa's Maasai tribe won her the attention of Kenyan media - and a subsequent role in public relations. She is also an alumnus of the London Film Academy's producing course.


WHAT YOU SHOULD KNOW:
-Tickets are $20 at the door.


FAQ:


ARE VENDOR OPPORTUNITIES AVAILABLE?


Yes, opportunities are available. We are always interested in meeting new engaging contributors. To find out more, email us at frimp.freda@gmail.com.


CAN I SELL MY TICKET?


We understand that life happens, should something prevent you from attending the event simply contact us a hello@blacktobusiness.com and we will be happy to transfer your purchase to a guest of your choice. Ticket sells or swapping without the explicit permission of KUUMBA Media/Black to Business is not permitted.


RETURN POLICY: CAN I RETURN MY TICKET?


Tickets are non-refundable but are transferable to a guest of your choice. Please contact us at hello@blakctobusiness.com.


We can't wait to meet you!!