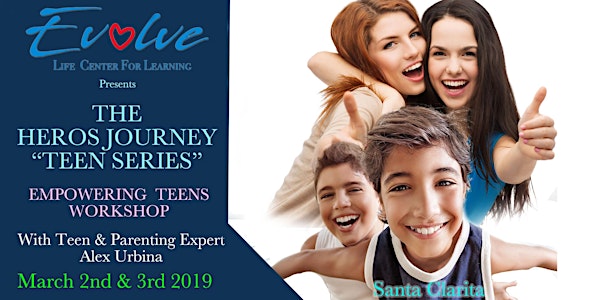 Empowering Teens Workshop
Location
Santa Clarita Valley International School
28060 Hasley Canyon Road
#200
Castaic, CA 91384
Give your teen the gift of awakening to their true power, taking full responsibility for their own life; living passionately and purposeful.
About this event
The Empowering Teen Workshop is a powerful two-day interactive class designed to teach teenagers how to take responsibility for their own lives and discover their own passion and purpose.
In the workshop teens are inspired and taught how to challenge their own self-limiting beliefs, doubts, fears and all the other insecurities that may be in the way of accessing their full potential.
Alex Urbina's Transformational Teen Training is a unique experience that wakes-up the human spirit within. He has been transforming the lives of teenagers for over twenty-three years all over the world, and is exclusively in Santa Clarita.* Class size is limited to 35, and workshops are limited twice a year.