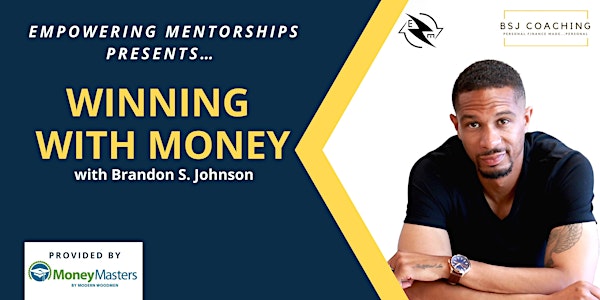 Empowering Mentorships Presents Winning w/ Money Provided by Modern Woodman
Location
Mount Miguel High School - Multicultural Center
8585 Blossom Lane
Spring Valley, CA 91977
Join us every first Saturday w/ financial coach Brandon Johnson as we launch 'Winning with Money' designed to empower your financial life!
About this event
"Are you ready to understand how money really works and moves in our lives!? "
Come join us every first Saturday at the Mount Miguel High School Multicultural Center and learn about Budgeting, Debt, Credit, Investing, Careers and everything in between with Certified Personal Finance Educator and Director of Financial Literacy for Empowering Mentorships Brandon S. Johnson.
Whether you have yet to earn your first dollar or are young in your career, with in-person classes for Ages 12 to 18 and online classes for ages 13 to 25, we have something for you!
Together we will break down financial principles into a bite-sized pieces, we will ask the important questions and learn the tools to mastering your financial life and truly winning with money.
What you'll receive:
-12 months of workshop style and personalized coaching for financial planning
-Access to licensed and experienced financial professionals
-Guided practice activities that reinforce knowledge
-An immersive, interactive learning experience
-Certificate of completion after attending 10 of 12 workshop sessions
-Budgeting and Planning Notebook
-Empowering Mentorships Swag bags & paraphernalia
-And More!
Register today to save your seat and we will see you in class!!!
Brandon is a certified Personal Financial Coach who coaches millennials and educates young people to help them define their goals and understand the game of money, debt, wealth, and lifestyle design. Through Empowering Mentorships, Brandon aims to share the power of financial literacy, dreaming big & planning bigger in efforts to establish generational wealth.
Empowering Mentorships Financial Literacy program is designed to provide financial education and content from a multicultural perspective. We also bring in leading finance professionals and organizations to share on financial literacy, career guidance and investing concepts delivered in person and on digital platforms.
Money Masters improves student knowledge of financial literacy concepts and individual financial management behaviors. This free program spans 6th grade to 12th grade and spirals through similar domains of content. This allows students to continuously revisit concepts at multiple stages of their development.