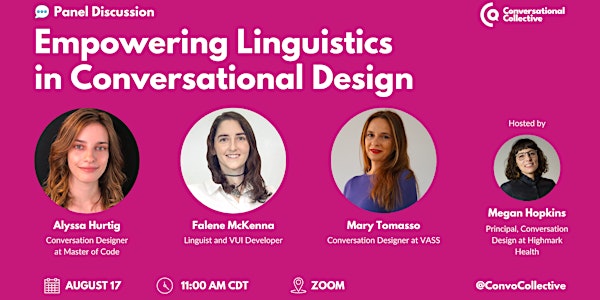 Empowering Linguistics in Conversational Design
Hear a panel of experts discuss how they use their linguistic background when designing and building conversational experiences.
About this event
Empowering Linguistics in Conversational Design
Many linguists work in the conversational AI space. This month, we assembled a panel of experts to share their linguistic perspectives. They'll discuss their approach to designing and building conversational experiences. In this event, expect to learn:
How a linguistics background can be leveraged for conversational AI
How to design for a language you don't speak
Linguistic concepts that can be applied to voice and chat interfaces
★ Event Panelists:
Alyssa Hurtig - Conversation Designer at Master of Code
Alyssa is a linguist turned conversation designer. In the past year and a half, she has worked on multimodal chatbots across multiple industries including telecom, retail, healthcare, financial services, and aviation. Her research focus is internet sociolinguistics. She's passionate about making linguistic concepts accessible to wider audiences. Alyssa has developed internal tools to educate and assist other conversation designers when working on projects that require translation.
Falene McKenna - Linguist and VUI Developer
Falene is a developer who has spent the last four years developing empathetic agents for cars, senior companion robots, and much more. A linguist by trade and SSML guru by design, she entered the world of voice tech 4 years ago and was quickly able to grow, most recently in her role at Intuition Robotics. While she is fairly new to development, Falene not only has over 8 years of experience in linguistics and language documentation, preservation, and revitalization, but she is also no stranger to the healthcare industry - as both a caregiver and a patient advocate.
Mary Tomasso - Conversation Designer at VASS
Mary is a linguist, translator, and conversation designer. She's passionate about helping others (especially women) start a career in Conversational AI. She's also a Board Member of Women in Voice.
★ Event Host:
Megan Hopkins - Principal, Conversation Design at Highmark Health
As Principal Conversation Designer of the Digital Experience Design product team within Highmark, Megan leads the strategic approach of CXD covering intelligent search, chat modernization, conversational interactions, and multimodal experiences. She has over 15 years of industry experience working across consumer products, enterprise software, and workforce strategy. Her most recent work includes defining the organization-wide vision for Highmark's suite of conversational products, as well as teaching the next generation of designers how to create natural, digital experiences by modeling them after human conversation.
★ Event Schedule:
11:00 - 11:10 AM - Introduction
11:10 - 11:55 AM - Panel + Q&A
11:55 AM - 12:00 PM - Wrap-Up