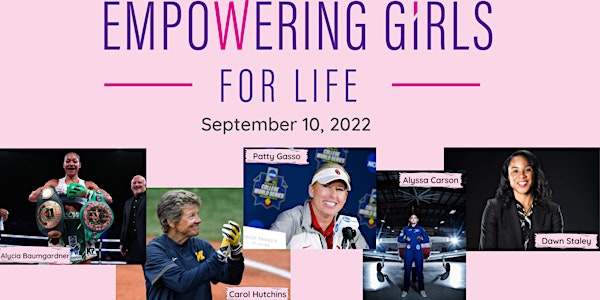 Empowering Girls for Life Event 2022
Empowering Girls 5th annual event is on September 10th, 2022, featuring four headliners who are charting new paths in science and sports.
About this event
We are thrilled to announce our powerful speaker lineup for the 5th annual Empowering Girls event on September 10th, 2022. This year, similar to the last two years, we will be holding the event virtually to ensure the safety of speakers and guests. While we will certainly miss seeing all of you in person, we can't wait to gather virtually to celebrate powerful women leading the way in their respective fields.
Where: virtual (link to event will be emailed the day before!)
When: September 10, 2022
Cost: FREE! (thank you to our generous sponsors making this happen)
EGFL 2022 Speaker Lineup:
Dawn Staley - U.S. Olympic Hall of Fame Women's Basketball player, WNBA Hall of Fame inductee, National Championship coach at University of South Carolina, Head Coach of USA Women's Basketball
Carol Hutchins - NFCA Hall of Fame softball coach at University of Michigan, winningest coach in the history of UM athletics, 18 Big 10 Coach of the Year awards, founder of the Michigan Softball Academy
Alyssa Carson - Astronaut trainee with a goal of being selected for future human spaceflight to Mars. She is a mission researcher in suborbital space who enrolled in the NASA Possum Academy at age 15. Alyssa has her rocket license, Advance scuba certification, Pilot license, skydiving class A license, and a certified Aquanaut.
Patty Gasso - NFCA Hall of Fame softball coach at Oklahoma University, 12-time Big-12 Coach of the Year, 4x National Championship coach
Alycia Baumgardner - Super-featherweight boxing champion, professional boxer, first female to sign a deal with King's promotions as a boxer, and founder of Temple Raw Juices.