Description
The Rhode Island Coalition for Educators of Color (RICEC), founded by four urban educators, Laurie Sena, Lindsay González Correia, Rebeca Filomeno-Nason, and Lynn Lotierzo, is excited to announce its first annual conference to be held at Providence College. The purpose of the conference is for educators of color to meet, network, and learn from one another. We hope to create a safe space for honest dialogue so that educators leave feeling inspired and empowered.
---
Keynote Speaker: Clint Smith
Award-Winning Teacher | Acclaimed Spoken Word Poet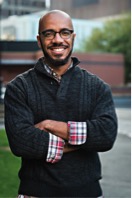 Clint Smith is a writer, teacher, and doctoral candidate in Education at Harvard University with a concentration in Culture, Institutions, and Society. He is a recipient of the National Science Foundation's Graduate Research Fellowship with research interests that include mass incarceration, the sociology of race, and the history of U.S. inequality. Previously, he taught high school English in Prince George's County, Maryland where, in 2013, he was named the Christine D. Sarbanes Teacher of the Year by the Maryland Humanities Council.
Clint Smith believes we all share a story, the human story. It's in the telling, he believes, that we emerge as individuals and celebrate what we have in common. His two TED Talks, The Danger of Silence and How to Raise a Black Son in America have been viewed more than four million times. Using his experience as an award-winning teacher and poet to share personal stories of justice, community, and education, his customizable art-form illuminates how we can all find the courage to create change, overcome challenges, and unite ourselves through the power of the collective voice.
---
Conference Schedule:
Registration & Breakfast: 8:00 - 8:30
Welcome: 8:30 - 8:45
Clint Smith Keynote: 8:45 - 10:00
Book Signing & Mingle: 10:00 - 10:45
Workshop Session One: 10:50 - 11:55
Diversity Talks: What Happens When Students Lead Uncomfortable Conversations?, Led by Kiara Butler, Taiwo Demola & Taliq Tillman

Exploring Racial Identity Through Creativity, Led by Jane Fijman

Student Power: Winning Ethnic Studies in Providence, Led by Providence Student Union Youth Leaders

Utilizing the Ladder of Inference with Students of Color, Led by Rodney Gamble

Bridging the Gap: A Look at Cross-Sector Collaborations that Foster Student Success, Led by LaTanya Monteiro & Emily Rodriguez

Teaching in Color: Modeling Racial Identity and Racial Solidarity in the Classroom, Led by Julio Angel Alicea

Vocational Identity in Formative Learning and its Implications on Career Success and Diversity, Led by Michelle Saunders
Lunch & Panel Discussion: 12:00 - 1:10
Facilitator: Reza Clifton

Panelists: Michelle Li, Don Mays, Ada Okun, Adeola Oredola, and Dr. Kimberly N. Parker
Workshop Session Two: 1:15 - 2:30
Helping Immigrant Students Thrive, Led by Karen González

Sharing Our Unheard Voices: Perceptions of the Lived Experiences of Teachers of Color, Led by Dr. Darline Berrios

Design Thinking: Creating and Incorporating Ideas from K-12 MakerSpaces, Led by Nupur Shridhar

Social Location and Identity Room, Led by Youth in Action Students

Teaching Local Narratives of Slavery and Resistance, Led by Theresa Guzman Stokes & Marco A. McWilliams

Teaching #BlackLivesMatter, Led by Dulari Tahbildar, Samantha Reback, Sye Menebhi, Ashaad Tillman & Bethany Gervais

The Classroom as a Creative Studio, Led by Matt Garza

Tips for Teachers: Preparing Faculty to Use Adult Learning Principles and Mentoring Techniques, Led by Anthony Carrion

Using Restorative Practices to Guide Classroom Management and Conflict Resolution, Led by Alin Bennett
Closing & Networking Mixer: 2:35 - 3:00
---
IMPORTANT! After purchasing your tickets, please make sure to click on the SurveyMonkey link to select your workshop choices and indicate any dietary restrictions.