Conversation series number five is an engaging conversation about the Black community and the housing issues faced in the community.
About this event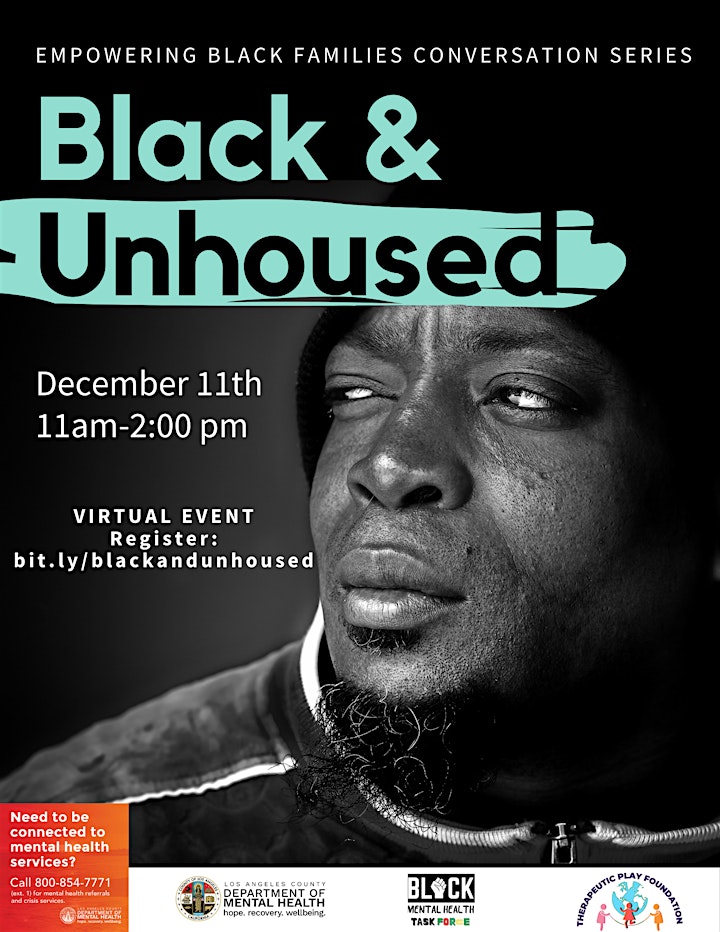 This event will be live streamed on Therapeutic Play Foundation's Facebook page.
Join us on December 11th for the Empowering Black Families Conversation Series: Black and Unhoused. You don't want to miss this conversation!
______________________________________________________________
In partnership with the Department of Mental Health and the Black Mental Health Task Force, the Therapeutic Play Foundation is offering a free monthly Wellness event that focuses on decreasing stigma about mental health issues as well as increasing awareness of healthy coping strategies. Each conversation focuses on a different topic.
We want to connect community members to supportive resources and services needed to improve opportunities for healing and wholeness in their lives. Self-Care routines are the secret ingredient to happiness and health. Let us help you learn the strategies and build the community!
Listen to community leaders share wisdom about how to support those in the Black community who face many housing issues. Let's have real conversations about the issues facing the Black community and build wellness in our communities moving forward. We are a SAFE and BRAVE space to talk about what we NEED to talk about to be well.
________________________________________________________________
Upcoming Conversation Series Event Dates:
December 11th - 11am-1:30pm: Black & Unhoused - VIRTUAL
January 22nd - 11am-1:30pm: The Culture of Cannabis in Black Communities
February 26th - 5-9pm: Empowering Black Families Community Awards Gala (Now accepting nominations for community members to receive awards/scholarships for their community advocacy)
Organizer of Empowering Conversations: Black and Unhoused...Let's talk about it!
The Therapeutic Play Foundation offers Self-Care Opportunities that build collective wellness and group esteem. Our event offerings include community healing retreats, sound baths/sound healing, nature based excursions, restorative yoga for anxiety and trauma workshops. We also offer counseling and resource provision. Learn more about us at www.therapeuticplayfoundation.org.