Empowering Change: A Training Camp to Battle Implicit Bias in Athletics
Sales Have Ended
Ticket sales have ended
Tickets sales have now closed. Please email empoweringconference2020@gmail.com for orders and questions.
Sales Have Ended
Ticket sales have ended
Tickets sales have now closed. Please email empoweringconference2020@gmail.com for orders and questions.
Join Coach Sylvia Hatchell and other industry professionals for the Inaugural Empowering Change Conference.
About this event
THIS EVENT HAS BEEN RESCHEDULED TO APRIL 12, 2021 DUE TO THE CORONAVIRUS.
The goal of this conference is to provide information, resources, and strategies to help individuals battle implicit bias in athletics. Session topics will include: social science of gender bias, the impact of gender bias on student athlete complaints, conflict resolution in the workplace, understanding varying communication styles and much more, all led by key leaders in athletics. Full agenda to come!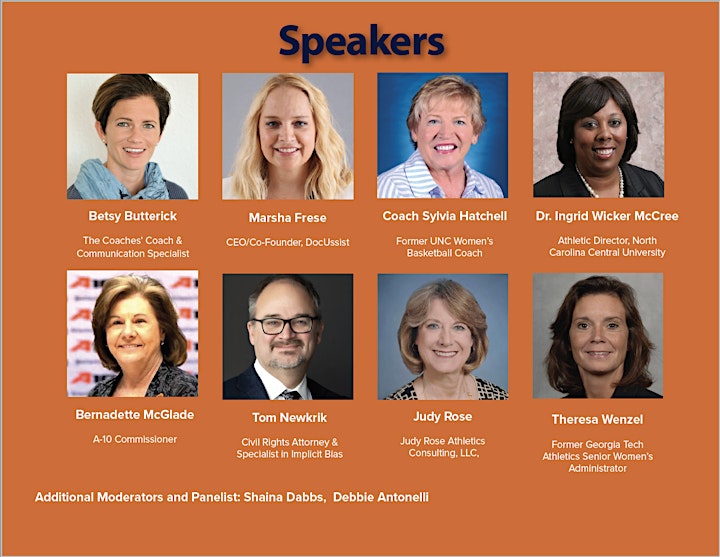 Betsy Butterick | The Coaches' Coach and Communication Specialist
As a former coach with experience in DI, DII, DIII, and the WNBA Betsy utilizes her unique background with individuals ready to improve and teams of all kinds — from the locker room to the boardroom.
As "The Coaches' Coach" Betsy helps coaches do what they've yet to do, so they can be who they've yet to be. As a communication specialist, Betsy assists individuals in all facets of communication while developing the connective skills to build relationship and sustain success.
Sylvia Hatchell | Former UNC Women's Basketball Coach
Naismith Basketball Hall of Fame
Most victories in the history of ACC Women's Basketball (740)
Marsha Frese | CEO/Co-Founder, DocUssist
Former Division-1 Women's Basketball Coach for 25 years
Believes documenting, organizing and preserving important interactions, such as emails, text messages and social media posts, are vital to protecting one's career and reputation.
Dr. Ingrid Wicker McCree | Athletic Director, North Carolina Central University
NCCU first full-time female athletic director
Highlighted Committee Work NCAA Division I Council, NACDA FCS ADA Committee, NCAA Research Committee and NCAA DII National Women's Volleyball Committee
Bernadette McGlade | A-10 Commissioner
Longest tenured female commissioner in the 32 Division I conferences
Fifth woman to serve on the NCAA Men's Basketball Committee
Tom Newkrik | Newkrik Zwagerman Law Firm
Practicing civil right attorney for over 30 years
Specialist in implicit bias and uses that knowledge to develop methods to reduce harm created by gender and racial biases in universities.
Judy Rose | Judy Rose Athletic Consulting, LLC
Former UNC Charlotte Athletic Director (43 years)
1st female to be named to NCAA Division I Men's Basketball Committee
Theresa Wenzel | OTE (Ordinary to Extraordinary, LLC)
Former WNBA President of the Atlanta Dream
Former SWA/Associate AD at Georgia Tech
Conference MC| Debbie Antonelli (ESPN)
Panel of coaches impacted by implicit bias.