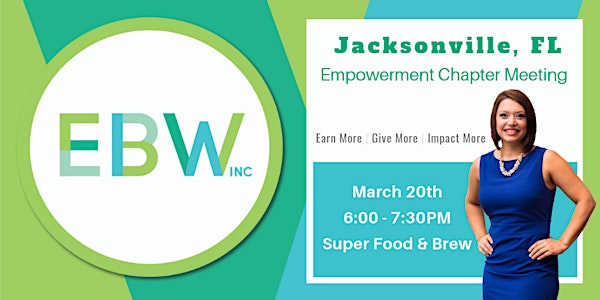 Empowering a Billion Women Jacksonville Chapter Meeting
When and where
Location
Super Food And Brew 11 East Forsyth Street Jacksonville, FL 32202
Description
Join women entrepreneurs who are launching, growing and scaling their businesses at the March EBW2020 Jacksonville Empowerment Chapter Meeting.
- If you need a place to connect with other women who understand the joys and challenges of leadership & entrepreneurship…
- If you're seeking personal & professional growth as a leader or entrepreneur…
- If you're ready to earn more so you can give and grow more & make a bigger impact in the world…
….then we would LOVE to have you join us this and every month!!!
What you can expect to learn:
- How EBW2020 is serving women entreprenuers just like you
- How to connect with other women business owners in a meaningful and fruitful way
- How to get the support you need to start, grow or scale your business
THE BEST PART:
You walk away with immediately implementable tips and connections. This is not a standard networking event. We gather for IMPACT! Each of the Jacksonville Empowerment Chapter meetings are WORKSHOPS. Come prepared to learn, have dialog about relevant topics, discuss your business and most importanly to work ON your business.
Cost: Only $10 to the public and free for EBW One Club Members- as well as any sponsor employees. Please register online as payments cannot be taken at the door.
NOTES:
1) Attend each month for free when you become a member.
JOIN THE TRIBE: https://jv249.isrefer.com/go/OneY/Ammie/
2) This meeting may be photographed and filmed to share with EBW empowerment circles globally
About: EBW2020 is a global community of business women empowering ourselves and one another to accelerate our journeys to a thriving future. We are a movement giving inspired women of purpose and impact access to mentorship, community, education, financial literacy and a powerful network to succeed as leaders and entrepreneurs. Using technology & community, we are democratizing and scaling mentorship for women with a mission to "change the ratio" and with a goal to Empower a Billion Women by 2020. Together, we are creating a global sustainable future for all generations.
We connect women entrepreneurs to funding resources by providing an education system, a financial plan & access to a tribe of like-minded thinkers that will help you grow your business and make a bigger impact.
I look forward to seeing you and sharing this amazing evening together!
Ammie Dover
EBW Jacksonville Empowerment Chapter Leader