Empowered Women Change the World: ADL Outreach Network
Description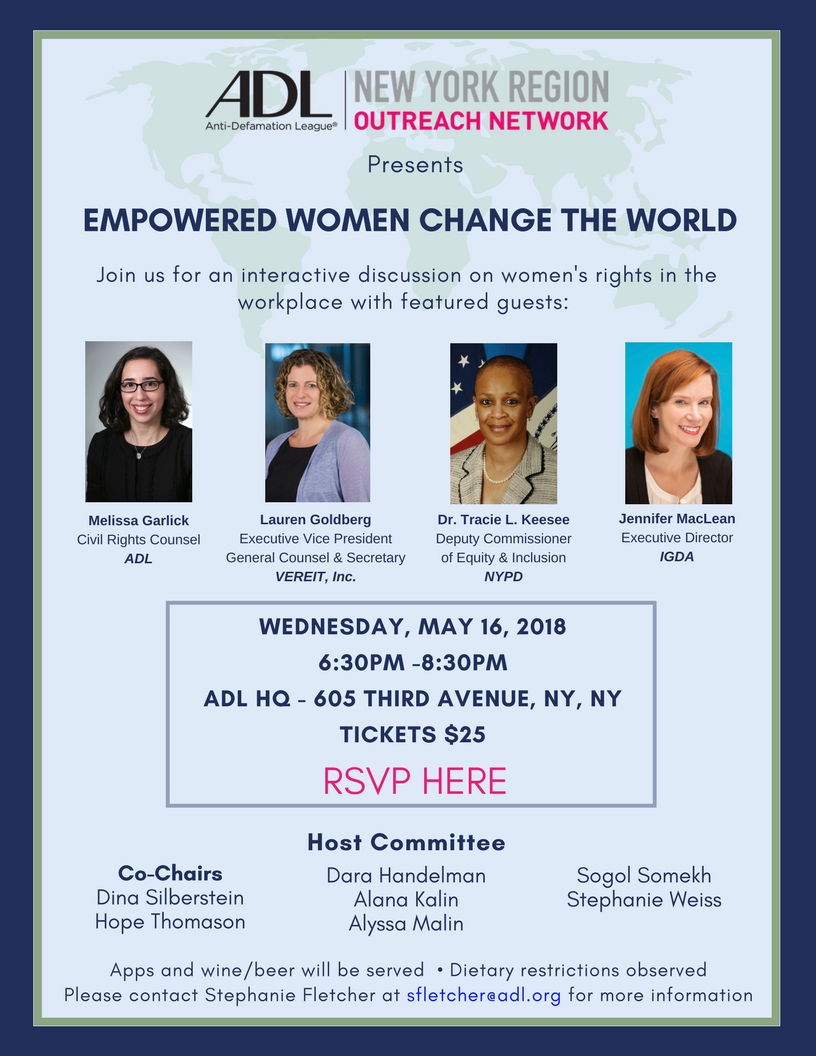 SPEAKER BIOS:
Melissa Garlick
National Civil Rights Counsel, ADL
Melissa Garlick is the Civil Rights National Counsel at the Anti-Defamation League (ADL), a non-profit organization dedicated to combatting bigotry, prejudice, and anti-Semitism. In her role, Melissa leads the League's policy and drives advocacy on civil rights issues including immigration and refugee rights, women's rights, and voting rights. She provides specialized strategic, legal, and legislative guidance to staff around the country on civil rights issues, files amicus briefs, submits testimony, and advocates for policies that further ADL's mission and equality and justice for all. Melissa previously served as Northeast Civil Rights Area Counsel at ADL, overseeing the civil rights agenda for ADL's Northeast regional offices. Prior to joining ADL, Melissa served as legislative director and legal counsel for a Massachusetts State Senator, working on issues of civil rights and immigration. She is a graduate of Brandeis University and Northeastern University School of Law. She serves on the Civil Rights and Civil Liberties Steering Committees of the Boston Bar Association and Massachusetts Bar Association.
Dr. Tracie L. Keesee
Deputy Commissioner of Equity and Inclusion, NYPD
Deputy Commissioner of Equity and Inclusion Dr. Tracie L. Keesee, joined the NYPD in 2016 as the Deputy Commissioner of Training. During her tenure with the Training Bureau, Dr. Keesee directed the implementation of the paperless police academy, the expansion of in-service training capabilities through NYPD University, the restructuring of the recruit curriculum, the expansion of CIT and integrated tactics training, and the creation of the Credible Leadership Initiative for UMOS, to name a few.
Currently, as the Deputy Commissioner of Equity and Inclusion, Dr. Keesee is responsible for the organizational development and implementation of the NYPD's Equity and Inclusion strategic framework. It includes aligning equity and inclusion efforts with NYPD's Neighborhood Policing philosophy and vision, conceptualizing, creating, and implementing appropriate metrics to help identify successful organizational policies and processes. She is an advisor to the Police Commissioner on the implementation of accountability systems that monitor training, recruitment, employee opportunities, and complaints to help increase the NYPD's ability to attract and retain an inclusive and diverse workforce. Before joining the NYPD, Dr. Keesee served as the Project Director of the National Initiative for Building Community Trust and Justice. Additionally, Dr. Keesee is the co-founder of the Center for Policing Equity (CPE). Dr. Keesee is a retired 25-year veteran of the Denver Police Department, holds a B.A in Political Science from Metropolitan State College-Denver, academic certifications in Public Policy and Public Administration, a M.A. in Criminal Justice from the University of Colorado, and a Ph.D. in Intercultural Communications from the University of Denver. She is a graduate of the FBI National Academy and has published articles across various collected anthologies and peer-reviewed scientific journals.
Lauren Goldberg
Executive Vice President, General Counsel and Secretary of VEREIT, Inc.
Lauren Goldberg serves as Executive Vice President, General Counsel and Secretary of VEREIT, Inc., a publicly traded, full-service real estate operating company with $15 billion in assets, which also has an investment management business responsible for raising capital for, and managing the affairs of, certain non-listed REITs. In her position, Lauren oversees the company's legal and regulatory affairs, corporate governance and securities matters, compliance and risk management.
Prior to joining VEREIT, Lauren served as Executive Vice President, General Counsel and Chief Compliance Officer for global cosmetics company Revlon. Additionally, she served for nine years as an Assistant United States Attorney for the United States Attorney's Office in the Southern District of New York, as well as in various other in house and law firm positions. Lauren also has prior accounting experience as an associate at Coopers & Lybrand.
Lauren is a member of the Executive Committee of the Lawyers Division of UJA Federation and a recipient of UJA's James H. Fogelson Young Leadership Award. She received her law degree from the Columbia Law School and her undergraduate degree in accounting from the Wharton School, University of Pennsylvania.

Jennifer Maclean
Executive Director, International Game Developers Association
As the Executive Director of the IGDA and IGDA Foundation, Jen MacLean works to build a more inclusive game development community and support game developers around the world in achieving sustainable, fulfilling careers. From the start of her career as a playtester at Microprose Software, through senior roles at AOL, Comcast, and StoryArc Media, Jen has managed game development, strategy, marketing, business development and partnerships across multiple gaming platforms. Jen earned a BA in international relations from the Johns Hopkins University and an MBA with a concentration in international business from the London Business School and Columbia Business School. She was named one of the "Game Industry's 100 Most Influential Women" by Next Generation, one of the "Top 20 Women in Games" by Gamasutra, and is a frequently-requested speaker at interactive entertainment industry events.