Description
This simulcast conference features two days of practical teaching to equip families, churches, and professionals to better connect with and serve children from hard places. Empowered to Connect, presented by Show Hope, has a specific focus on families of foster and adopted children, but the lessons are applicable for ALL parents, teachers, social workers - anyone serving children! Gain access to practical tools that help bring hope and healing to children who have experienced trauma or the loss of parental care.
Featuring Trust-Based Relational Intervention® methods developed by Dr. Karyn Purvis and Dr. David Cross from the Karyn Purvis Institute of Child Development, this conference helps bring attachment and connection in families. Learn more at empoweredtoconnect.org. This is an opportunity to provide support to families and professionals where most communities lack the experience, the expertise, and the answers to those in desperate need for help and guidance.
A simulcast of this conference will be shown at Hope Evangelical Free Church, Friday and Saturday, April 27-28 (lunch and refreshments provided both days). This conference has been called a life-changing experience; become empowered to make a difference in your family and in your community!
PLEASE NOTE: The conference content is not "all or nothing"; if you are not able to attend the full two-day conference, check out the conference agenda below and feel free to join us for whatever fits in your schedule!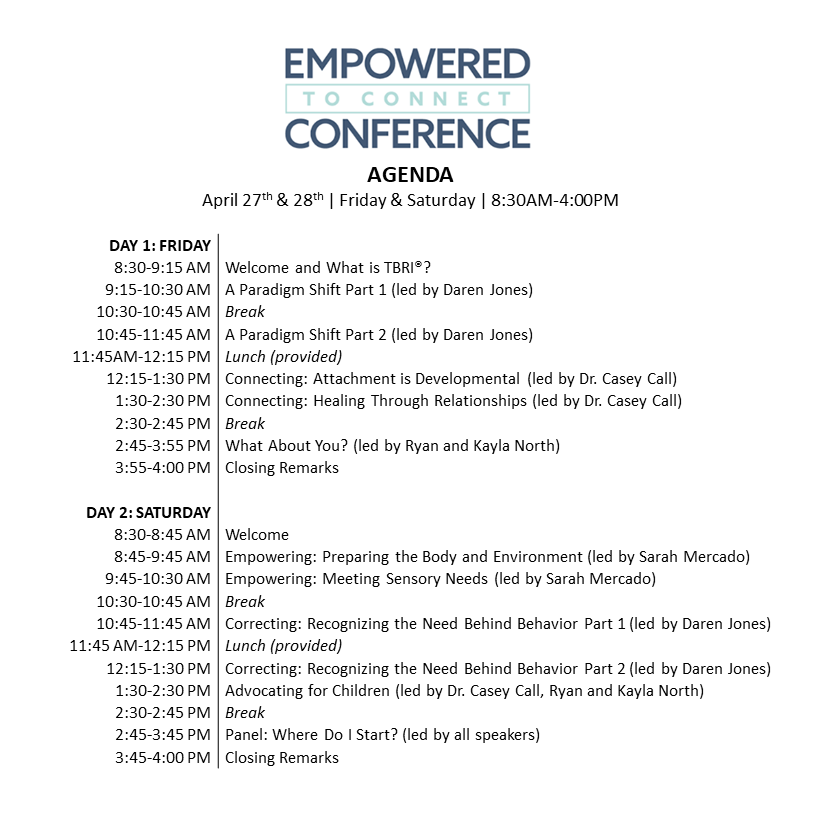 CONTINUING EDUCATION
Up to 11 continuing education credits are available for social workers, teachers, and other professionals. In addition to registering for the simulcast, professionals interested in receiving credit hours and a professional certificate are required to register and pay a separate fee at etccontinuingeducation2018.eventbrite.com.
LEARNING OBJECTIVES
Friday
To understand the six risk factors that result in trauma and the impact of trauma on a child's brain, body, beliefs, biology, and behaviors, as well as the correlation with Adverse Childhood Experiences research and associated health outcomes.

To grasp the basic principles of attachment research, including the typical attachment cycle, the impact of disruptions to this cycle, and the four attachment styles, as displayed in both infants and adults.

To introduce Trust-Based Relational Intervention, a set of principles and strategies that give parents and professionals the tools to bring healing and well-being to children and adolescents who experienced early trauma.

To consider one's own attachment style and his/her motivations and expectations in helping the children they serve develop a secure attachment.

To receive exposure to a child's sensory needs and the prevalence of sensory processing disorders among children who experienced early trauma. Audience will learn the functions of the internal senses and activities to assist with sensory development and processing.
Saturday

To develop empathy towards children and their behavior when understanding the expression of needs.

To differentiate between connected discipline and distancing discipline strategies and practice appropriate response strategies.

To learn implementation of Trust-Based Relational Intervention principles in therapeutic settings with children and families.

To understand the importance of processing one's own history to be able to assist a child in processing their history and eliminating confusion.

To equip the audience with a holistic understanding of their child's needs and development as well as tools to effectively meet those needs, build trust, and help the child heal and grow.
We hope to see you there!