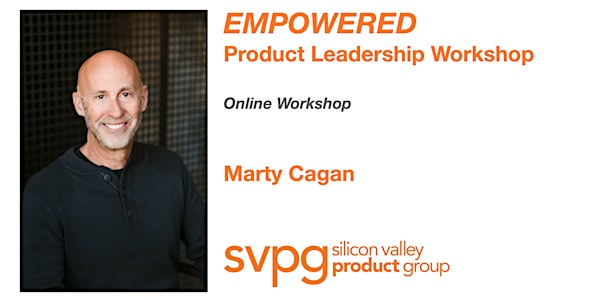 EMPOWERED Product Leadership Workshop
Learn how leading technology companies tap into the true potential of their people in order to consistently innovate on behalf of customers.
Refund Policy
Refunds up to 7 days before event
About this event
EMPOWERED Product Leadership Virtual Workshop
OVERVIEW
"Leadership is about recognizing that there's a greatness in everyone, and your job is to create an environment where that greatness can emerge." - Bill Campbell
The objective of this new workshop is to help you create this type of organization in your own company.
We will talk about what's involved in moving to true empowered product teams, starting with the skills and responsibilities of the leaders, assembling the necessary staff and skills, and establishing the necessary relationship with your company's leaders and stakeholders.
WHO IS THIS FOR?
This workshop is designed for the leaders, and aspiring leaders, of technology-powered product organizations: the managers and leaders of product management, product design, and engineering.
Please note that this is not an introductory session. This session is not designed for individual contributors, unless you are specifically training for a leadership position. You should have already read the book INSPIRED: How To Create Products Customers Love, and ideally attended the associated workshop.
WHAT IS COVERED?
The Necessary Role of Technology
Coaching
Staffing
Product Vision and Principles
Team Topology
Product Strategy
Team Objectives
Business Collaboration
Detailed Case Studies
Organizational Transformation
WHO IS TEACHING?
The workshop will be delivered personally by Marty Cagan, the founder of the Silicon Valley Product Group. Before founding the Silicon Valley Product Group to pursue his interests in helping others create successful products through his writing, speaking, and teaching, Marty was most recently senior vice-president of product and design for eBay, where he was responsible for defining products and services for the company's global e-commerce trading site. Marty is the author of the book "INSPIRED: How To Create Products Customers Love" and the newly released book "EMPOWERED: Ordinary People, Extraordinary Products."
LOGISTICS:
The session will be conducted via Video from 9 am until 11:30 am PDT, for four consecutive days, Monday through Thursday.
There will also be approximately one hour of homework each day. The session is much more productive if you can be sure to read the EMPOWERED book before the session.
The instructor will additionally be conducting virtual office hours each day to address any additional questions from the day's content.
The session is limited to 50 people in order to keep interactivity high.
CANCELLATION POLICY:
You can cancel with a full refund for any reason up to 7 days prior to the event. After that, you are free to transfer your ticket to a colleague.
ABOUT SVPG:
The best companies go about building great products differently. Silicon Valley Product Group (SVPG) was created to share lessons learned and best practices about how to build innovative products customers love. We are industry veterans who have each held executive level positions at major Silicon Valley firms where we have been instrumental in the development of leading products. We know how great products are built. And we can help you build them, too.