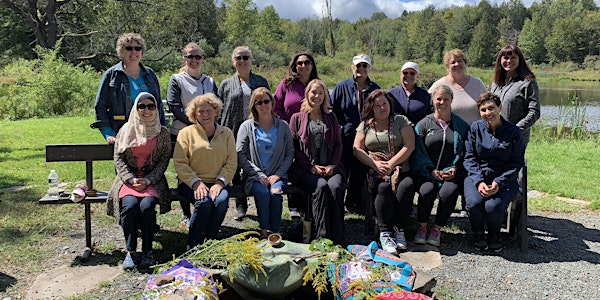 Empowered Nurse, Enlightened Practice™ at The Himalayan Institute
A transformative conference and retreat for nurses at every stage of their careers
When and where
Location
The Himalayan Institute 952 Bethany Turnpike Honesdale, PA 18431
Refund Policy
Refunds up to 7 days before event
About this event
*9.5 contact hours!
Whether your passion for nursing is fired up or has fizzled out, Empowered Nurse, Enlightened Practice™ is for you! It has been created to empower, energize, and enlighten you for future success.
It is being offered in a setting that will provide an opportunity for individual disengagement (detaching from everyday work and life), relaxation, reassessment and planning, and recharging.
Workshop objectives:
Honor, value and celebrate your career path and each other
Heal and renew the healer within
Build confidence and personal power
Become a catalyst for positive change in nursing
The conference will consist of indoor and outdoor (weather permitting) workshops and activities including forest bathing, labyrinth walking, and a campfire. There will also be free time to enjoy the tranquil surroundings, enjoy spa treatments, browse the gift shop, and leisurely stroll on the grounds.
For more than forty years the Himalayan Institute's Retreat Center has been a gathering place for people seeking inspiration and aspiring to restore inner balance. You'll spend time with me and other like-minded nurses at this peaceful campus, taking time out from habitual distractions and the bustle of everyday life.
"This conference exceeded my wildest expectations." –Bridgett Chandler
This environment, combined with our conference workshops, discussions, individual and group exercises, and sharing will surely give you more joy, confidence, focus, personal power, and clarity.
"Life changing is my word! This retreat has done so much more for me than I ever expected but I clearly needed this. I am forever changed and I thank you, Donna Wilk Cardillo, for welcoming me into your circle of amazing nurses." –Anne Taylor
More about the Himalayan Institute
Nestled in the tranquil and breathtaking Pocono Mountains, the retreat center provides convenient guest amenities to make your stay even more comfortable and enjoyable. Treat yourself to a massage, meditate in the peaceful meditation shrine, or relax in one of the many attractive community spaces available on campus. Whether it's shopping for a book, getting a good workout, or grabbing some chai tea and homemade cookies between workshops, you will find everything you need on-site. Also, fully-equipped classrooms are available for personal practice when classes are not in session.
*All prevailing COVID precautions will be taken. We suggest booking your room as soon as possible, as there may be limited capacity due to ongoing pandemic restrictions. Check out the Himalayan Institute's COVID-19 Updates.
And just in case you need reminding . . .
Nurses are a major part of the life-force on this planet. We are healers, teachers, and nurturers. We tend to the health and well-being of the planet whether at work or not. We are "on-duty" 24-7 regardless of where we work or if we even work at all. We bring light into dark places and give something of ourselves to everyone we come in contact with, even in casual encounters. We are wellness warriors.
Because we are usually focused on others, we sometimes devalue our contributions, lose sight of our sacred mission, and fail to honor our own well-being. Even if you are diligent about self-care and good at valuing your talents and contributions, it is still important to periodically step back and take time out for a tune-up of mind, body, spirit, and career
*9.5 ANCC CE credits. This nursing continuing professional development activity was approved by NJSNA, an accredited approver by the American Nurses Credentialing Center's Commission on Accreditation.(See the FAQ page for full CE details)
I would be honored if you would join me!
– Donna
________________________________________
RETREAT FAQs
When does the retreat start/end?
Our opening workshop is the evening of Thursday, September 9th at 7:15 p.m. Our closing session will end Sunday, September 12th at 11 a.m. That is a total of three nights.
Who should attend?
All nurses at every stage of their careers including RNs, LPN/LVNs, advanced practice nurses, student nurses – whether employed, unemployed, self-employed, retired or student.
Do I have to make my own reservation to stay at Himalayan Institute?
Yes. Call during business hours Monday-Friday 9 AM - 5 PM ET, and mention "Empowered Nurse, Enlightened Practice Group" or group booking ID: ENEP0921 www.himalayaninstitute.org / 570-253-5551
Is there an additional cost to attend the conference?
Yes. The conference investment is $499 (early bird $449) and includes 9.5 ANCC continuing education credits. A limited number of partial scholarships are available. Contact us for more details.
May I stay off-site and only attend the daily workshop?
Yes and No. Only registered guests of the Himalayan Institute are permitted on the property. If you happen to live in the area and don't wish to sleep on sight, you still must register and pay a daily rate of $40.00 to cover food and use of the facility. However, I do recommend that you stay on the property overnight to have the most empowering and restful experience possible.
Would it be appropriate to bring a spouse or friend who is not attending the workshop?
Absolutely and I encourage it! There is plenty for them to do while you are in workshop sessions. Likewise, you will have some free time to spend with your guests or by yourself if you so choose.
Are children allowed at the Himalayan Institute?
Yes but not in the actual workshop. However, there are no provisions for childcare and children under the age of 16 cannot be left unattended.
What if I'd love to come but really can't afford it right now?
Where there is a will there is always a way. We always find the time and money for the things that are truly important to us. If you don't have the personal funds, ask for the trip (or part of it) as a gift from family or close friends. Asking for what you want and need is part of being an empowered nurse! Set a goal to be part of this event and you will find a way to make it happen. Sharing a room will also help to reduce your cost.
Will continuing education credits be offered for nurses?
Yes! This activity has been submitted to the NJSNA for approval to award contact hours. The NJSNA is accredited as an approver of nursing continuing professional development by the American Nurses Credentialing Center's Commission on Accreditation. That means that the credits are accepted by any entity nationally that recognizes the ANCC.* In order to be eligible to receive the continuing education credits, you must attend the program in its entirety and complete and submit an evaluation form at the end of the program.
What if I want to stay a few extra days before or after the retreat – can I do that?
Yes, as long as rooms are available. And I encourage you to do that.
Retreat Schedule (Subject to change)
Thursday, September 9, 2021
4:00-6:00 p.m. Check-in
5:30 p.m. (Optional) Hatha Yoga Class
6:00- 7:00 p.m. Dinner
7:15-9:15 p.m. Opening session (Seminar Room)
Friday, September 10, 2021
7:00 a.m. Hatha Yoga Class (optional)
7:30-8:30 a.m. Breakfast
9:00 a.m. to 12:00 p.m. Making the Connection: Mindfulness in Nursing Practice and Life
12:30-1:30 p.m. Lunch
1:30 p.m.-6 p.m. Free time to explore, enjoy spa treatments, self-reflection, etc.
6:00 p.m.-7:00 p.m. Group dinner/sharing
Saturday, September 11, 2021
7:00 a.m. Hatha Yoga Class (optional)
7:30-8:30 a.m. Breakfast
9:00 a.m. to 12:00 p.m.
2:45-4:30 p.m. Redefining Who You/We Are as a Nurse and as a Profession
12:30-1:30 p.m. Lunch
2:00-3:00 p.m. Chocolate sampling and tour of Moka Origins (on-premises and optional)
3:00-6:00 p.m. Free time to explore, enjoy spa treatments, self-reflection, etc.
6:00 p.m.-7:00 p.m. Group dinner/sharing
7:30-9:30 p.m. Outdoor campfire and s'mores (weather permitting)
Sunday, September 12, 2021
7:00 a.m. Hatha Yoga Class (optional)
7:30-8:30 a.m. Breakfast
9:00-11:00 a.m. Moving Forward: Reaffirming Our Career Path and Mission
12:30 p.m. Checkout
12:30-1:30 p.m. Lunch