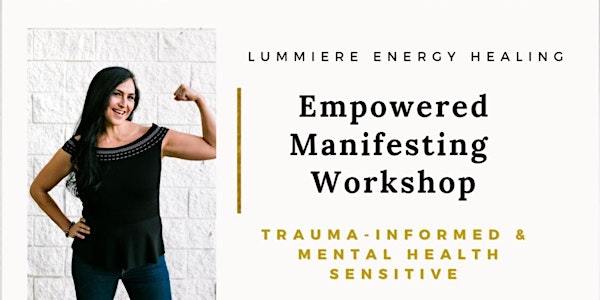 Empowered Manifesting Workshop - Trauma-Informed & Mental Health Sensitive
A No BS Manifesting Mini Workshop to help you uncover your #1 manifesting gap and how to overcome it without fearing negative thoughts.
About this event
Is your trauma brain🧠 blocking you from manifesting what you want?
😣Tired of doing all the manifesting things that don't cosider your mental health and aren't working for you then this workshop is for you!
💡What if you didn't have to worry ever again about having negative thoughts and still be able to manifest what you want?
💡What if you knew how to naturally raise your vibration in a way that honors you and your mental health?
✅You can and that's exactly what I am going to teach you during this mini 90-minute Empowered Manifesting Workshop.
During this mini workshop you will FINALLY understand
How your trauma brain is blocking you from manifesting your goals
How mastering your mood is one of the most essential keys to mastering the Law of Attraction
How you can start raising your EQ which will naturally raise your vibration and more quickly align you with the frequency of your desires more effortlessly.
Join me and other like-hearted, like-minded souls whose brains are wired differently and need a trauma-sensitive approach to reality creation.🤗
Can't wait to support your heart and mind. 🙏🏼🦋
FAQ
When is the Live Workshop?
When: August 25, 2022 at 1pm PT/ 4pm ET
Where: Zoom (a link will be shared with you before the call)
What If I can't make the workshop live?
Don't worry you'll have lifetime access to replay once it's reuploaded into the course Hub 3-days after the live class!
Do I get lifetime access to the course material?Absolutely! I know blocks can reoccur and old patterns may surface during stages of transition as you level up your reality, and course correcting will always be needed in some way. That's why you'll have lifetime access to this workshop!
Are there any prerequisites?
Yes, that you take full responsibility for your well-being and ensure you consult a licensed medical professional if your mental health and well-being is in any way at risk. This is an educational workshop and although it is trauma and mental health sensitive it is not a substitute for medical advice or treatment. Otherwise, the only other prerequisite is that you must be open to a new compassionate perspective and empowering approach to your healing and manifesting experience.
Are there any other material or equipment costs besides the price of the course?
To attend live you will need an internet connection and access to zoom where I will be hosting the workshop and if you are not able to attend live you will be given access to the training hub to access the recording.
Do I get support, community, or 1-on-1 access to you?If you join live you'll get to ask questions and I'll answer live. Otherwise, there will be no support, community or 1-on1 access during the workshop experience. However, there will be opportunities to join my group program or my coaching & community membership for evolving spiritual entrepreneurs and emerging leaders if you wish to be notified.
What is the refund policy? Due to the digital nature of this product, there will be no refunds, but there will be so much valuable information it will be worth it!
What is the investment? To makes these teaching more accessible and to honor those who take inspired action I am offering it at an early bird price of $44.44, but if you wait and buy the workshop after August 25 the price increases to $111.11.
I have questions where can I ask them? con
Have questions about the workshop? No problem! Email me at info@LumiereEnergyHealing.com with the subject line "Empowered Manifestation Workshop Support"