Description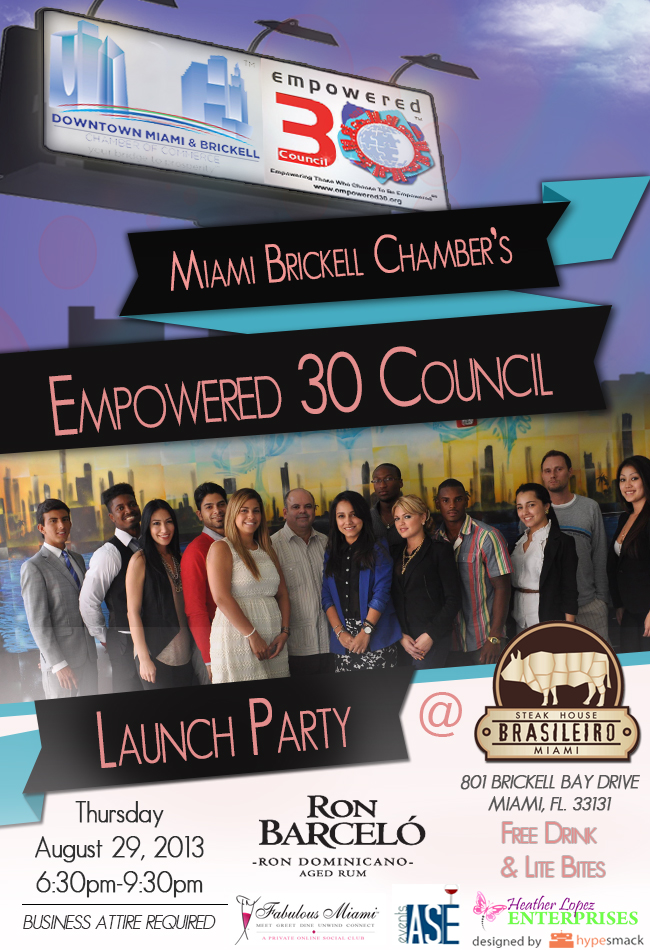 Join the Downtown Miami & Brickell Chamber as we launch our Empowered 30 Council initiative Thursday night at Brasileiro. The Empowered 30 Council is made up of young professionals, entrepreneurs & startups. Council members will receive mentoring from the chamber's experienced members, as well as provide mentoring to high school youth. Council members will also participate in community outreach activities. The Launch Party will kick off several days of celebration, and will feature free lite bites as well as a free drink for those ages 21 & over, provided by Ron Barcelo.
Date: Thursday, August 29th, 2013
Time: 6:30pm - 9:30pm
Location: Brasileiro
801 Brickell Bay Drive
Miami, FL 33131
Parking: Valet & Street Parking Available
Dress Code: Business or Cocktail Attire
Questions?: E-mail Heather or Evelio at join@miamibrickellchamber.com
#Empowered30
Stay tuned for other Empowered 30 Council Launch Week Events!
8/27 Empowered 30 Committee Meeting with Pitching Lesson by Gerard Roy
8/29 Empowered 30 Council Launch Party @ Brasileiro
8/30 Happy Hour with Free Buffet @ Will Call
8/31 PitchMiami Mock Pitch Contest
9/1 Labor Day Weekend Pool Party & Swimwear Show @ King's Castle Hotel